These slightly sweet, spiced biscuits are perfect for a grab and go breakfast, after school snack, a side dish for hearty stew or as part of a brunch menu.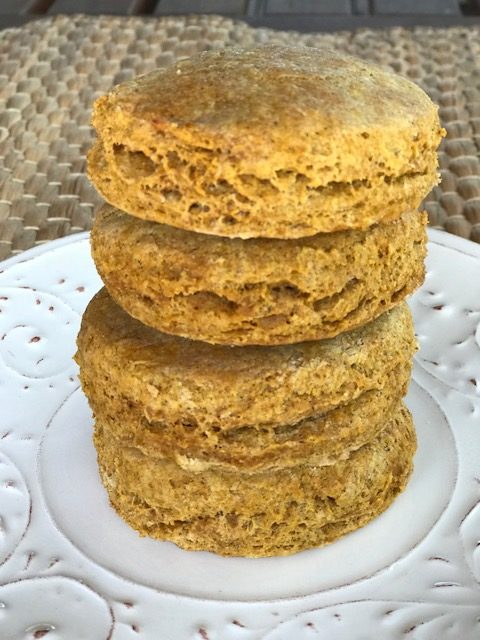 Flaky Layers Pumpkin Biscuits
3 cups Unbleached Flour (or Hard White Wheat Flour or WW Pastry Flour) The pictures show the White Wheat option.  I ground the flour fresh just before baking for maximum nutrition.
2 tsp baking powder
1 tsp baking soda
1/2 tsp cream of tartar
2 tsp pumpkin spice
3/4 tsp salt
1/2 cup cold butter
1/2 cup Buttermilk (If using homemade Buttermilk, reduce by 1 Tbs)
1 cup Pumpkin Puree
1/4 cup Real Maple Syrup or Honey
Preheat oven to 400°.
2. Lightly spoon flour into dry measuring cups; level with a knife. (This time don't measure by scooping.)Combine flour, baking powder, baking sods, pumpkin pie spice, and salt in a large bowl. Cut butter into small pieces and then use a a pastry blender to work it into the flour mixture until mixture resembles coarse meal. Chill 10 minutes.
3. Combine buttermilk and maple syrup, stirring with a whisk until well blended; beat in  pumpkin. Add buttermilk mixture to flour mixture; stir lightly just until dough comes together.  Do not over work. Some loose flour is ok.
4. Turn dough out onto a lightly floured surface.  Do not knead and roll dough into a 1/2-inch-thick rectangle; lightly dust top of dough with flour. Fold dough into thirds. Roll again into a ½ inch thick rectangle; dust top of dough with flour. Fold dough into thirds then gently roll to a 3/4-inch thickness.
6. Cut dough with a 2 inch biscuit cutter. Place biscuits, 1 inch apart, on a greased baking sheet.
7. Bake at 450° for 12 minutes or until golden. Remove from pan; cool 2 minutes on wire racks. Serve warm. Yield 12 biscuits.
Slice your cold butter into pats before using the pastry cutter.  It will make the cutting in go much faster.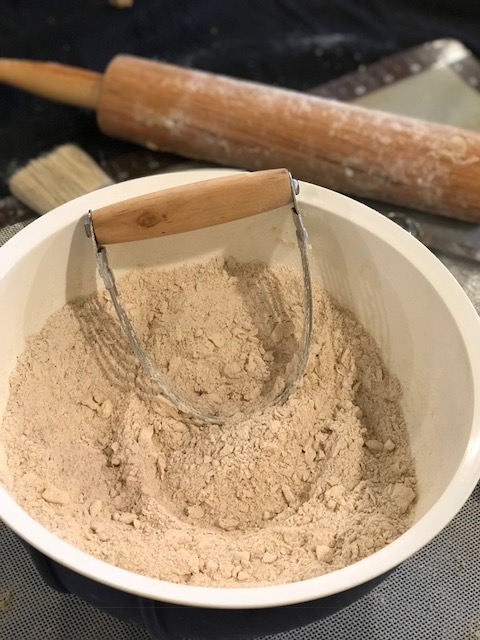 Here's what it will look like when you're done cutting in.  You'll still want some fairly large pieces of butter–like pea sized.  This will help make the layers.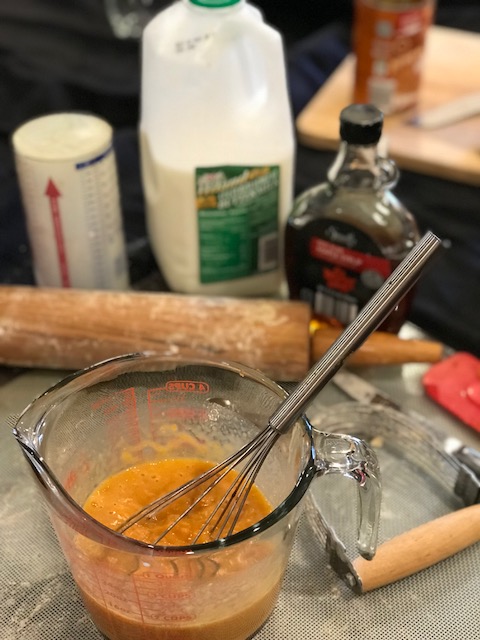 Your pumpkin/buttermilk mixture will look like this.  At first when you try to stir it in, you won't think there's enough liquid, but I promise there is.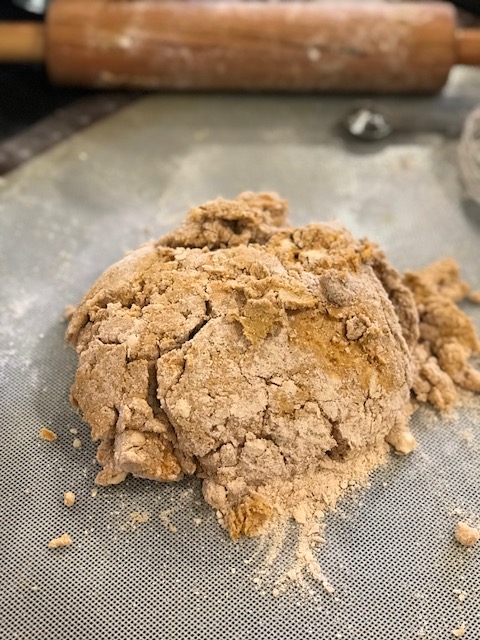 This dough is DONE mixing.  Please don't keep going until all the flour is mixed in.  Your biscuits will be tough.  Start rolling without kneading at all.  In the layer making process the dough will fully come together.  I use a silicone mat which makes the layers easier.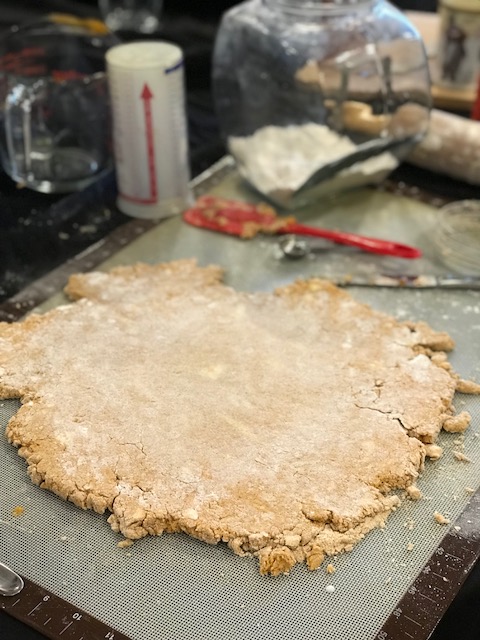 Rol it 1/2 inch thick them lightly dust the top with flour.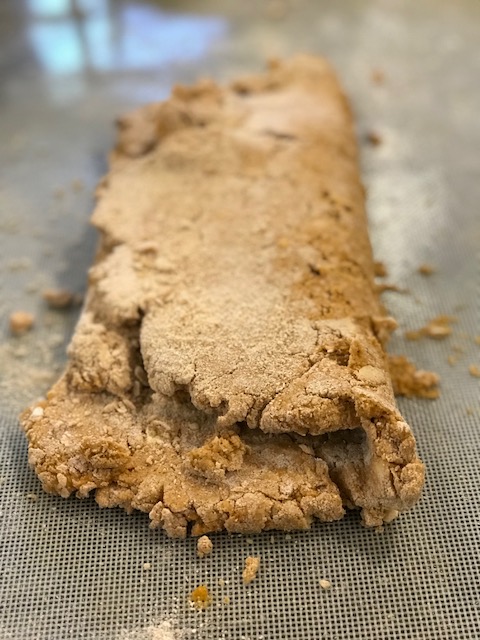 Lift the mat to fold the dough into thirds.  The bottom part of my dough was a bit sticky, so I used a spatula to scrape if up, then dust the mat underneath again.  Roll it out like you did the first time.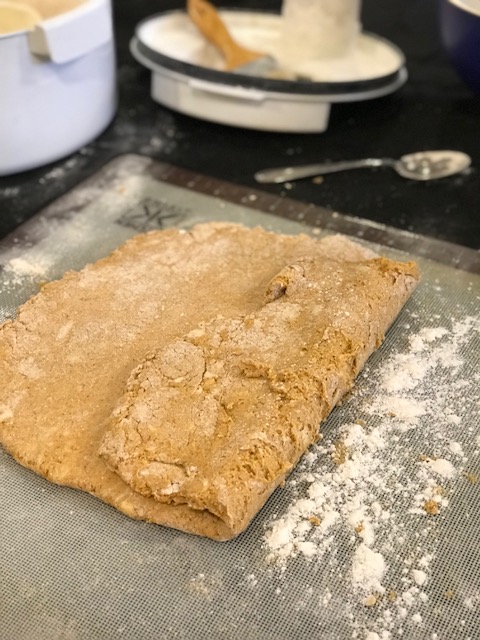 Then fold it up again.  Keep it lightly dusted if it's sticking.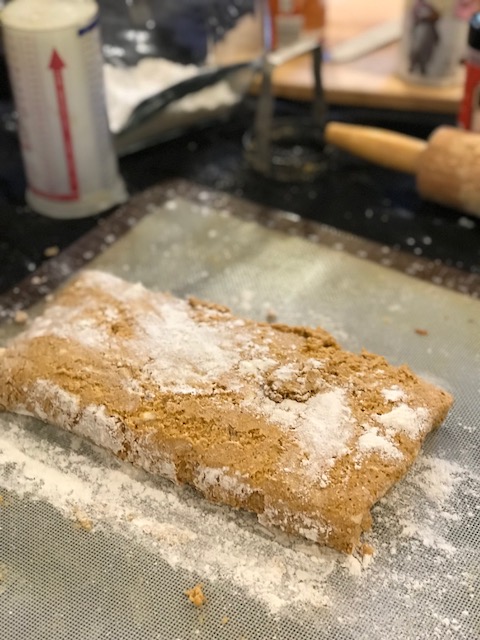 This dough here just needs a light rolling to be ready to cut.  I over did mine.  They still tasted good but weren't as thick as I like.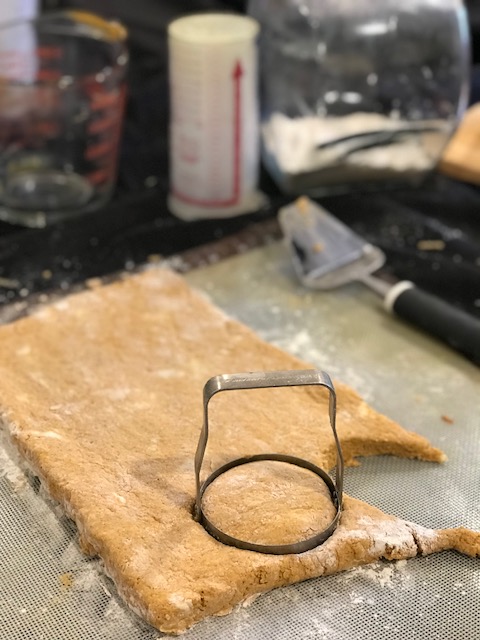 I wish I had rolled my dough a little taller.  It's only about 1/2 inch, but it might have made them tough to start again.  Make yours taller.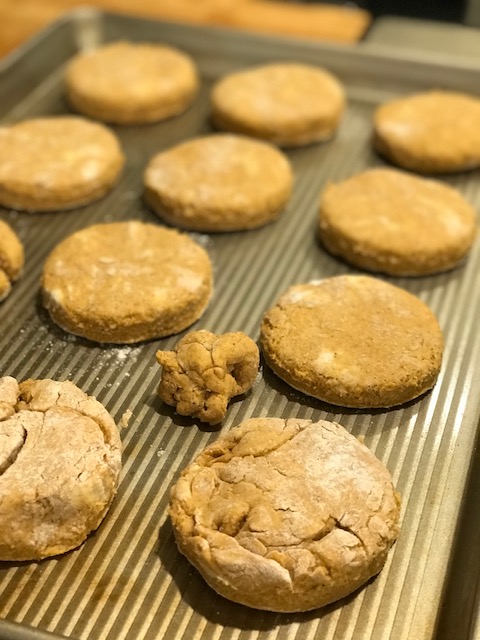 The last biscuits on my pan are a little wonky, but I choose not to knead the dough for the second roll out.  I just kind of bunch it together to keep the light and flakey texture.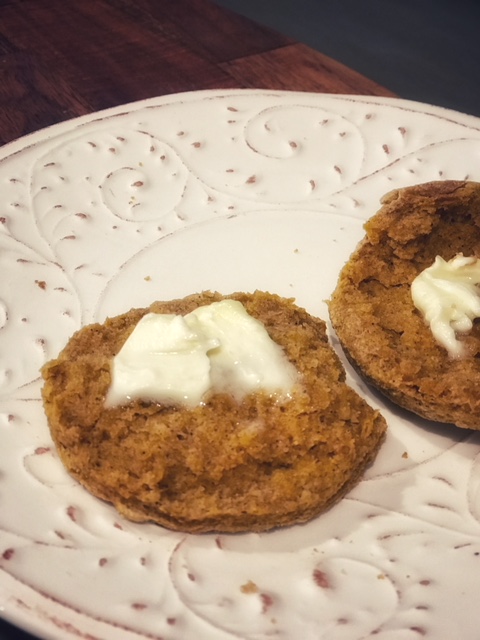 These are delicious with butter, but pumpkin butter is even better!
This is day 15 of 31 Days of Pumpkin Recipes
8 Healthy Pumpkin Pecan Scones
14 Pumpkin French Toast Casserole
15 Pumpkin Biscuits
16 Easy Pumpkin Cake
17 Pumpkin Dump Cake
18 Baked Pumpkin Oatmeal
19 Pumpkin Mousse
20 Pumpkin Cheesecake
21 Pumpkin Latte
22 Pumpkin Pie Smoothie
23 Pumpkin Breakfast Cookies
24 Maple Pumpkin Butter
25 Stuffed Sugar Baby Pumpkins
26 Pumpkin Pancakes
27 Pumpkin English Muffins
28 Roasted Pumpkin Seeds
29 Pumpkin Biscotti
30 Pumpkin Caramel Monkey Bread
31 Impossible Pumpkin Pie