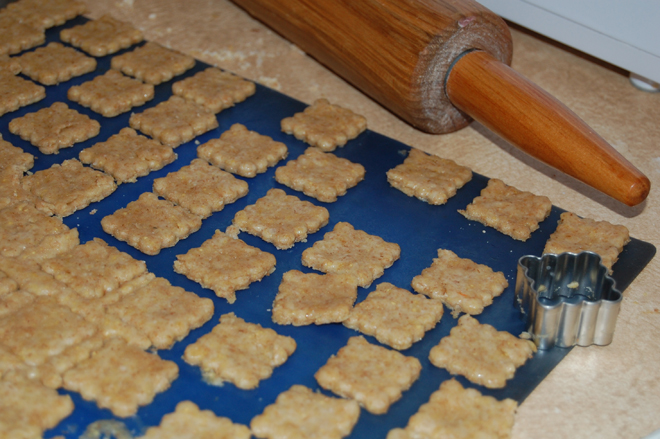 (This recipe was originally published in June 2009) I love Wheat Thin crackers. I've tried lots of recipes on the web, but never found one quite like the store bought kind.  Last night, in the wee moments before falling asleep, I realized the box has the recipe practically on it!  I took the ingredients off the box, which are in order of amount, and then typed them into the nutrition calculator at www.sparkrecipe.com.  By multiplying the nutrition amount by 10, I was able to build a recipe for serving 10 people.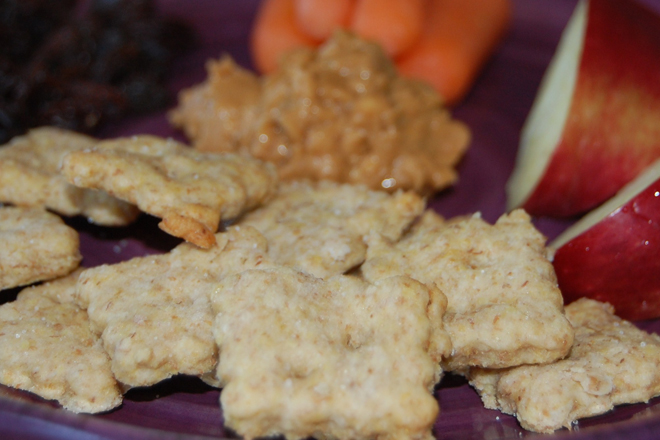 I made a few changes in the recipe, substituting sugar for high fructose corn syrup and malt syrup.  I also decreased the amount of all purpose flour and increased the amount of whole wheat flour.  I left out the corn starch and increased the amount of wheat germ, using raw wheat germ for the defatted germ on the label.  We baked them today and they tasted very close to the original, only healthier.  Next time I'll roll the dough thinner and they'll be perfect!
3/4 cup all purpose flour
3/4 cup whole wheat flour
1/2 cup wheat germ
1/4 cup sugar
3/4 plus 1/4 teaspoon salt, divided
2 teaspoons baking powder
1 tablespoon soy lecithin (optional)
1/4 cup vegetable oil
1/2 cup water
Combine the first & ingredients (saving 1/4 teaspoon of salt).  In a separate bowl, combine the oil and water.  Make a well in the center of the flour mixture and pour in the oil mixture.  Lightly mix until a dough forms.  Divide into 2 balls, wrap each ball in plastic wrap and chill for an hour.
Roll one ball 1/8″ thick.  Cut with cracker cutters or a knife.  Poke holes with a toothpick or kabob skewer. Sprinkle with the reserved salt. Bake on a silicone baking sheet (or greased cookie sheet) at 375 for 12 minutes.  Cool completely. Bake again at 375 for 7 minutes or until crackers are crisp.