Hearty bean soup is the perfect low cost dish for this spring weather that can be cloudy, drizzly and chilly in between the sunny, warm days.  It tastes so good, no one will realize how cheap it is to make. Beans are full of fiber, which is so good for you and yet can feel a little terrible at the same time if you aren't used to it.  I have a hack for that.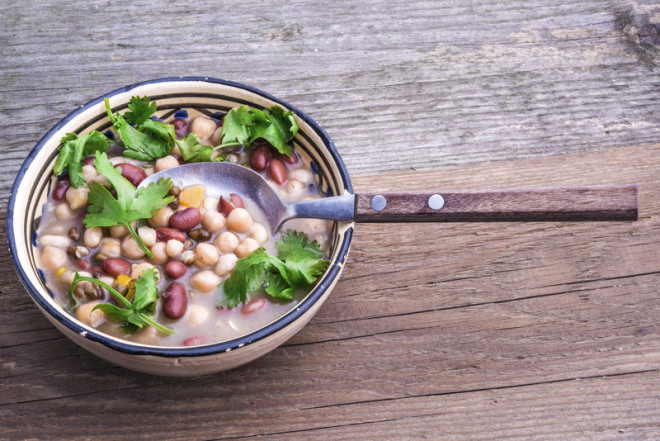 My dad was given this soup as a Christmas Gift from his secretary one year when I was a girl and the whole family loved the mix of flavors. My mom begged for the recipe and it has been a cherished favorite ever since.
Calico Bean Soup
3 cups of mixed beans (A 6 or 9 bean mix works great)
5 cups of water
1 Tbs dried chives
1 tsp salt
1 tsp dried savory
½ tsp cumin
1 bay leaf
½ tsp black pepper
1 can, 15 oz chopped tomatoes, undrained
The night before: Combine dry beans with 9 cups of water in a large bowl. Sit on the counter overnight. In the morning: Drain beans.  If you forget to pre-soak the beans, this recipe will still work.  Just add an extra cup of water.
Some say beans are harder to digest if you don't presoak them.  We get gas either way.  Just being honest.  We are saved the embarrassment if we remember to take amylase enzyme before eating.  Amylase breaks down starches and helps the probiotics process the fiber. I take an enzyme blend to prevent any digestion discomfort.
Slow Cooker Method: Place drained beans in a slow cooker. Add cooking water seasonings, and tomatoes. Cook on low for 6-7 hours or on high for 3-4 hours.
Pressure Cooker Method: Place drained beans in a pressure cooker. Add cooking water seasonings, and tomatoes. Or combine ingredients in a pressure cooker and cook at high pressure for 40 minutes.
Discard bay leaf and sprinkle with dried or fresh parsley just before serving.
1/8 of the pot of soup has 122 calories; 15 net carbs, and 14g of protein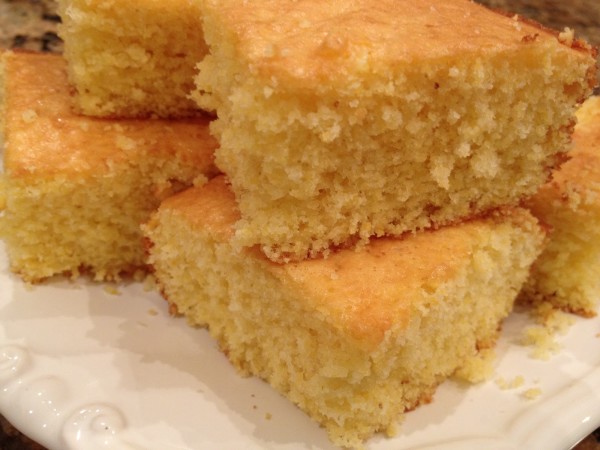 Cornbread
This is a great all-purpose cornbread recipe and goes with a lot of different dishes.  Corn and Beans have complimentary proteins so when eaten together you get all the essential amino acids. Ground millet can be subbed for the cornmeal for those with allergies or sensitivities to corn.  It tastes very similar to the real thing.  Doubling the recipe is the perfect amount for a 9×13 pan.
1 cup cornmeal (or Masa Harina)
1 cup hard white wheat flour
1 Tbs Baking Powder
½ tsp salt
2-4 Tbs coconut sugar (brown sugar or honey) (If you are used to cake like cornbread go for the higher amount of sugar)
2 eggs
1 cup milk
¼ cup butter, melted
Preheat oven to 400 degrees. Combine dry ingredients in a bowl. Make a well in the middle of the bowl. Add eggs, butter, and milk. Stir until just combined. Pour batter into a greased 8×8 inch pan. Bake for 25 minutes or until a toothpick inserted in the middle comes out clean. Serve with butter and honey.  Makes 9 2″square servings.
A 2" inch square has 144 calories; 23 net carbs and 6g protein