Scones and hot tea are one of my favorite autumn breakfasts. I made the first batch of pumpkin scones for the Fit Mama meal plans. They were delicious and just happen to be both gluten free and dairy free.  Then I made a second bath with fresh ground whole wheat flour for the rest of the family and they got thumbs up too.  I'm pleased to share the recipes for both.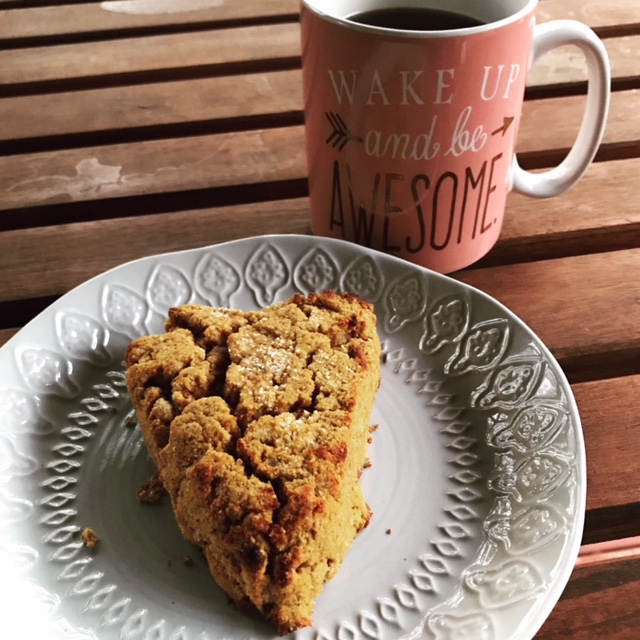 Fit Mama Pumpkin Pecan Scones
1 cup Almond Flour
3 Tbs Coconut Flour
¼ cup Erythritol or Truvia
1/4 tsp salt
2 tsp Baking Powder
1 tsp Pumpkin Spice
½ cup Pumpkin Puree
1 Tbs Coconut Oil, melted
1 egg
1 tsp Vanilla
¼ cup Chopped Pecans
1.Preheat oven to 375 degrees.
2. Sift together the flours, truvia, salt, baking powder and pumpkin spice. Stir in pecans.  (My coconut flour gets clumpy so for best results I push it through a wire strainer or sifter.)
3. Cut in coconut oil until mixture is crumbly.
4.In a smaller bowl beat together the pumpkin, egg, and vanilla.
5.Fold the pumpkin mixture into the flour mixture.
6.Drop into 3 mounds onto parchment lined baking sheets. Use a spatula to form them into triangle shapes. Sprinkle the tops with Erythritol and lightly pat into place.  Bake for 15 minutes or until golden.
3 servings: 232 Calories; 19g fat; 6g net carbs; 6g protein
Whole wheat recipes after the pictures.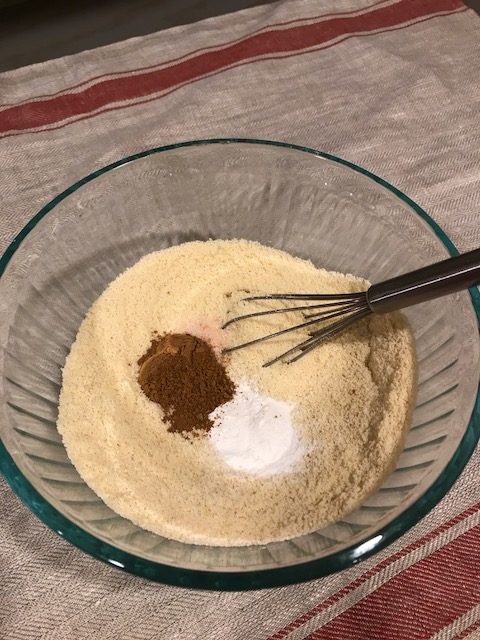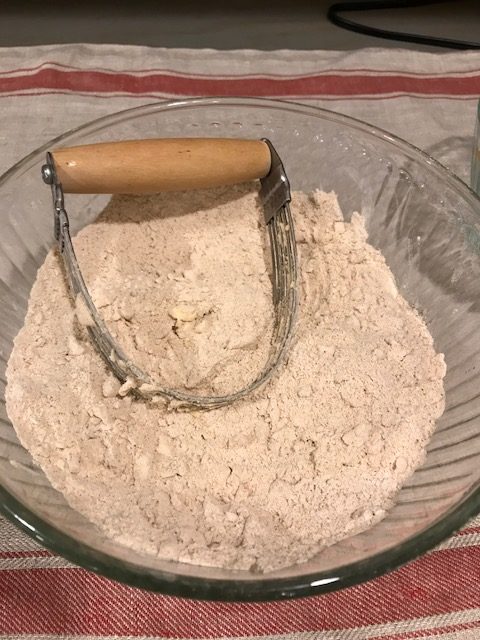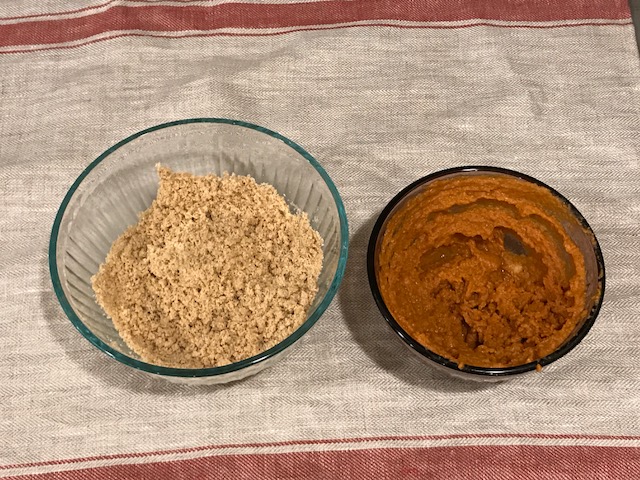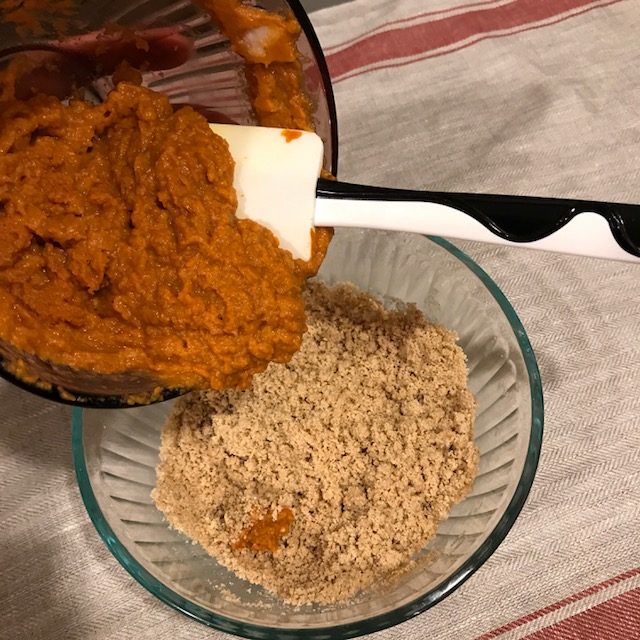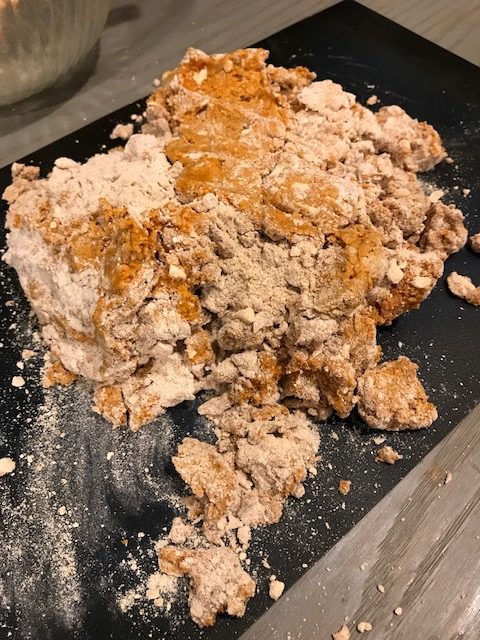 I packed my flour so it was a little too dry.  If you measure your flour loosely, yours will look better.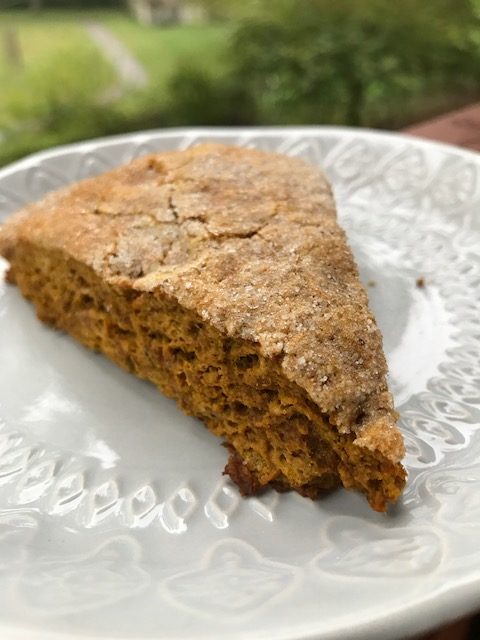 100% Whole Wheat Pumpkin Pecan Scones
3 cups Hard White Whole Wheat flour (Use a spoon to lightly scoop the flour into the measuring cup so it is loose and not packed)
1/2  cup Packed Brown Sugar
2 tsp pumpkin pie spice
1/4 tsp salt
2 tsp baking powder
1 tsp baking soda
1 cup chopped pecans
1/2 cup  Cold Butter
1 can, 15 oz Pumpkin Puree
2 tsp Vanilla Extract
1/3 cup Buttermilk
1.Preheat oven to 400 degrees.
2.In a bowl combine flour, brown sugar, spices, baking powder and baking soda.
3.Cut in butter until the size of small peas. Stir in pecans.
4.In a small bowl beat buttermilk, vanilla and pumpkin puree.  Fold into the flour mixture.  Mix with your hands if it's too hard to stir with a spoon, but don't over mix or the scones will be tough.
5.Pat into a circle about an inch tall and cut into 8 wedges. Place wedges on a greased baking sheet. Sprinkle the tops with sugar.
6.Bake for 20-25 minutes or until golden.
8 servings: 426 calories; 19g fat; 46g net carbs; 8g protein
This is day 8 of 31 Days of Pumpkin Recipes
8 Healthy Pumpkin Pecan Scones
9 Pumpkin French Toast Casserole
10 Pumpkin Snickerdoodles
11 Pumpkin Muffin/Drop Cookie Mix
12 Easy Pumpkin Cake
13 Pumpkin Dump Cake
14 Baked Pumpkin Oatmeal
15 Pumpkin Mousse
16 Pumpkin Cheesecake
17 Pumpkin Latte
18 Pumpkin Pie Smoothie
19 Pumpkin Chili
20 Pumpkin Breakfast Cookies
21 Pumpkin Biscuits
22 Maple Pumpkin Butter
23 Stuffed Sugar Baby Pumpkins
24 Pumpkin Pancakes
25 Pumpkin Waffles
26 Pumpkin English Muffins
27 Roasted Pumpkin Seeds
28 Baked Pumpkin Doughnuts
29 Pumpkin Biscotti
30 Pumpkin Caramel Monkey Bread
31 Impossible Pumpkin Pie