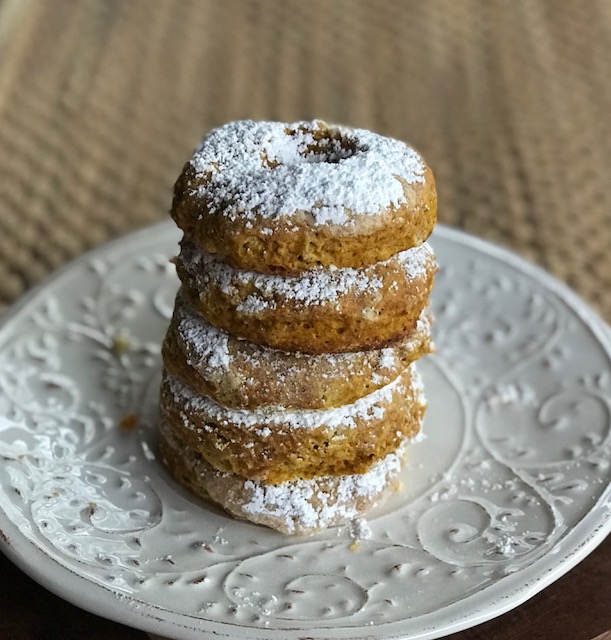 These sweet and tender Baked Pumpkin Doughnuts are as easy to make as biscuits.  Brandon helped make our first batch at 2 years old.  He's 10 now–eeek!  When I look back on these old pictures I wish I had taken a lot more.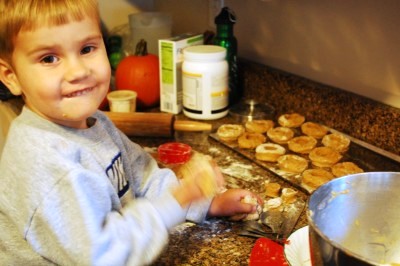 We like this recipe because it doesn't take any special pans or a donut maker which makes it accessible to every kitchen.  It's easily made dairy free. Just sub coconut oil for the butter and almond milk for the dairy milk.  And dust with powdered sugar instead of yogurt glaze. We're still perfecting a gluten free recipe so you have that to look forward to that later.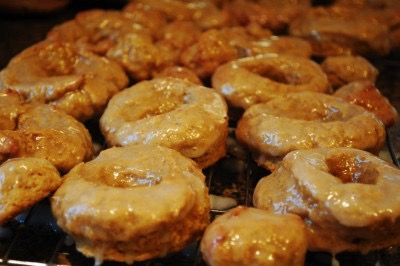 Baked Pumpkin Doughnuts
3 1/2 cups unbleached flour
3 teaspoons baking powder
1 teaspoon salt
2 teaspoons Pumpkin Spice
1 cup sugar
1/2 cup Butter, cubed
2 eggs
1/2 cup Milk
1 cup Pumpkin Puree
Glaze
3 cups powdered sugar
1/2 cup plain yogurt
1 tsp Pumpkin Spice
Preheat oven to 400 degrees.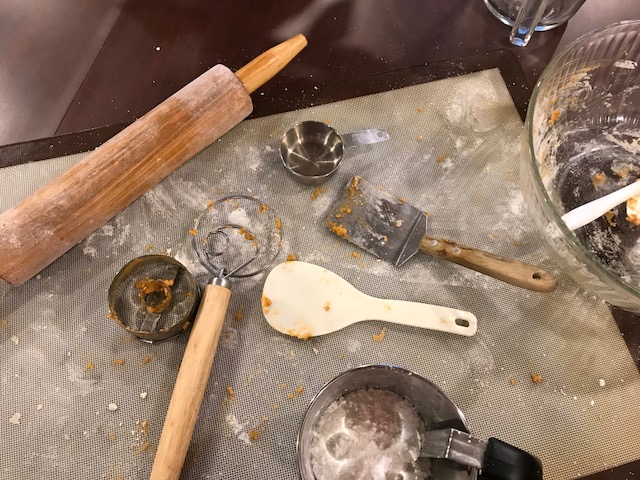 In a large bowl, whisk together the flour, baking powder, salt, spice, and sugar.  Cut in butter until it is the size of peas.  In a separate bowl beat the eggs, milk and pumpkin puree.  Fold into the flour mixture until all the flour is moistened.  A danish dough whisk works well  or you can dump it out onto a silicone mat and mix it by hand. The dough will be super soft (sticky).  This helps them rise better and stay tender.
Dust the area with a mixture of sugar and flour.  Use a rolling pin to roll the dough 3/4 inch thick.  Cut with a doughnut cutter and place an inch apart on a cookie sheet.  Bake at 400 degrees for 12-15 minutes or until golden brown.
Meanwhile beat powdered sugar, spice and plain yogurt.  Add a little milk if it is too thick.  As soon as doughnuts are cool enough to handle dip into the glaze and set on a cooling rack with wax paper underneath to finish cooling.
Post contains affiliate links.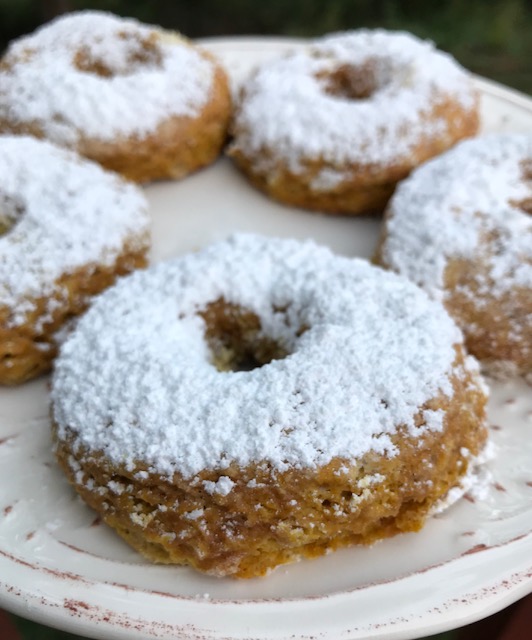 This is day 13 of 31 Days of Pumpkin Recipes
8 Healthy Pumpkin Pecan Scones
14 Pumpkin French Toast Casserole
15 Easy Pumpkin Cake
16 Pumpkin Dump Cake
17 Baked Pumpkin Oatmeal
18 Pumpkin Mousse
19 Pumpkin Cheesecake
20 Pumpkin Latte
21 Pumpkin Pie Smoothie
22 Pumpkin Breakfast Cookies
23 Pumpkin Biscuits
24 Maple Pumpkin Butter
25 Stuffed Sugar Baby Pumpkins
26 Pumpkin Pancakes
27 Pumpkin English Muffins
28 Roasted Pumpkin Seeds
29 Pumpkin Biscotti
30 Pumpkin Caramel Monkey Bread
31 Impossible Pumpkin Pie