Thank you for all your encouraging comments after my last post.  I'm not feeling nearly so overwhelmed right now and I think gratitude and the support of good friends has a lot to do with it.  I've found myself running to the journal to jot down things when I think of them–like the song "I need thee every hour," especially the new arrangement by John Hudson.  Also warm and pleasant jogging weather, and my husband who has known exactly what I've needed to hear the past couple of days.
I made some updates to my home for fall, just using some stuff I already had on hand.  If you missed it on instagram, here are a few more photos.  If I were designing a hearth from scratch, I would have done it differently and all the possibilities would have stressed me out and frozen me. Since my rule was to use what I have, it was much simpler (I even used the screws the previous homeowner left in the brick–so yes, the wreaths are slightly uneven.)   I love how limitations FREE us to make the best decisions we can.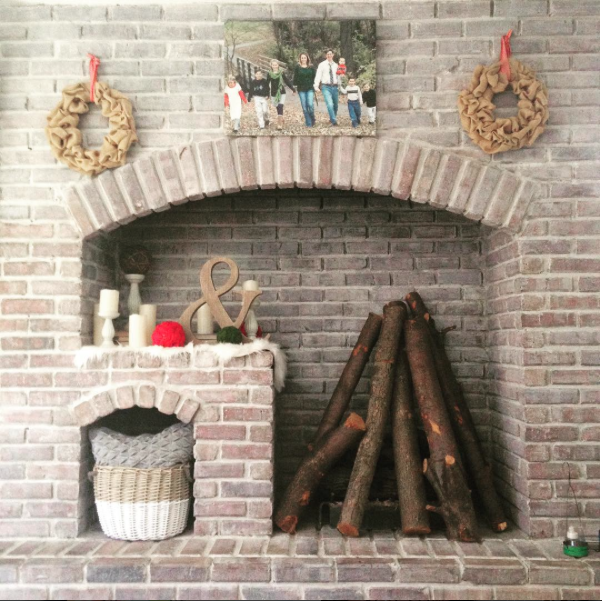 The canvas on the hearth was our family picture from 2012. The dipped basket is from hobby Lobby (as is the ampersand) and the pillow from Ikea.  I made the wreaths using this tutorial. The wood logs were dropped off by a tree cutting crew working for my neighbor.  To get these logs I had to take all 4 trees and the wood chips.  My husband was not nearly as excited about it as I was.  He has been chopping it into firewood for weeks already and is still not done.  We have a wood burning fireplace in our basement, but this one is gas.  It's not very efficient and way too expensive to burn, so it's we just use it for decoration.  We talked about ripping it out several times….but it's kind of holding up the whole center of the house–and has historical significance, being made from the bricks of the old Kanas City stockyards when they were torn down.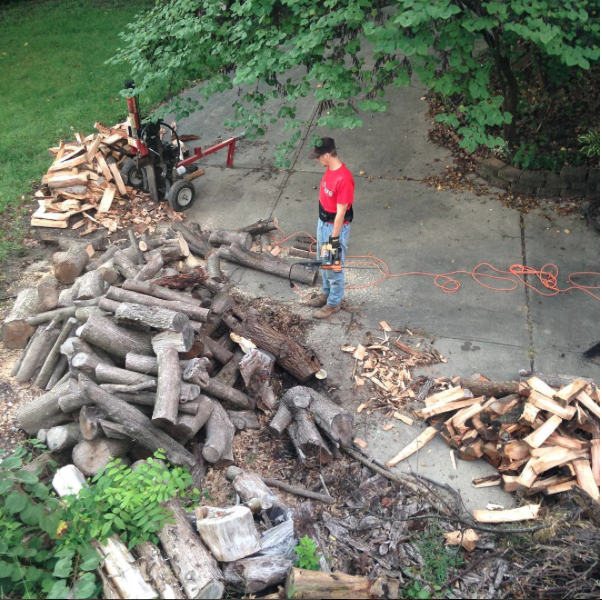 I did go and help him after I took the photo :D. (Mostly so I could protect the bigger stumps that would make nice side tables or stools for a someday outdoor seating area.)
If you'd like to know how we painted our brick, you can read about that here, and also see what the endcap looked like before we put a chalkboard up over it.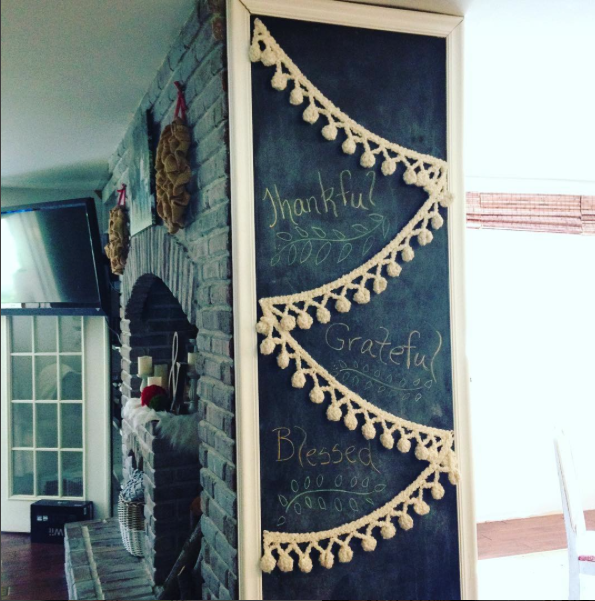 I LOVE the versatility of having a huge chalkboard here. It's not nearly as dusty as I thought it would be.  It's visible from the entry so we can put any personal message to guests we want on there, like "Welcome Yeoman Family!" I let the kids design it most of the time, but while they were at school yesterday I added the crocheted pompom garland (with thumbtacks) and words to remind me of my new mindset.  We skip Halloween at our house and go right into Thanksgiving.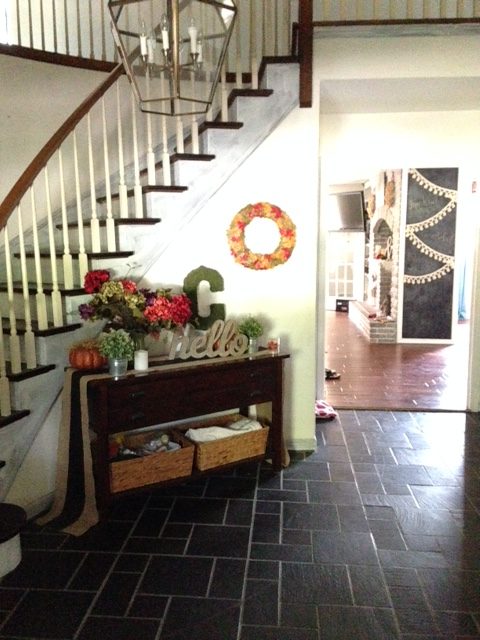 Here's the view from the front door.  ( I primed the woodwork in here months ago and never painted it. I plan to paint the spindles and woodwork bright white, the walls a light greige, and to restain the wood tones espresso.  I've been half started on the woodwork for years….  Ha ha, that's how you know this is NOT a decorating blog.) I usually keep the baskets under the table full of white blankets for looks, but with young people here, we ended up filling the left one with bubbles and sidewalk chalk since it's convenient to the front door.
Across from the hearth is a little sitting area.  I bought the white lacy candle holders for Christmas (at Ikea) and loved them so much I never put them away.  I added a few fur throws and pillows, a couple of DIY leaf pillows, and fall themed printables for the clipboards.
(If I had it to do over again, I wouldn't buy a sectional this dark–BUT it fits our family, is super comfy, and the leather is exactly what I need for my allergies.  For the time being, I'm thankful to have it. When we knock some of the more important projects off our list, like a basement office for Darren, I'll see what I can do about lighter furniture in here.) The cupboard behind the sectional holds all our board games. The coffee table is from Ikea and was only $40.  It has already taken a beating on the top.  I plan to add a stained wood top using this tutorial.  Then after a bit will move it to the basement family room (yet to be built) and build something more expensive looking, like this or this.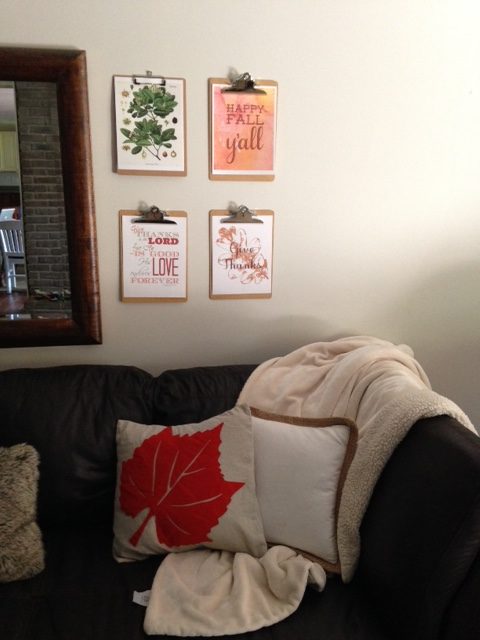 This is the first year I've been able to pull together a collection of fall items from what I had on hand.  Every year for a LONG time, I would buy just 1 or 2 items that I thought I would hold it's charm for me. Some were originally meant for Christmas or Spring. I prefer to keep things fairly low key, so it's as easy to put away as it is to put out. Does fall decorating excite you or overwhelm you?
P.S.  I just saw the nester is opening her self-study cozy minimalist course.  This is the course I took spring of 2015 that CHANGED my life.  She's opening the facebook group up to students which is what made ALL the difference for me.  I'm participating this year as I finish up my music room and foyer.