I'm having a lot of fun with the lazy way to remodeling (aka photoshop.) I have a couple of new clients who took advantage of the coupon code for a new room design, and while they are filling out their questionnaire, I'm finishing up the rest of my basement.  I already showed you the office area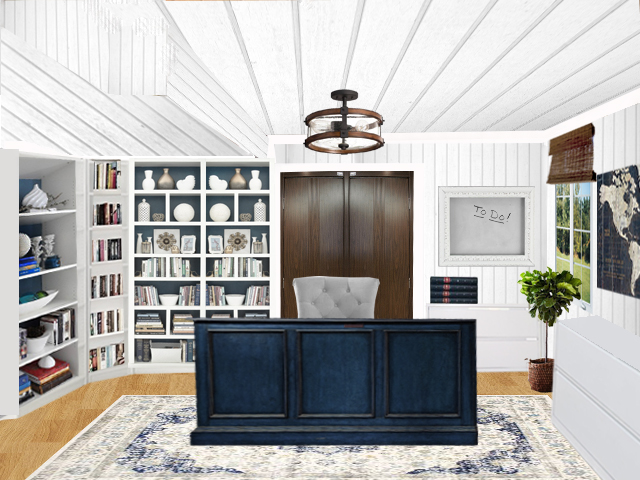 and the family room side of the other half of the basement.
Next I want to show you a little spot I call the nutrition center.
My husband needs to eat a lot.  He keeps snacks in his credenza both at home and work and uses protein powders and creatine to keep up muscle mass.  When I redesigned his office space, I got rid of his credenza.  It blocked light from the window and made the room feel cluttered.  Instead I plan to remove the wall under the stairs and build a nutrition center there.  Here's what it looks like now.
Behind the sconce light is a little room with a sink.  Just a sink.  If you use the toilet in the garage the only place to wash your hands is in that little room.  So strange.  If I remove the wall on this side, there's space for a kitchenette and the plumbing is already there for the sink.
It will have a sink on the left side (not shown), a little fridge, and a microwave (also not shown) plus storage for Darren's snacks, fitness supplements and shaker cups.  That way he'll be able to fix his protein shake right next to where he works out.
There might be room for a table in front of it for snacking or playing games.  That part will have to evolve as we move along.  It will be awhile before we'll be able to start on the improvements, but it is a lot of fun to dream.  I've saved the hardest part for last…the workout zone.  It's hard because Darren has so many pieces of equipment and he's not open to paring down.
Stumped on your room? Use the coupon code groceryshrink for $50 off a custom room design, good through February 15th.