These Pumpkin Snickerdoodles have a thin crispy outside with a soft inside.  Not too cake-like and just enough spice.  I ate 4 just to make sure they were perfect and could have gone for another if I weren't on a diet.  Self-control has to begin somewhere, bwa ha ha ha.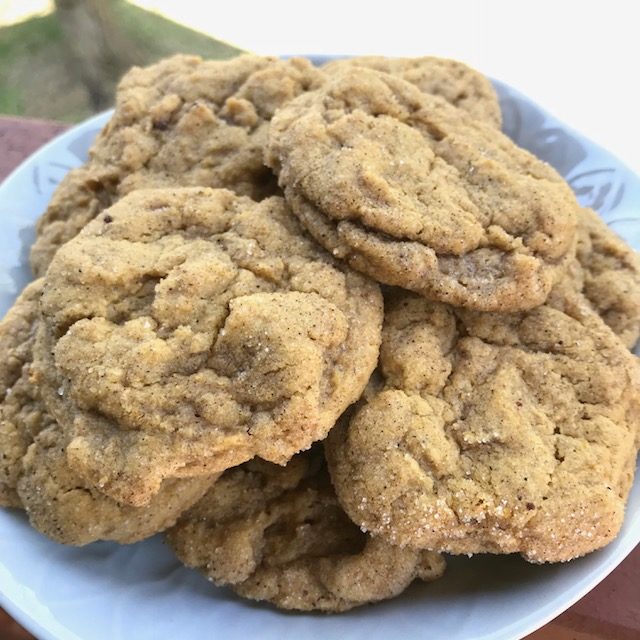 True confession time.  Not too long ago, when the kids would find me cleaning the house, they would ask who was coming over.  And when I was baking something special, they would ask who it was for.  Then I started cleaning and baking for them.  When they would ask who I was cleaning for, I would say, "I'm cleaning for us, because it feels really good to live in a clean house and we deserve to live that way."  Insert surprised faces here.
When I was baking these snickerdoodles today, it felt really good knowing they were just for them.  I'm excited to see their faces when they come home from school and find a plate of still warm snickerdoodles waiting.  I've heard the saying, "The cobbler's children have no shoes." And I don't want that to be us.  There's not much appreciation in do things just for our family, that no one else will see, but there's a lot of satisfaction.  Taking care of them is a part my self-care. They are part of me and I'm healthier for it.  We are busy and there isn't always time for the little things like homemade cookies, but today, there is.
Pumpkin Snickerdoodles
1 cup Butter, softened
3/4 cup packed Brown Sugar
1 cup White Sugar
1 egg
3/4 cup Pumpkin Puree
2 tsp Pumpkin Pie Spice
1 tsp salt
1 tsp Baking Soda
1 tsp Cream of Tartar
3 cups All-purpose Flour
For Rolling:
1/4 cup White Sugar
1 tsp pumpkin pie spice
Preheat oven to 350 degrees.
Cream the butter and sugars until light and fluffy.
Beat in egg until well mixed, then beat in pumpkin spice, salt, baking soda and cream of tartar.
Add flour a little at a time (so it doesn't fly up in a cloud everywhere) until it's all mixed.  Do not over beat.
In a small bowl combine white sugar and spice for rolling.
The dough is super soft, so use two spoons to divide off balls of dough.  (I tried chilling the dough and that made it easier to handle, but the finished cookies didn't look as good as the non-chilled dough.) Roll them in the sugar mixture and place 2 inches apart on greased cookie sheets.
Bake for 12 minutes, then cool on a wire rack.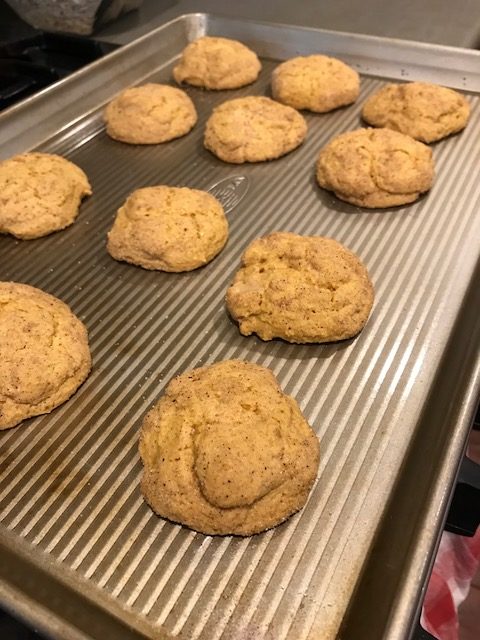 When they first come out of the oven they will be puffy, but they will cool to a perfect crinkle texture.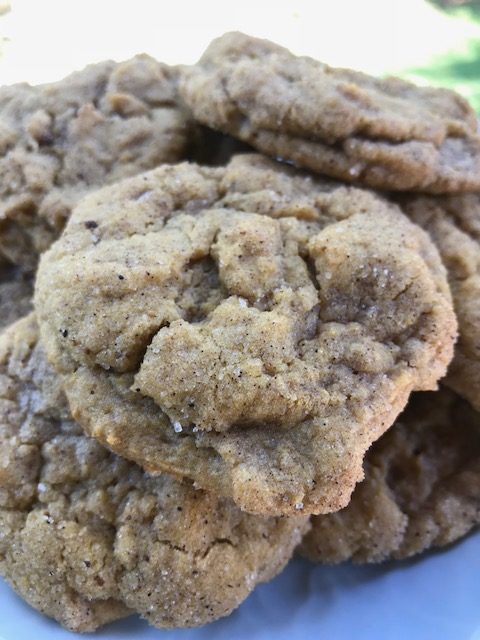 This is day 9 of 31 Days of Pumpkin Recipes
8 Healthy Pumpkin Pecan Scones
11 Pumpkin Chili
12 Pumpkin French Toast Casserole
13 Pumpkin Muffin/Drop Cookie Mix
14 Easy Pumpkin Cake
15 Pumpkin Dump Cake
16 Baked Pumpkin Oatmeal
17 Pumpkin Mousse
18 Pumpkin Cheesecake
19 Pumpkin Latte
20 Pumpkin Pie Smoothie
21 Pumpkin Breakfast Cookies
22 Pumpkin Biscuits
23 Maple Pumpkin Butter
24 Stuffed Sugar Baby Pumpkins
25 Pumpkin Pancakes
26 Pumpkin English Muffins
27 Roasted Pumpkin Seeds
28 Baked Pumpkin Doughnuts
29 Pumpkin Biscotti
30 Pumpkin Caramel Monkey Bread
31 Impossible Pumpkin Pie