These cinnamon rolls start with a pumpkin based yeast dough, filled with cream cheese caramel, for an ooey gooey breakfast treat that triples as a perfect dessert or after school snack.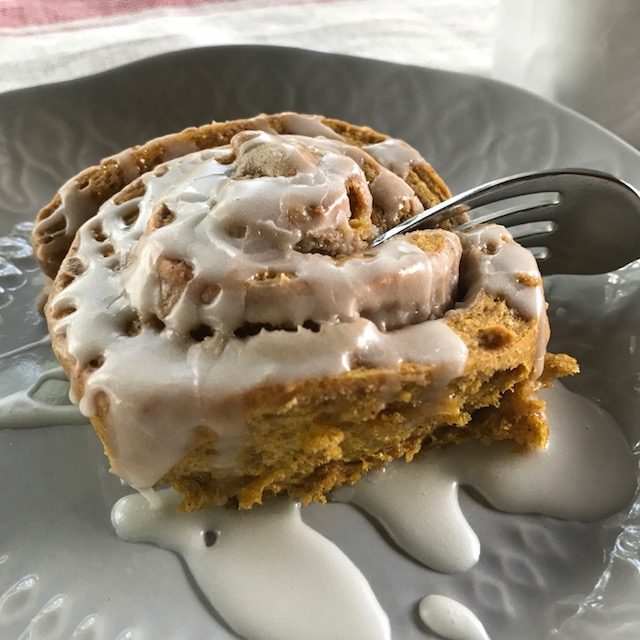 The dough is the same as our Pumpkin Dinner Roll Dough, but halved so it will fit in your bread machine.  Of course you can mix it up in your mixer if you prefer, or even make the larger batch like I did so there are plenty to share.
Caramel Filled Cinnamon Rolls
Dough:
1/2 stick butter (1/4 cup)
1/2 cup Milk (any kind)
1/2 cup pumpkin puree
1 egg
6 Tbs Packed Brown Sugar
1 1/2 tsp pumpkin spice
1/2 tsp salt
3 1/2 cups Flour (all-purpose or hard white wheat flour all work)
1 Tbs yeast
Filling:
4 oz Cream cheese (Neufchatel also works.)
1/3 cup Packed Brown Sugar
1 tsp Pumpkin Spice
Put the dough ingredients in your bread machine in the order list, then turn on the dough setting.
When the dough is finished, roll it out into a rectangle about 11×18 inches.  The dough will be 1/4-1/3 inch thick.  The dough is easy to handle and not sticky, so don't use flour to roll it out.
Beat the filling ingredients together and spread onto your dough rectangle.  Roll it up, jelly roll style, and cut into fourths.  Then cut each fourth into thirds for 12 equal parts.  Place with equal space around each roll into a 9×13 pan or a round cake pan.  The more space there is beside the rolls the wider they will spread, the closer they are, the taller they will rise.  If you use a smaller pan, be sure to bake it on a cookie sheet to catch any drips from the caramel spilling over.
Let rise for 1 hour or until the rolls are almost double in size.  About 15 minutes before baking, preheat the oven to 350 degrees.  Bake for 30 minutes or until the center of the pan is no longer doughy.  Or if you use a digital thermometer set the alarm for an internal temperature of 200 degrees.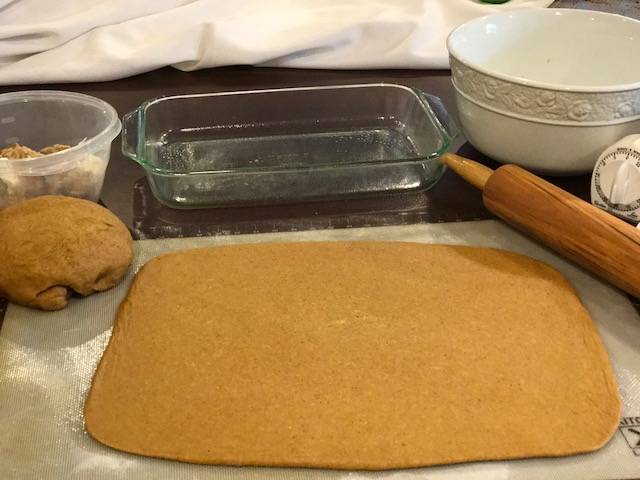 This is what your rectangle should look like, right before spreading the filling.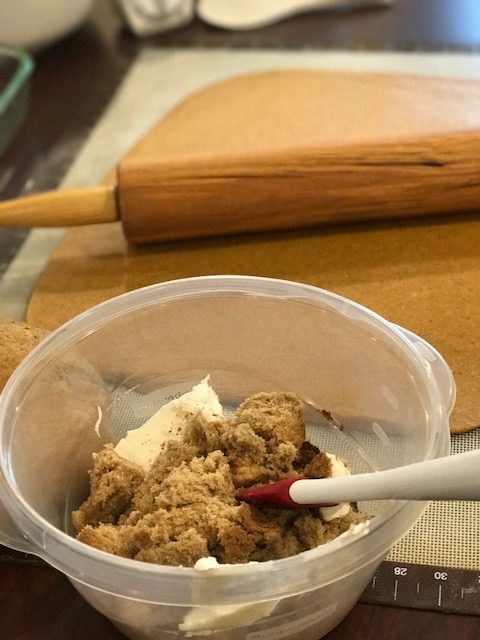 The filling is easy to mix up with a spoon or spatula, then spread it on with the same utensil.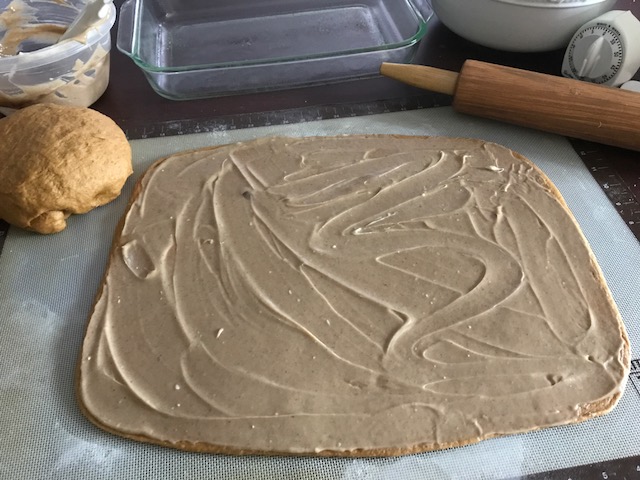 As it bakes the filling soaks into the dough, but boy is it good that way.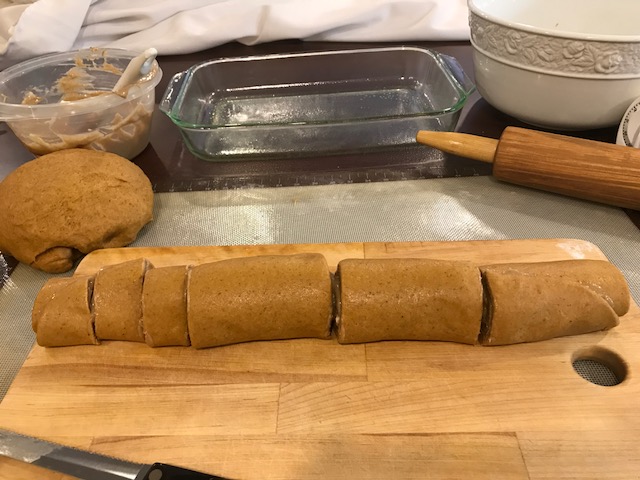 By cutting it into half first, then in half again, and then in thirds, it's easier to get them all the same size.  I use my serrated bread knife, but dentil floss also works well.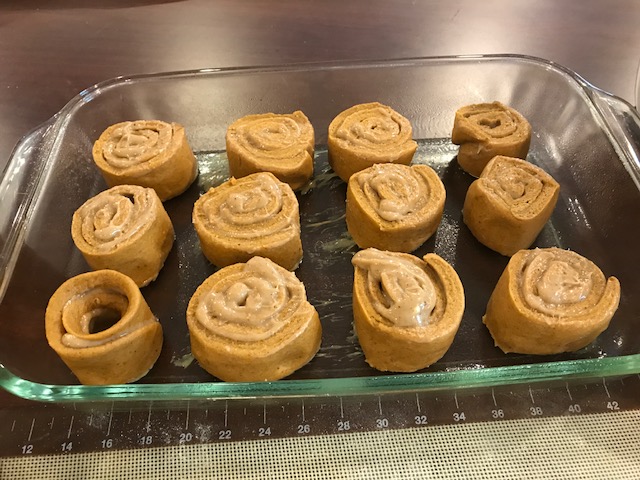 At first glance a 9×13 pan looks way too big for the rolls.  Just evenly space them and trust your yeast :).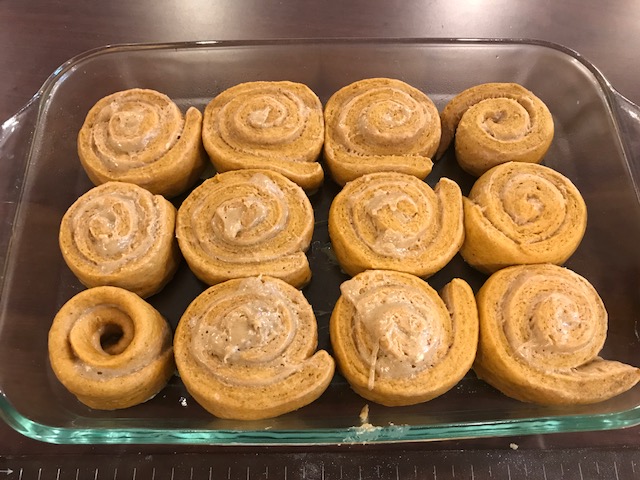 After an hour, they will fill the pan.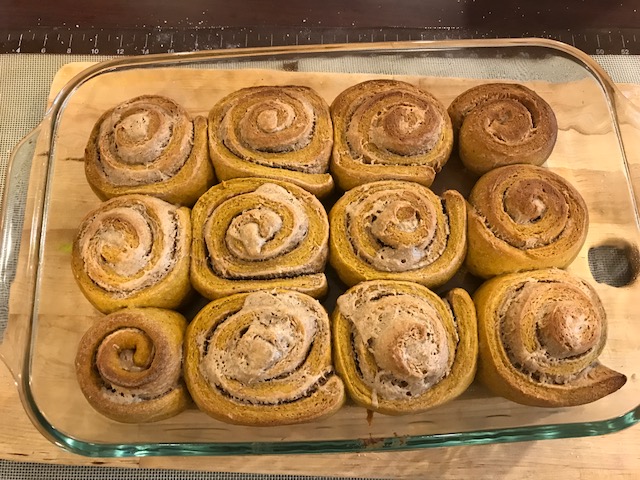 Then puff up a little more after baking.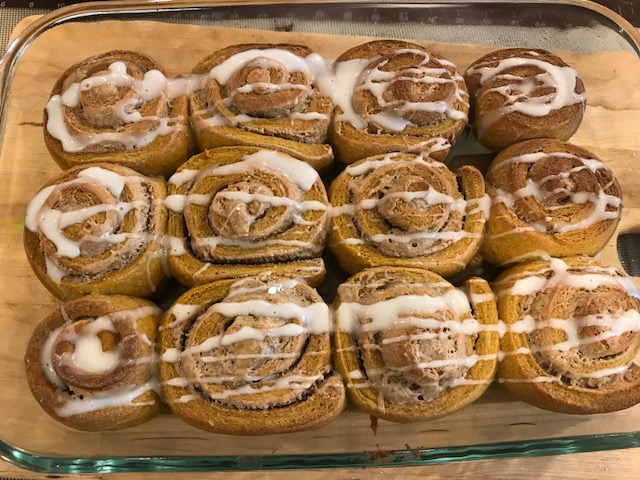 They don't need more sugar on them for flavor, but a little powdered sugar drizzle makes them look fancy.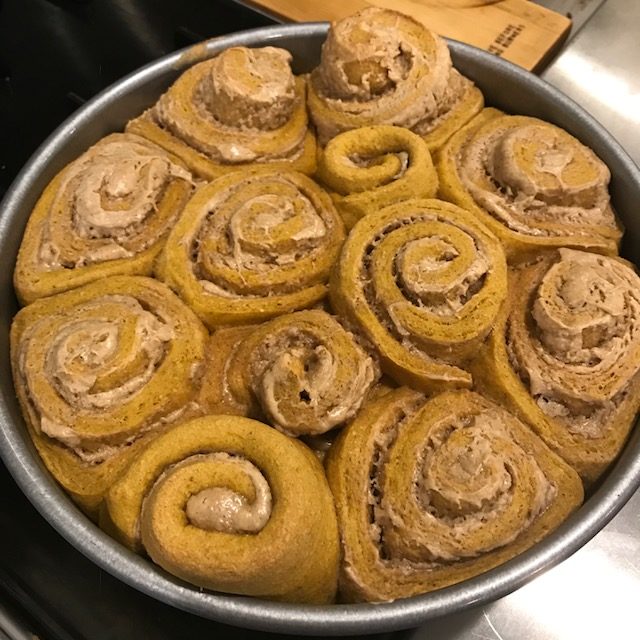 A round cake pan also works, but they will squish together and get taller instead of wider.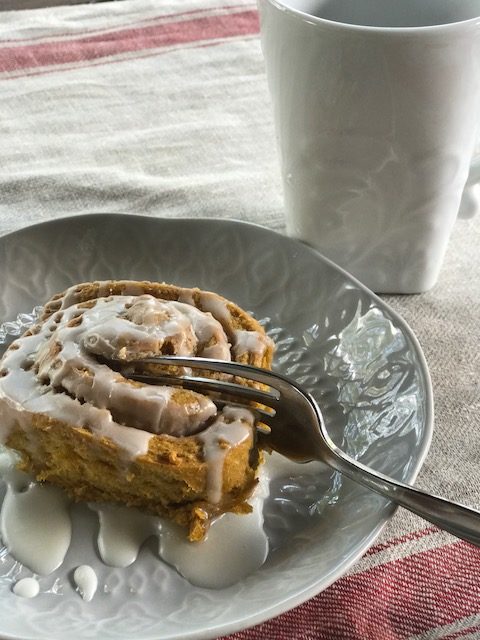 This is day 5 of 31 Days of Pumpkin Recipes
6 Pumpkin Bagels
7 Butternut Chicken Stew
8 Pumpkin French Toast Casserole
9 Healthy Pumpkin Pecan Scones
10 Pumpkin Snickerdoodles
11 Pumpkin Muffin/Drop Cookie Mix
12 Easy Pumpkin Cake
13 Pumpkin Dump Cake
14 Baked Pumpkin Oatmeal
15 Pumpkin Mousse
16 Pumpkin Cheesecake
17 Pumpkin Latte
18 Pumpkin Pie Smoothie
19 Pumpkin Chili
20 Pumpkin Breakfast Cookies
21 Pumpkin Biscuits
22 Maple Pumpkin Butter
23 Stuffed Sugar Baby Pumpkins
24 Pumpkin Pancakes
25 Pumpkin Waffles
26 Pumpkin English Muffins
27 Roasted Pumpkin Seeds
28 Baked Pumpkin Doughnuts
29 Pumpkin Biscotti
30 Pumpkin Caramel Monkey Bread
31 Impossible Pumpkin Pie