Most of you know that I coach a private weight loss group and provide detailed meal plans to help the girls reach their goals.  I'm following the meal plans closely myself and am on my way to a completing a 40lb weight loss.  Not everything is predictable but I'm on track to finish by the end of the year. These scones are part of our plan this week and they are such a treat!  My kids were jealous, so I made a fresh ground whole wheat version for them.
The Fit Mama recipes won't hurt a young person if they want to eat them once in awhile but the ingredients are more expensive than traditional ingredients and they are too low carb/low calorie for a steady diet for a growing child.  It doesn't take long for me to make a version for me and one for them and I'm excited to share both the recipes.

Fit Mama Protein Pumpkin Spice Waffles
3/4 tsp Vanilla Liquid Stevia
4 eggs
2/3 cup Pumpkin Puree
1 Tbs Coconut Oil, melted
2/3 cup Unsweetened Vanilla Almond Milk
1/3 cup Coconut Flour
1/3 cup Vanilla Protein Powder
1 tsp pumpkin spice
1 tsp baking powder
Great Value Sugar Free Syrup for topping
1. Preheat waffle iron.
2. Sift together the coconut flour, protein powder, spice and baking powder. Stir in pumpkin, almond milk, eggs and vanilla stevia.
3. Spray the waffle iron with non-stick spray before filling each time.  Fill with batter. My beligium iron shown takes 1/3 cup per waffle and cooks 2 at a time.  Close the lid and cook for 4-5 minutes.  I set a timer instead of watching the guide lights.  Too long and the waffle is dry and crumbly.  Too little time and it's floppy and won't come out of the iron.  4 minutes is a lighter colored softer waffle, 5 minutes is a little darker with crisp edges.
4. Transfer to a plate and top with sugar free syrup.  I prefer Great Value brand because it doesn't have any nutrasweet and tastes great.
3 Servings (Facts include 2 Tbs syrup per serving)
300 calories; 14g fat; 9g net carbs; 22g protein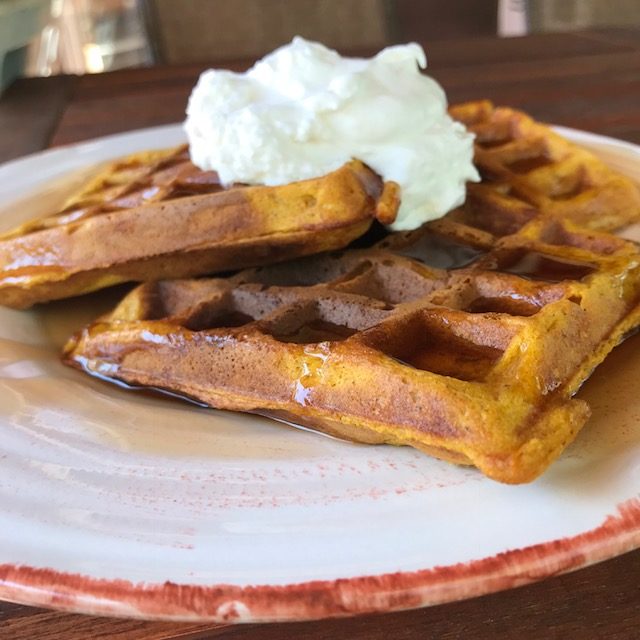 Whole Wheat Pumpkin Waffles
2 1/2 cups Hard White Wheat Flour
1/3 cup brown sugar
4 tsp baking powder
1/2 tsp salt
1 Tbs Pumpkin Spice
4 large eggs
2 cups milk
1 cup canned solid-pack pumpkin
1/4 cup melted butter
1. Preheat waffle iron.
2. Sift together flour, brown sugar, baking powder and soda, salt, and spices.
3. Make a well in the center and add eggs, milk, pumpkin, and butter until smooth.
4. Brush waffle iron lightly with oil and spoon batter (check your instruction booklet for how
much since waffles irons may vary, most common amount is 1/3 cup per waffle) into
preheated waffle iron. Cook according to manufacturer's instructions.
8 servings: 309 calories each (calculated without extra butter or syrup) 9g fat; 41g net carbs; 13g protein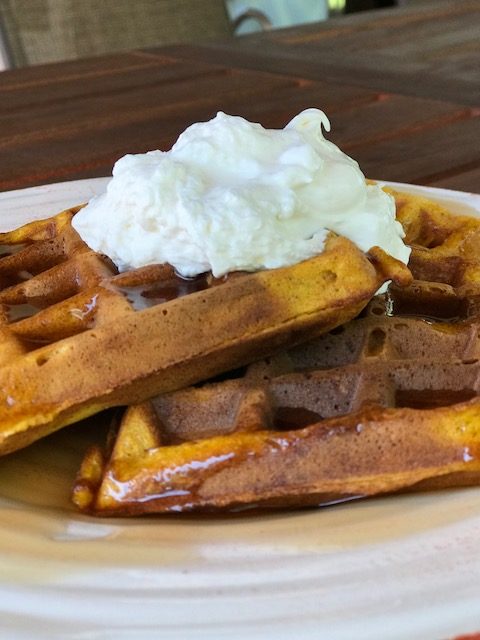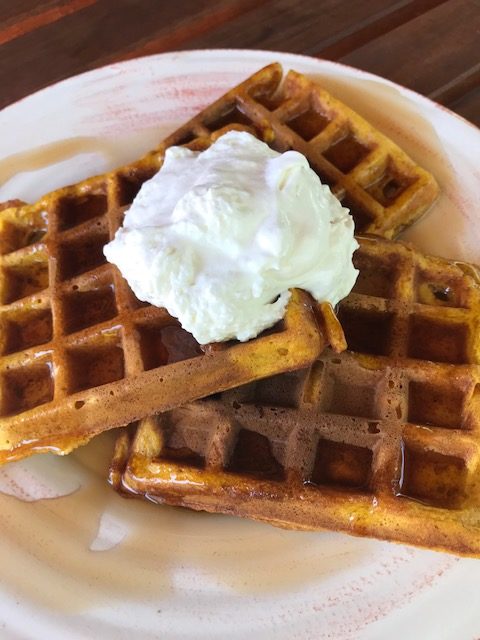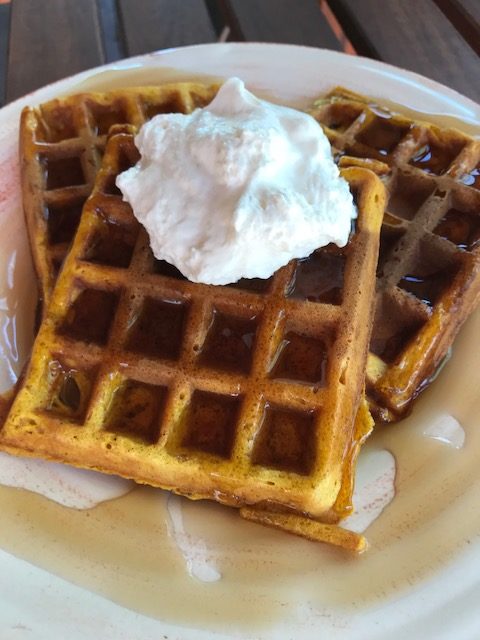 This is day 9 of 31 Days of Pumpkin Recipes
8 Healthy Pumpkin Pecan Scones
9 Pumpkin Waffles
10 Pumpkin French Toast Casserole
11 Pumpkin Snickerdoodles
12 Pumpkin Muffin/Drop Cookie Mix
13 Easy Pumpkin Cake
14 Pumpkin Dump Cake
15 Baked Pumpkin Oatmeal
16 Pumpkin Mousse
17 Pumpkin Cheesecake
18 Pumpkin Latte
19 Pumpkin Pie Smoothie
20 Pumpkin Chili
21 Pumpkin Breakfast Cookies
22 Pumpkin Biscuits
23 Maple Pumpkin Butter
24 Stuffed Sugar Baby Pumpkins
25 Pumpkin Pancakes
26 Pumpkin English Muffins
27 Roasted Pumpkin Seeds
28 Baked Pumpkin Doughnuts
29 Pumpkin Biscotti
30 Pumpkin Caramel Monkey Bread
31 Impossible Pumpkin Pie