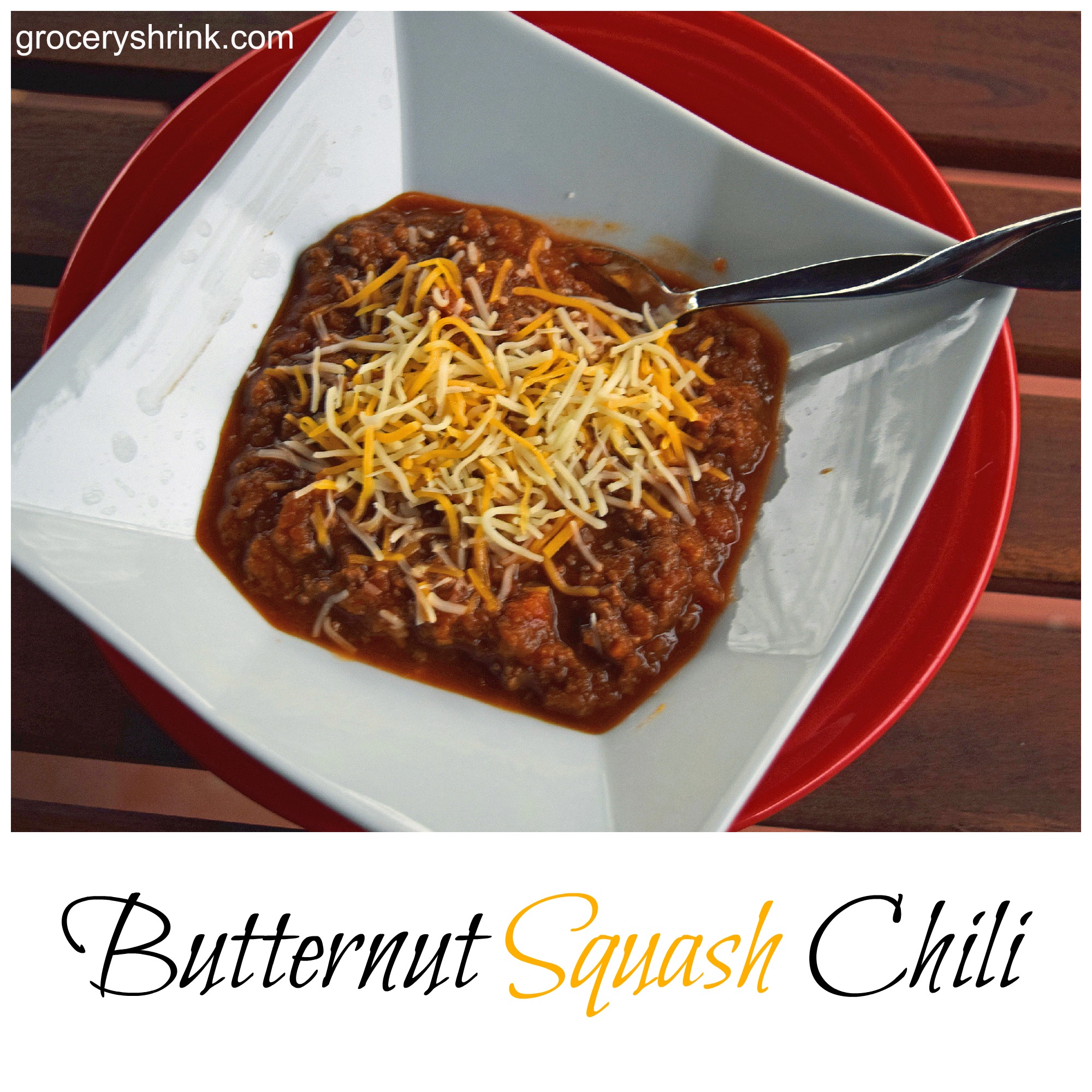 I love Chili and all things beans, but sometimes they don't love me.  And beans never love my teenage son.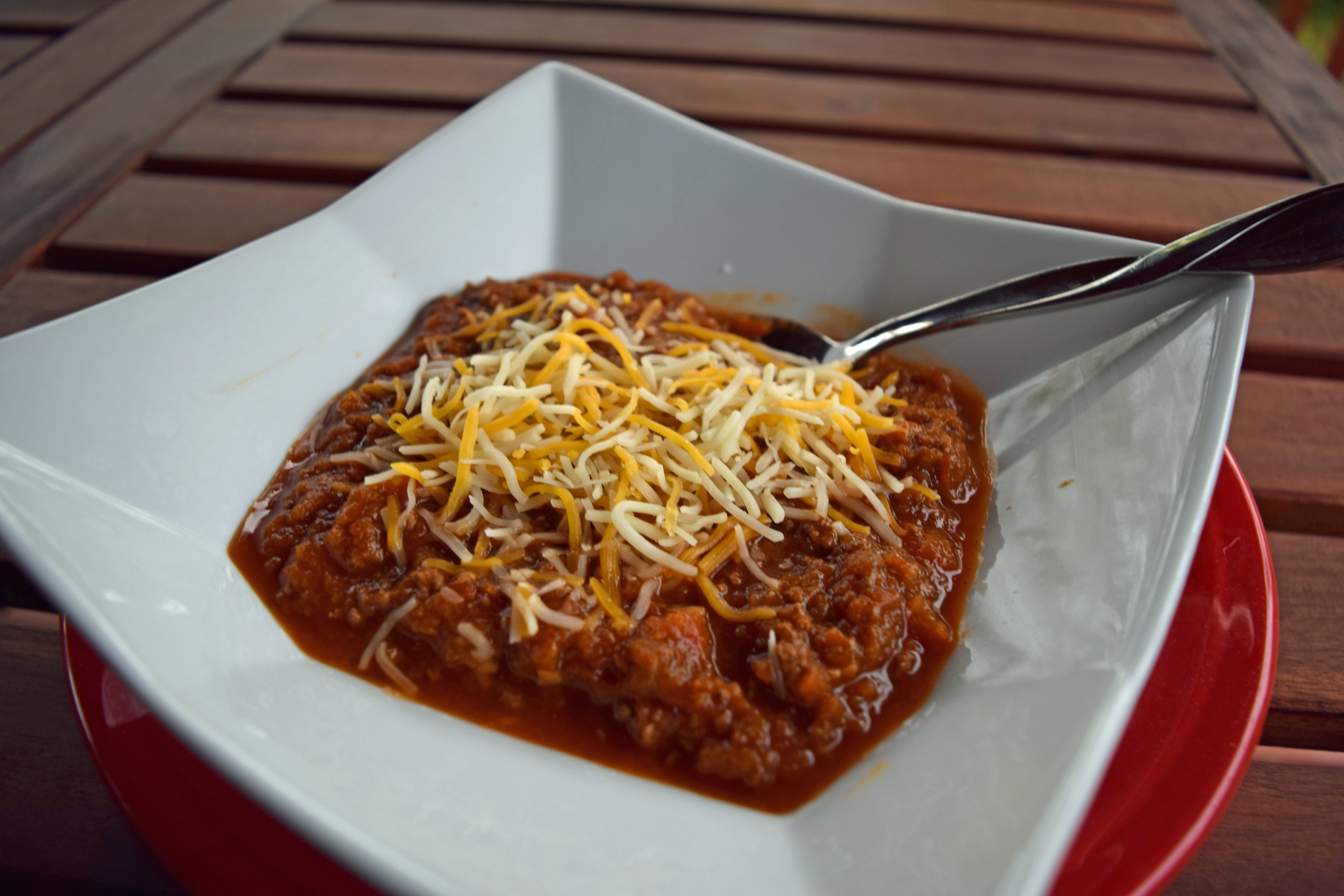 With butternut squash we can have a nice thick beanless chili without spending a fortune on extra meat. Originally I planned to cut the squash into bite sized squares for a nice texture similar to beans.  Then I remembered my kids aren't big fans of squash…yet.   I have all sorts of secret plans to turn them into squash fans, mmmmmwwwwahahahahahaha.  It's a work in progress.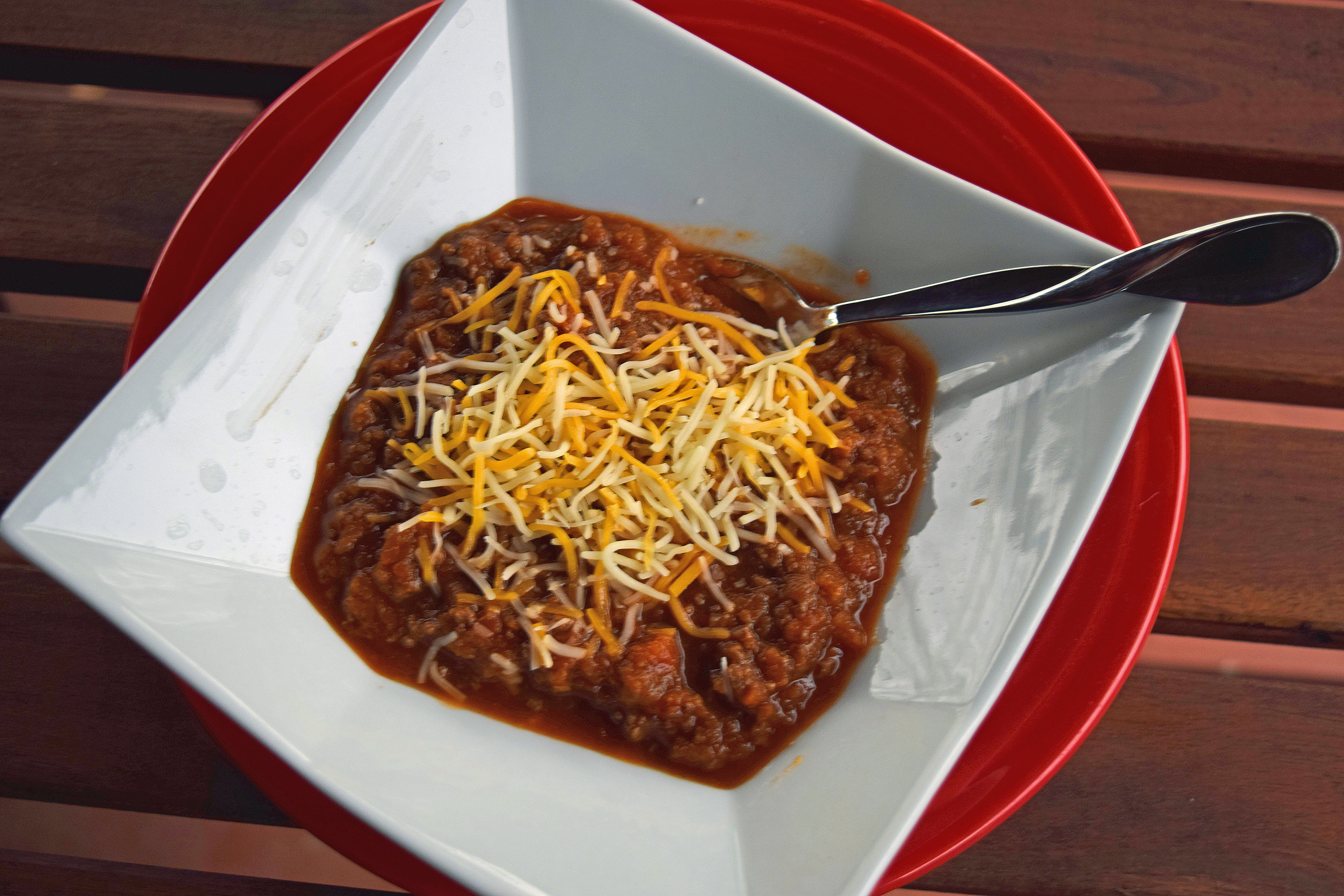 I sauteed the squash in a skillet with a little coconut oil and chopped onion, then pureed it in a blender with a can of broth.  When I stirred it into the crushed tomatoes, the squash and onion disappeared.  Chili powder's dark color made the camouflage complete.  You could totally save a step and use canned pumpkin puree instead.
Butternut quash's mildly sweet flavor complements the spicy seasonings perfectly.  The kids gobbled this up.  It's a hearty, comforting autumn meal that is lower carb and won't cause bloating or other gastric distress.
Butternut Chili Con Carne
1 medium butternut squash, peeled and cubed
1 onion, diced
1 can, 15 oz beef or chicken broth  (or 2 cups homemade, cool in temperature)
2 lbs ground beef or turkey, browned and drained
1 can, 28 oz crushed tomatoes
3 Tbs chili powder
1 Tbs cumin
1 tsp salt
1 tsp garlic powder
1/2 tsp black pepper
Saute squash with onion in a little bit of coconut oil until fork tender, about 15 minutes.  Add to a blender or food processor with broth.  Puree.  (You can leave it whole if you like the texture.)  Combine everything in a stock pot and warm through.  The longer it simmers the better the flavors will meld.  This can be stirred together in the morning and held in a slow cooker on low until dinner.
Topping ideas: shredded cheese, sour cream, chopped chives, chopped tomatoes, olives, crushed tortilla chips, oyster crackers….
1/8th of the recipe prepared with 93% lean ground beef = 318 calories, 9g fat, 19 net carbs, and 34 grams of protein
This is day 11 of 31 Days of Pumpkin Recipes
8 Healthy Pumpkin Pecan Scones
12 Pumpkin French Toast Casserole
13 Pumpkin Muffin/Drop Cookie Mix
14 Easy Pumpkin Cake
15 Pumpkin Dump Cake
16 Baked Pumpkin Oatmeal
17 Pumpkin Mousse
18 Pumpkin Cheesecake
19 Pumpkin Latte
20 Pumpkin Pie Smoothie
21 Pumpkin Breakfast Cookies
22 Pumpkin Biscuits
23 Maple Pumpkin Butter
24 Stuffed Sugar Baby Pumpkins
25 Pumpkin Pancakes
26 Pumpkin English Muffins
27 Roasted Pumpkin Seeds
28 Baked Pumpkin Doughnuts
29 Pumpkin Biscotti
30 Pumpkin Caramel Monkey Bread
31 Impossible Pumpkin Pie