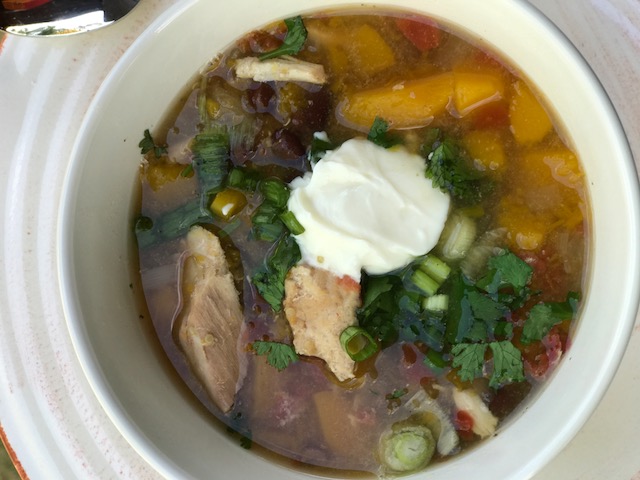 A few years ago I was searching for butternut squash recipes and found a beautiful picture of a chicken stew.  I clicked over to read the recipe and was immediately disappointed.  The black bits in the stew were olives, and I'm not a fan.  The black color was part of what made the dish so beautiful, so I wrote up the recipe I was hoping to find.  Then I threw it in the crock pot and fed it to guests, because I live dangerously like that. It was delicious.  The slightly sweet flavor from the butternut contrasted perfectly with the spicy southwest flavors.
Did you know that Butternut squash and pumpkin are in the same family?  If you'd like a homemade dark orange, thick sweet puree for your pumpkin recipes, consider subbing butternut instead.  There has been a rumor going around that canned pumpkin is really butternut squash…but after some research I've found that to be false.   And also learned about a new strain of pumpkin that is destined to be in my garden next year.   If you have one of these KING of eating pumpkins, you may use that instead in this recipe.
Southwest Butternut Chicken Stew
1 1/2 lbs Butternut Squash, peeled and cubed
4 cups chicken broth
1 lb boneless chicken
1 onion, chopped
1 can, 15 oz black beans, rinsed and drained
1 can, 10 oz Rotel tomatoes, undrained
1 1/2 tsp Ground Cumin
1 tsp minced garlic
1/2 cup, dry quinoa, rinsed
1/4 cup Cilantro
1/4 cup Sour Cream
In a slow cooker, combine everything except the quinoa and cilantro.  Cook on high for 3 hours or on low for 6.  Pull out chicken and chop or shred, then return to the pan. Stir in quinoa and cook for 30 minutes longer.  Garnish with fresh cilantro  and sour cream just before serving.  Serve with tortilla chips or Fritos.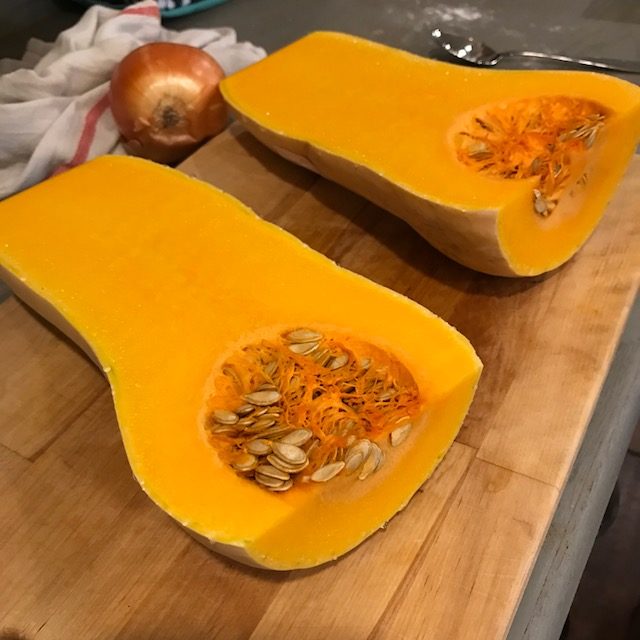 Butternut Squash is fairly easy to work with.  It's easier to cut through than the some of the tougher squashes.  I just trimmed off the ends, then scooped the seeds out of the bowl.  I love this squash so much, I saved and dried my seeds to try in the garden this spring.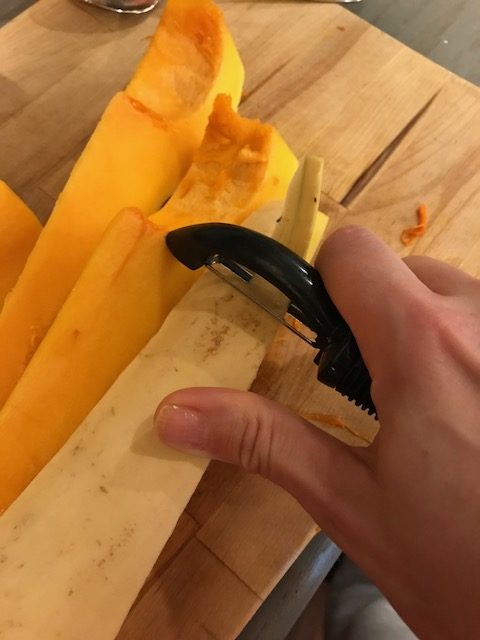 A vegetable peeler works great for removing the skin.  You'll just need to make more than one pass.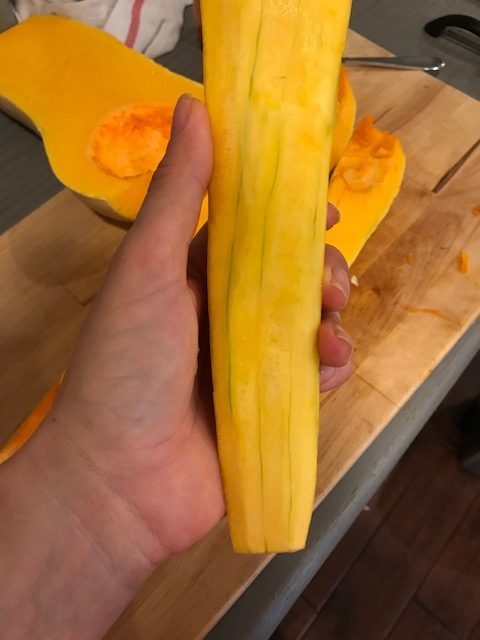 If you still see streaks of green on your squash, there's still skin there.  Keep using the peeler to remove layers until it's just orange.  Then you can cut it into cubes.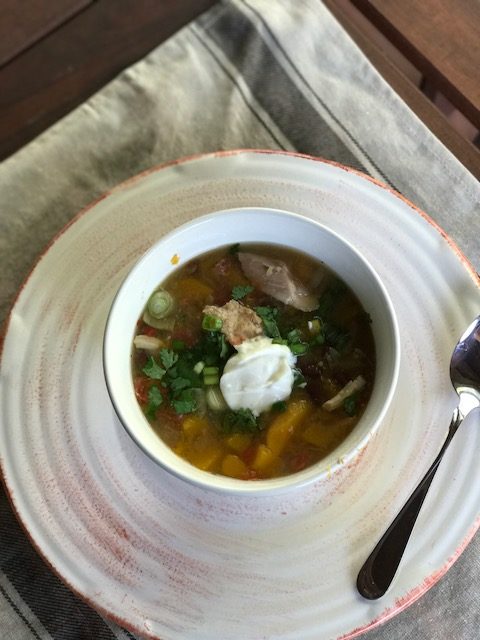 This is day 7 of 31 Days of Pumpkin Recipes
8 Pumpkin French Toast Casserole
9 Healthy Pumpkin Pecan Scones
10 Pumpkin Snickerdoodles
11 Pumpkin Muffin/Drop Cookie Mix
12 Easy Pumpkin Cake
13 Pumpkin Dump Cake
14 Baked Pumpkin Oatmeal
15 Pumpkin Mousse
16 Pumpkin Cheesecake
17 Pumpkin Latte
18 Pumpkin Pie Smoothie
19 Pumpkin Chili
20 Pumpkin Breakfast Cookies
21 Pumpkin Biscuits
22 Maple Pumpkin Butter
23 Stuffed Sugar Baby Pumpkins
24 Pumpkin Pancakes
25 Pumpkin Waffles
26 Pumpkin English Muffins
27 Roasted Pumpkin Seeds
28 Baked Pumpkin Doughnuts
29 Pumpkin Biscotti
30 Pumpkin Caramel Monkey Bread
31 Impossible Pumpkin Pie