These tender rolls are light, delicious and child approved.  Mildly sweet, these rolls are the perfect compliment to a Thanksgiving feast (or an autumn after school snack.)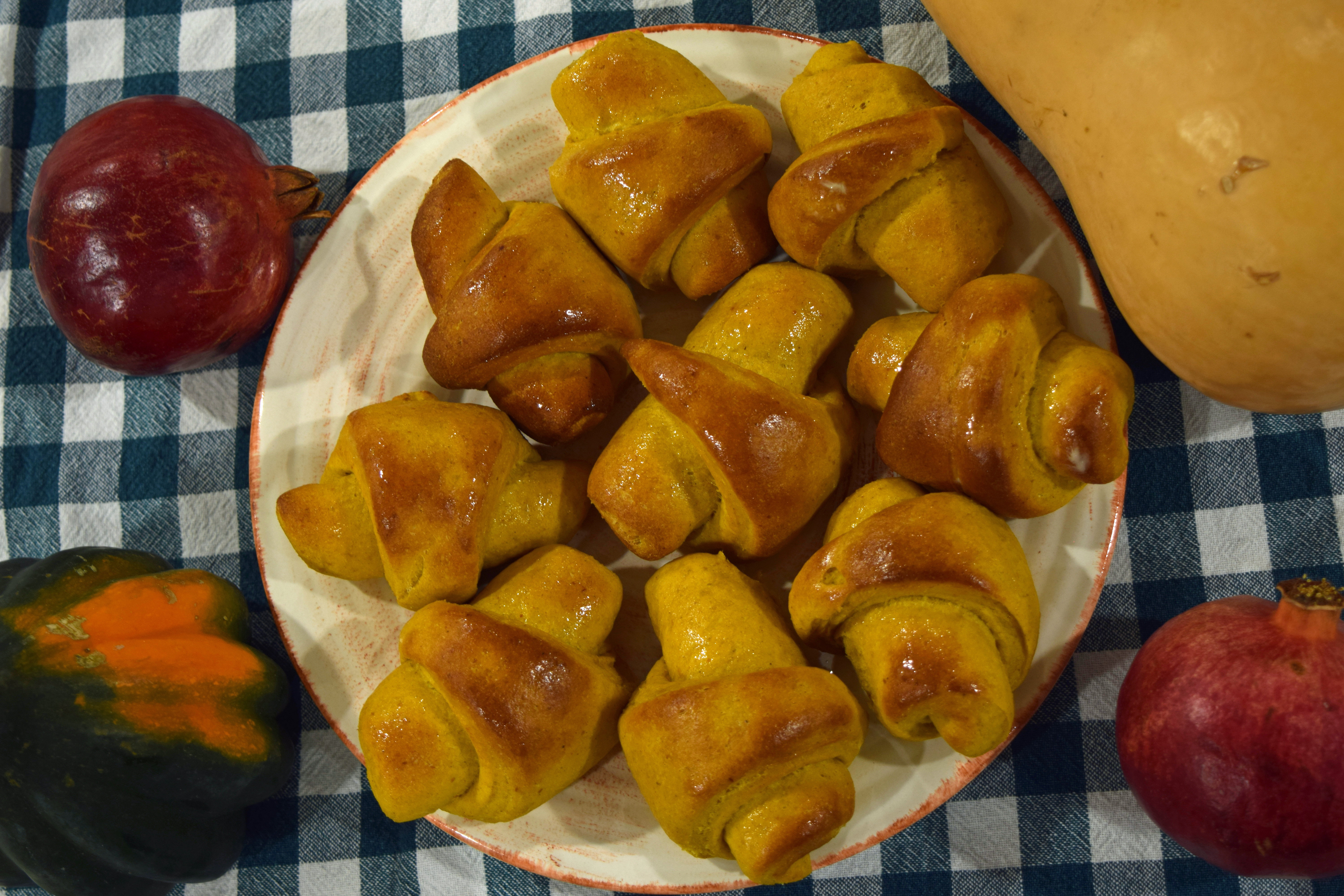 Pumpkin Dinner Rolls
1 cup pumpkin puree
1 cup milk
1 stick butter
2 eggs
3/4 cup packed brown sugar
1 teaspoon salt
1 Tbs pumpkin pie spice
2 Tablespoons yeast
5-7 cups whole wheat flour (I used fresh ground hard white wheat.)
Directions:  If you'd like to make the dough in your bread machine, cut the recipe exactly in half. 
In a microwave safe bowl combine pumpkin, milk and butter. Cook on high for 2 minutes or until butter is melted. Beat mixture with a whisk until smooth, then beat in eggs and brown sugar. Set aside.
In your mixer bowl, combine both flours, spices, yeast and salt. With the dough hook running, slowly pour in pumpkin mixture, beating until a soft dough forms. (Add additional flour or water if needed.) Allow the machine to knead the dough for 6-8 minutes. Lightly oil the dough and let rest for 1 hour or until doubled.
Punch down dough and divide into 2 balls. Roll each27 ball into a large circle about 1/4 inch thick. Use a table knife to cut the circle into 16 wedges. Starting at the fat end roll each wedge into a crescent. Place on greased baking sheets about 1 inch apart. Let rest uncovered until doubled, about an hour. Bake rolls at 400 degrees for 10 minutes or until golden on the top. Serve with pumpkin butter if desired.
Each roll has 145 calories, 3.5 grams of fat, 4 grams of protein, 27 grams of carbs and 2.6 grams of fiber.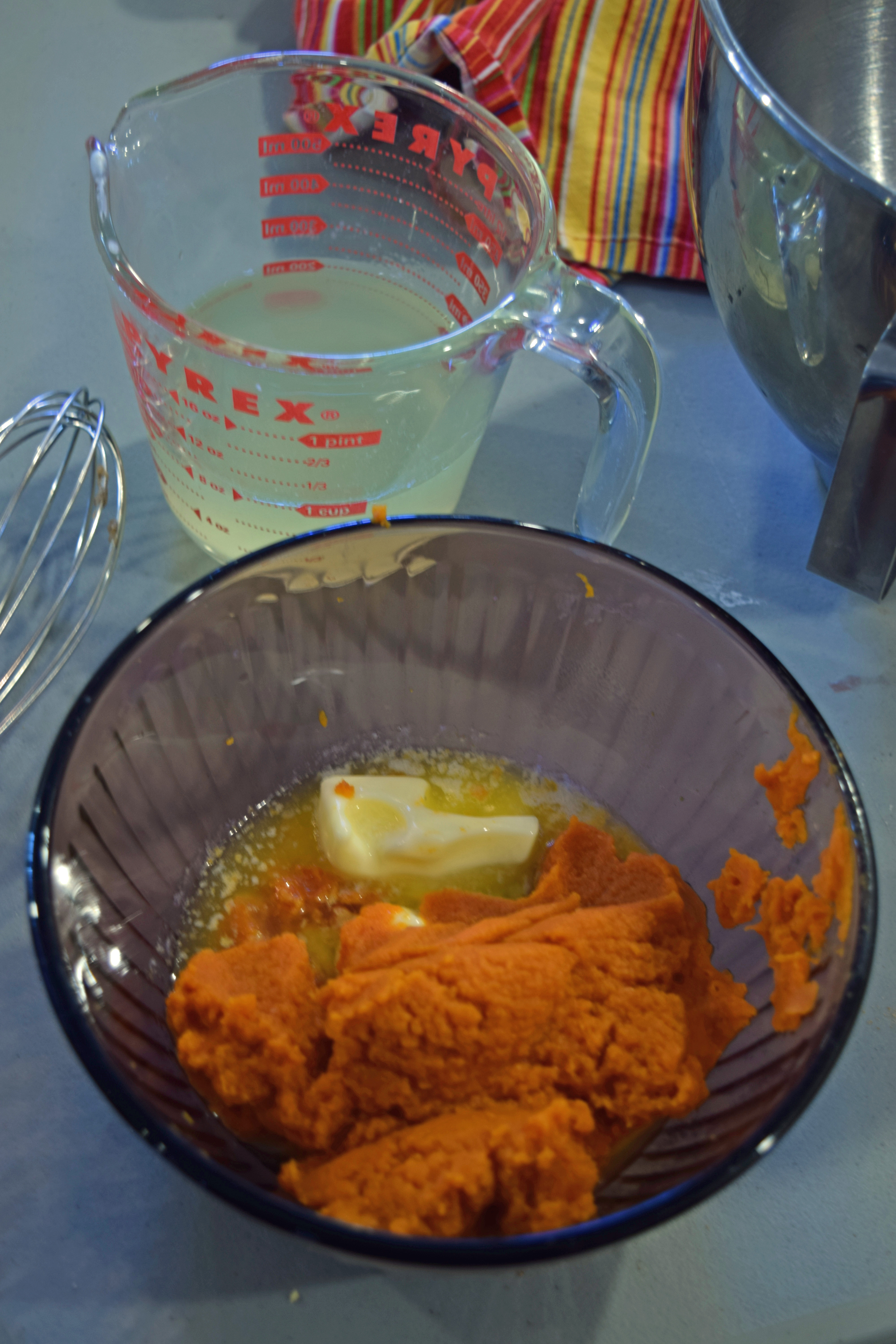 Melt the butter and pumpkin together. Add the whey or buttermilk.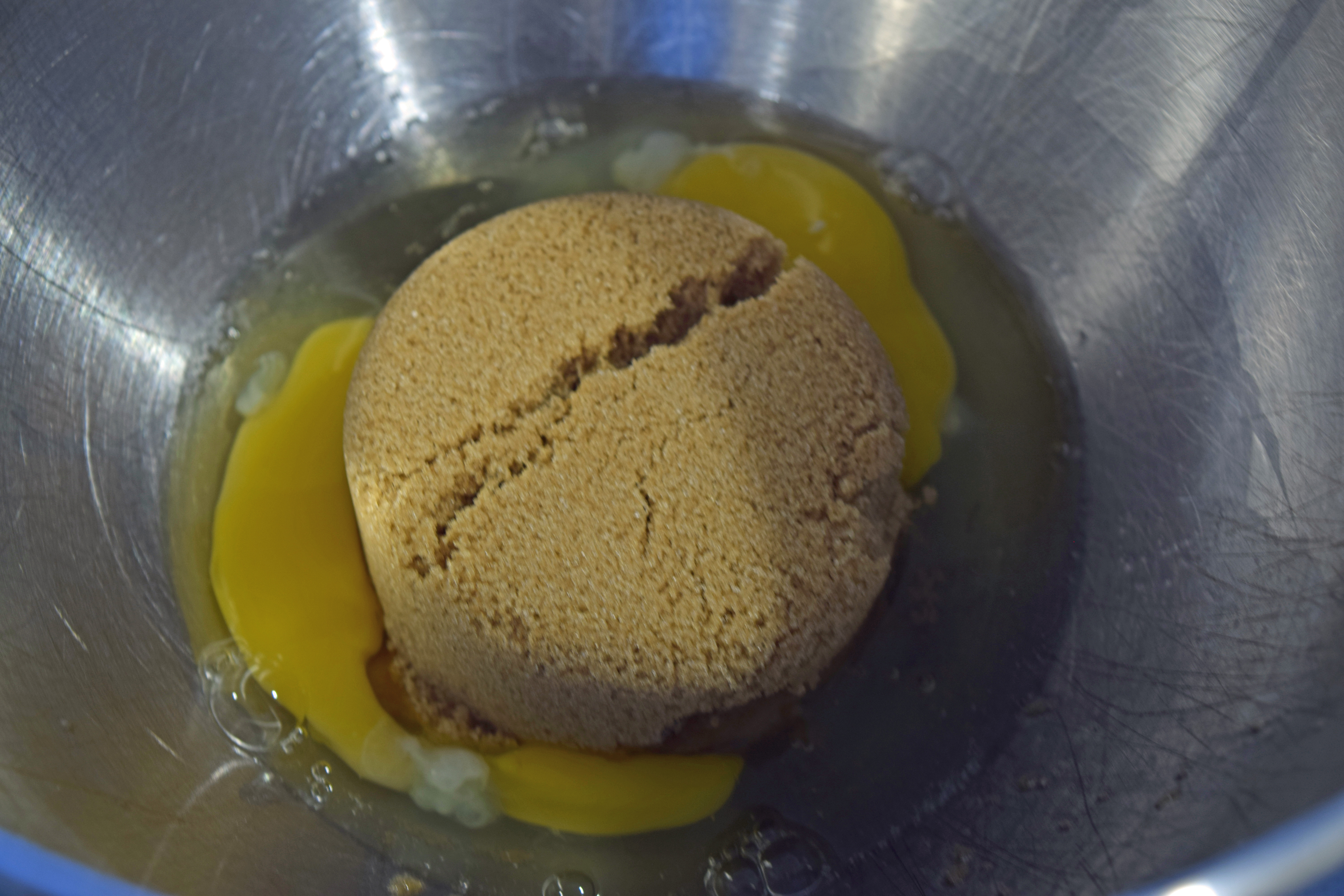 Beat eggs and brown sugar together.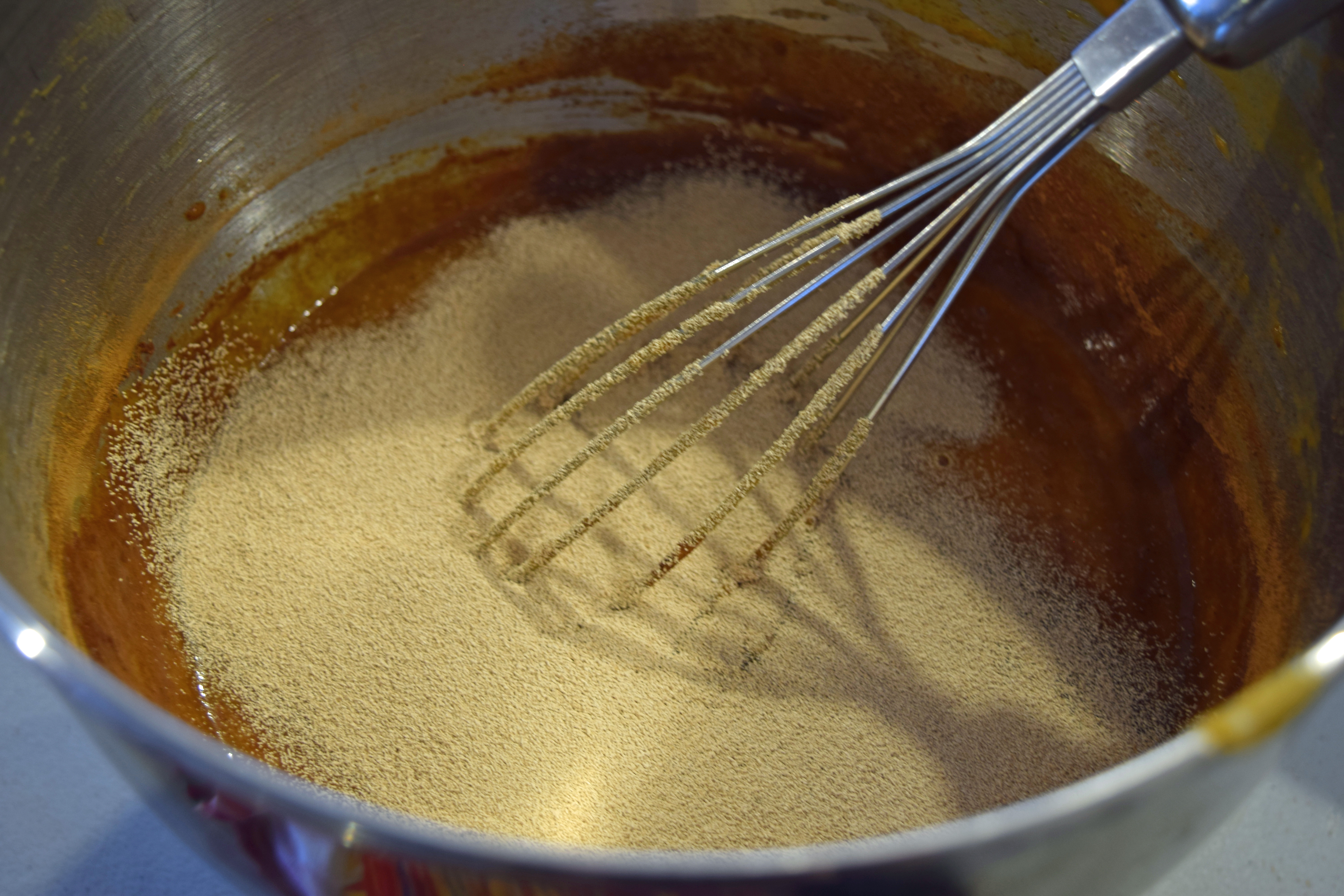 Add the yeast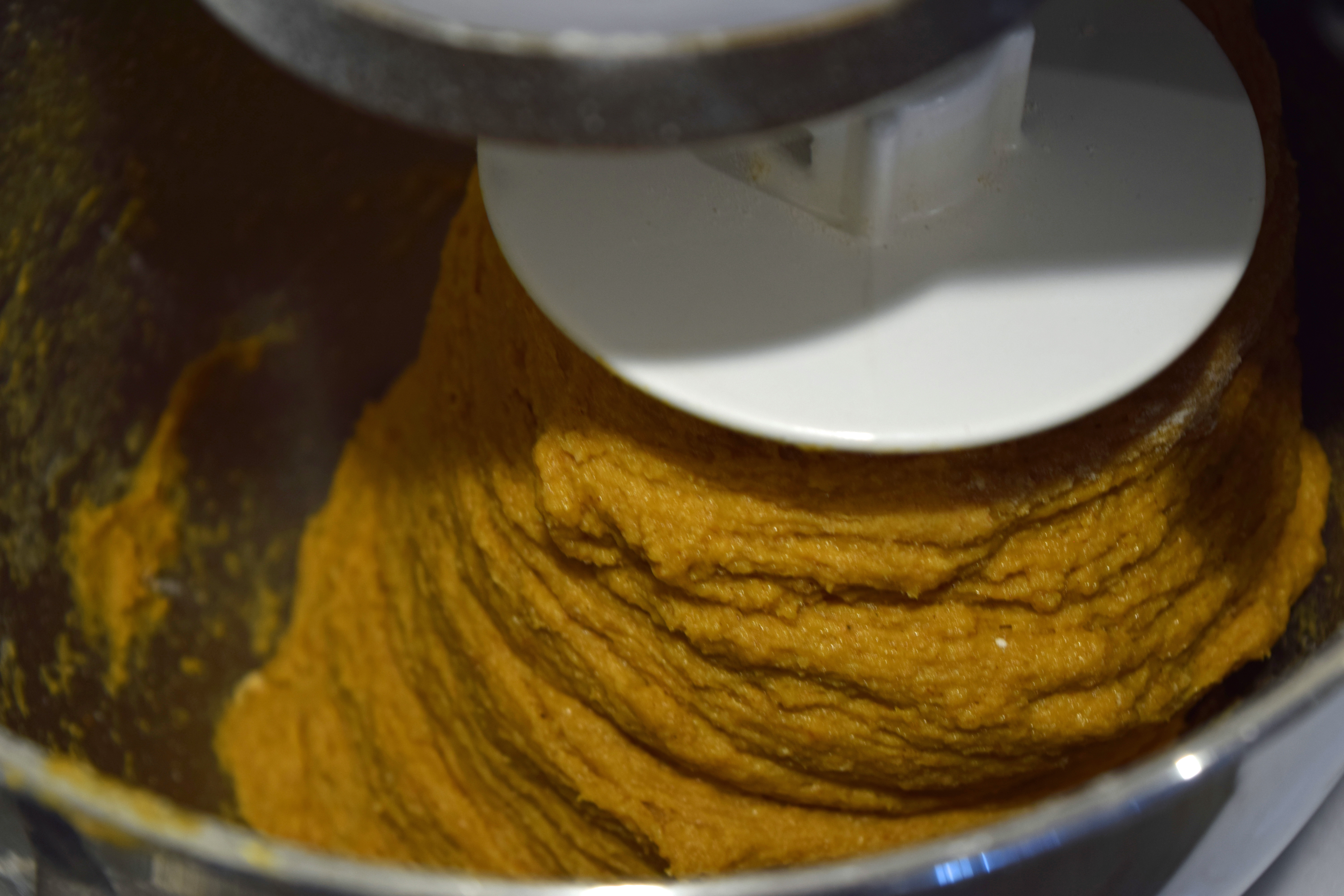 Beat in flour until the dough pulls away from the sizes and holds some shape.  I like to keep it really soft.  You might not need all the flour.  Just add it 1 cup at a time and stop when the dough looks like this.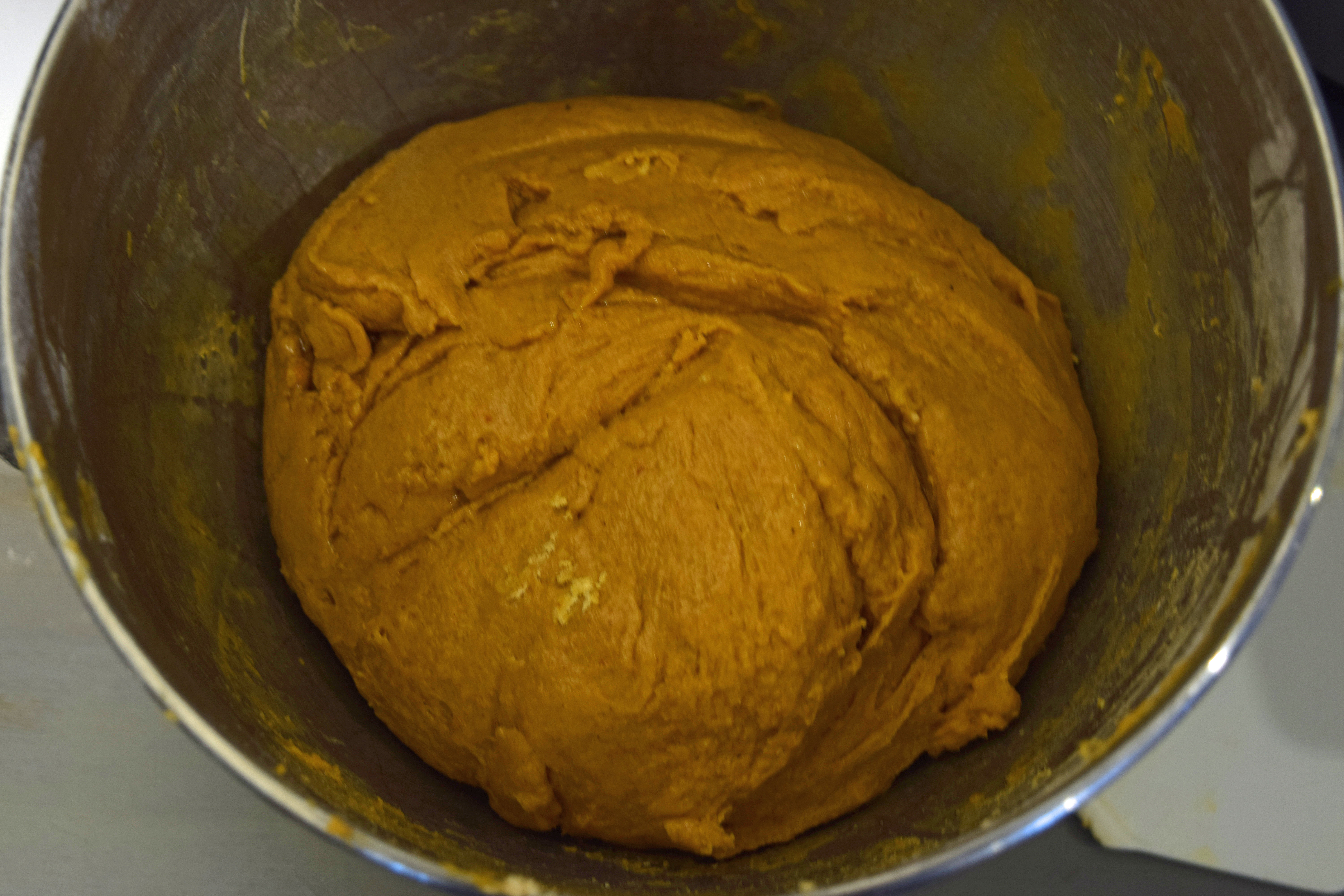 This is what it looks like when it's ready for the first rise.  I like to coat my dough in olive oil to keep it from drying out.  Then cover the bowl with a tea towel. It takes about an hour to double in size.  You'll know it's ready when you can stick your finger in and the indention stays for a bit.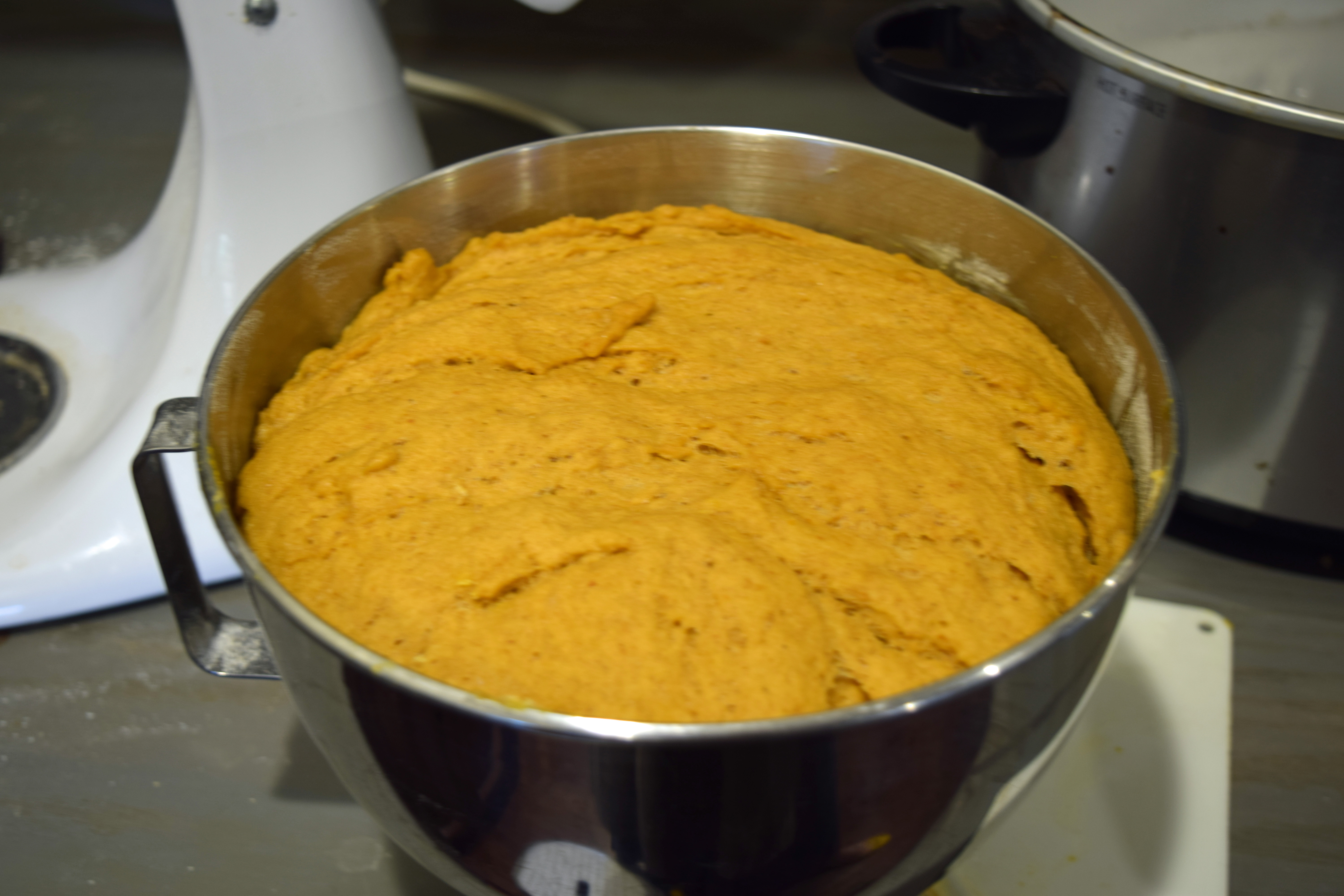 This is how it looks when it's double in size and ready to form into rolls.  This dough is super forgiving.  I started it at 11 am and it should have been ready to form at 12, but I didn't have time to get to it until 4pm.  It was still ok.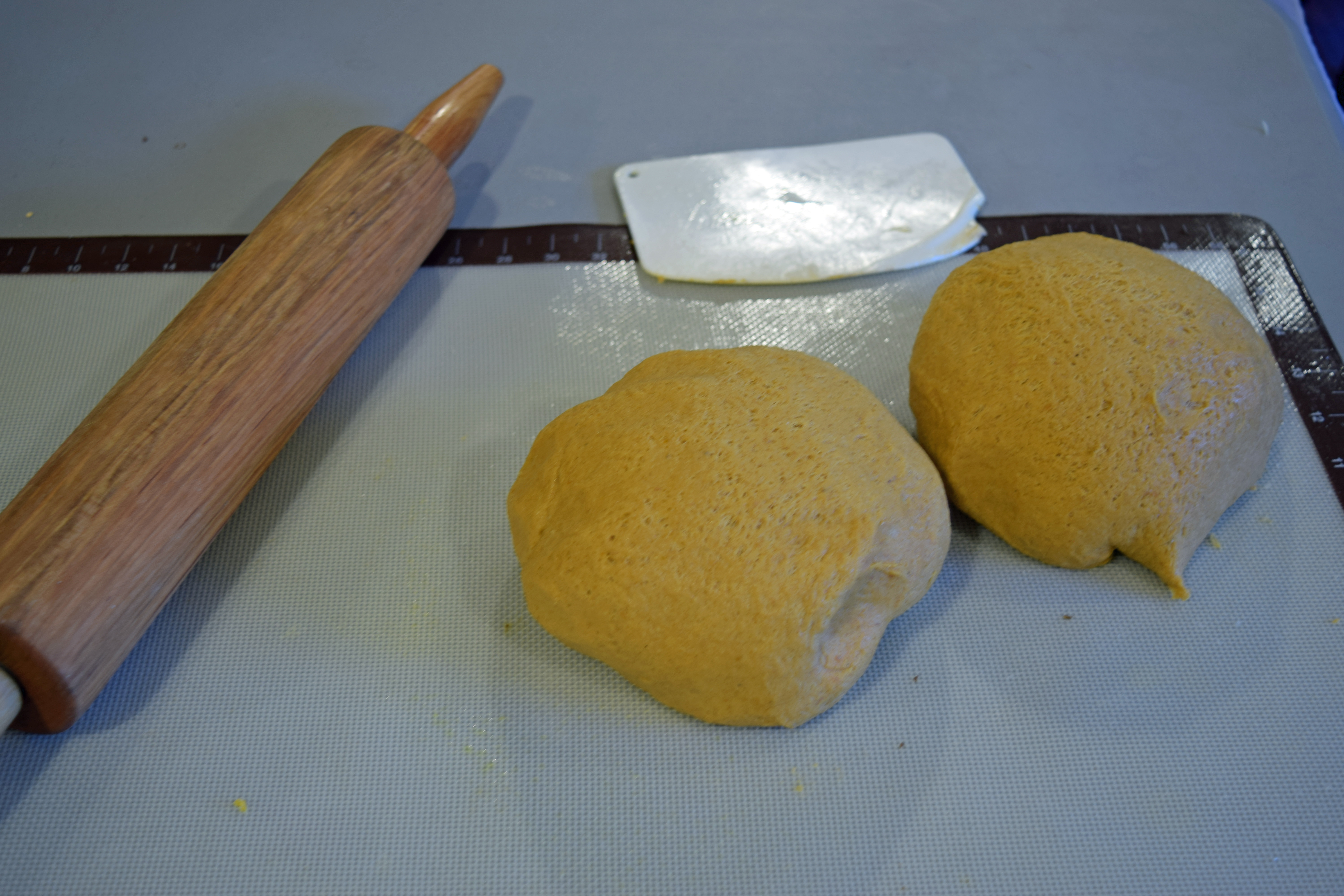 Divide into 2 balls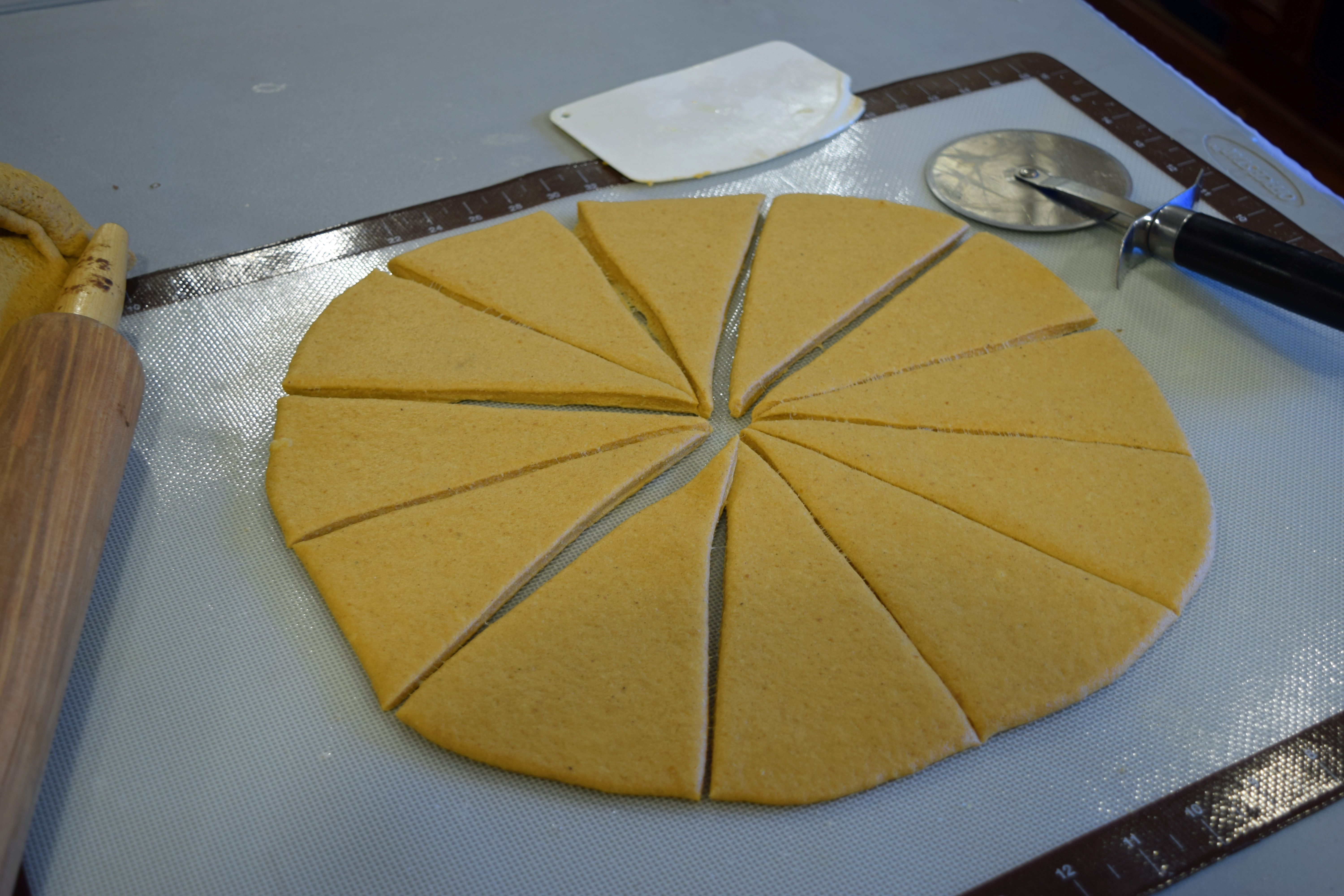 Roll each ball into a circle and cut into triangles.  I did 12 wedges for big rolls.  16 works too if you prefer smaller portions..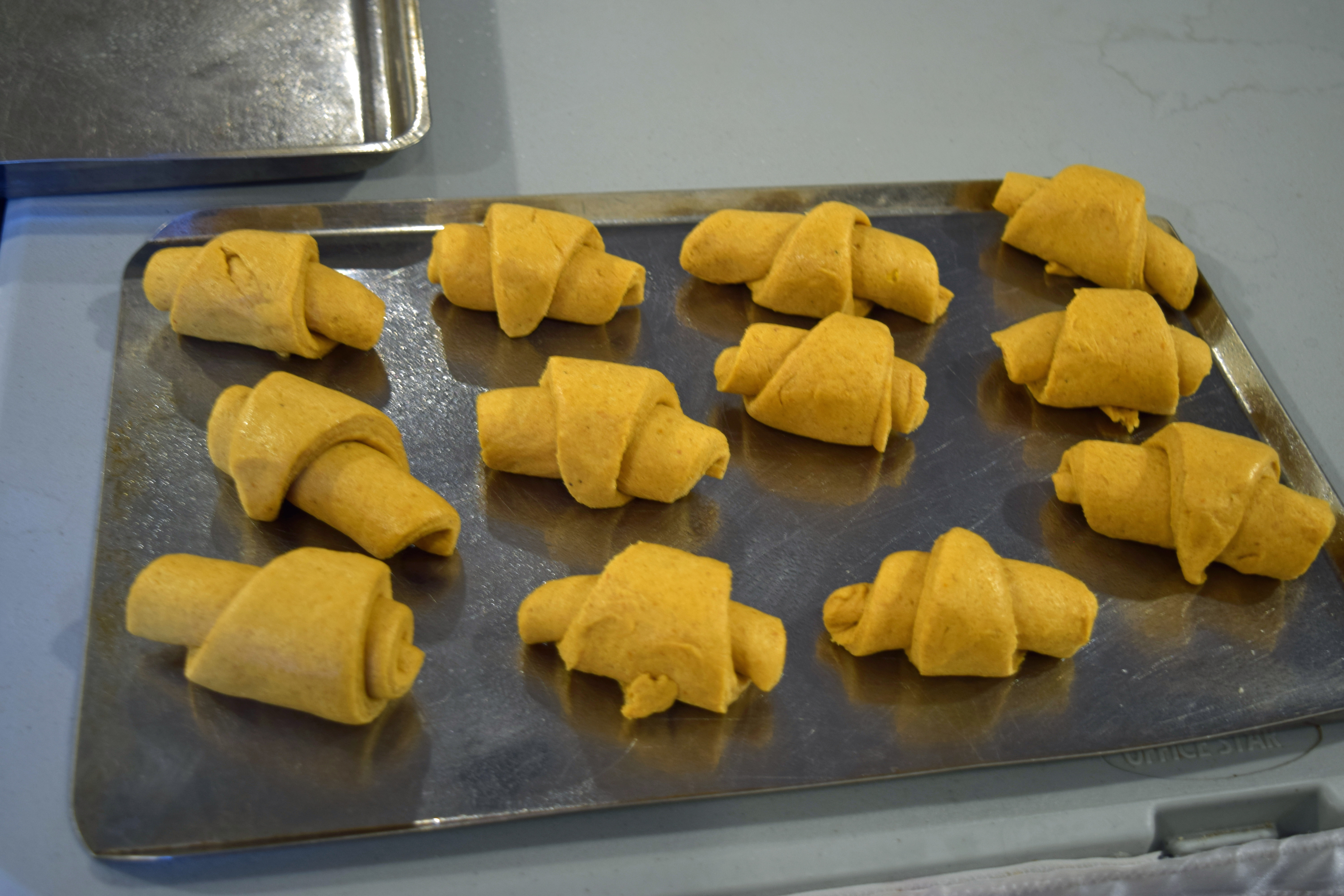 Start at the fat end and roll them up like canned crescent rolls.  (Kids like this part.)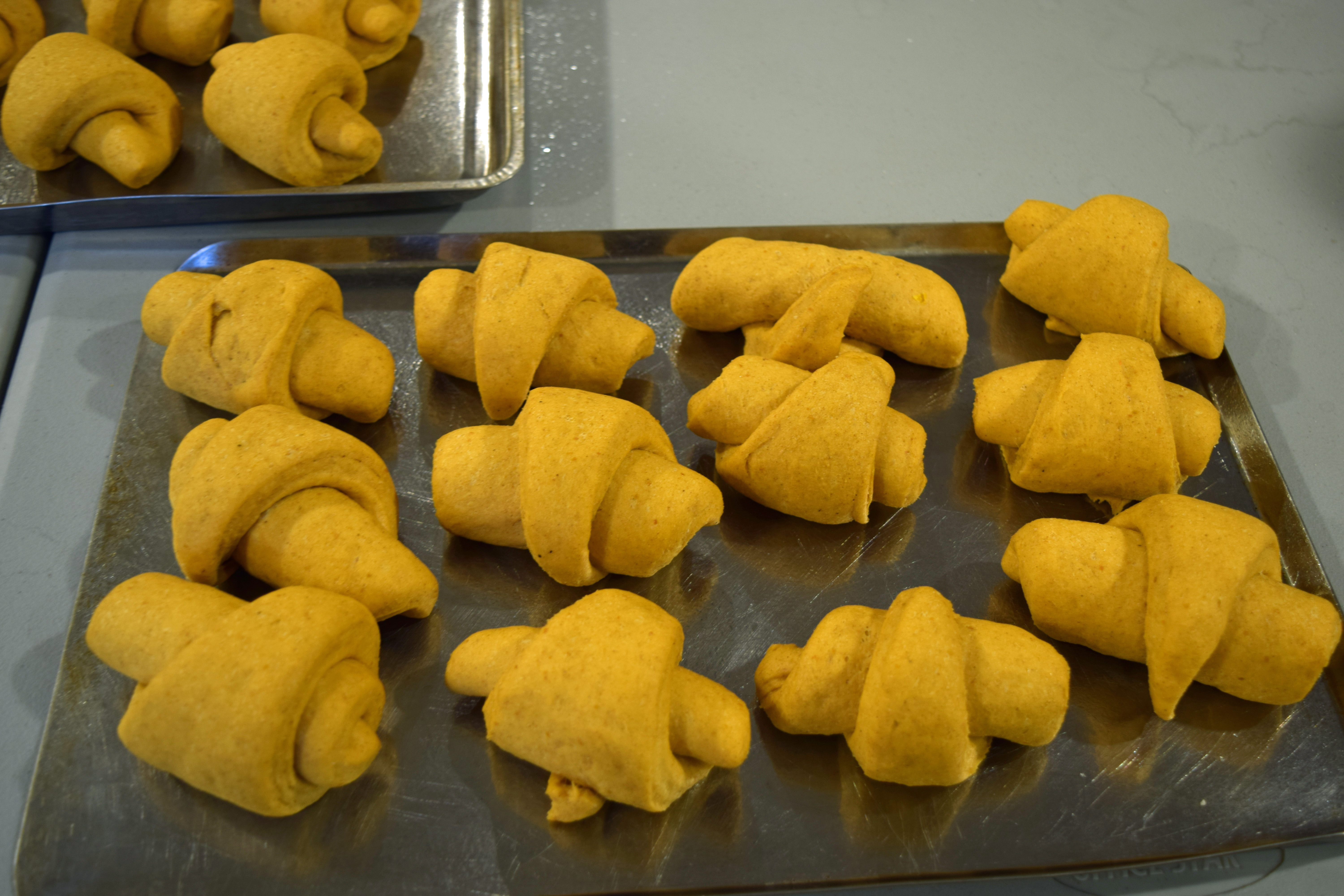 What they look like after rising for 30 minutes.
This is day 4 of 31 Days of Pumpkin Recipes
6 Pumpkin Bagels
7 Butternut Chicken Stew
8 Pumpkin French Toast Casserole
9 Healthy Pumpkin Pecan Scones
10 Pumpkin Snickerdoodles
11 Pumpkin Muffin/Drop Cookie Mix
12 Easy Pumpkin Cake
13 Pumpkin Dump Cake
14 Baked Pumpkin Oatmeal
15 Pumpkin Mousse
16 Pumpkin Cheesecake
17 Pumpkin Latte
18 Pumpkin Pie Smoothie
19 Pumpkin Chili
20 Pumpkin Breakfast Cookies
21 Pumpkin Biscuits
22 Maple Pumpkin Butter
23 Stuffed Sugar Baby Pumpkins
24 Pumpkin Pancakes
25 Pumpkin Waffles
26 Pumpkin English Muffins
27 Roasted Pumpkin Seeds
28 Baked Pumpkin Doughnuts
29 Pumpkin Biscotti
30 Pumpkin Caramel Monkey Bread
31 Impossible Pumpkin Pie