French Toast Casserole reminds me of Christmas morning or a celebration brunch, but it's easy enough to have any time.  I love that it can serve a crowd without having to stand over a hot griddle cooking a few slices of bread at a time.  The pumpkin flavor and pecan butterscotch topping, makes this dish especially festive.
You can bake it in a 9×13 casserole dish, muffin tins, a Bundt pan, or even a slow cooker.  It makes a great freezer meal, or a prep the night before dish. I'll give instructions for each variation at the end.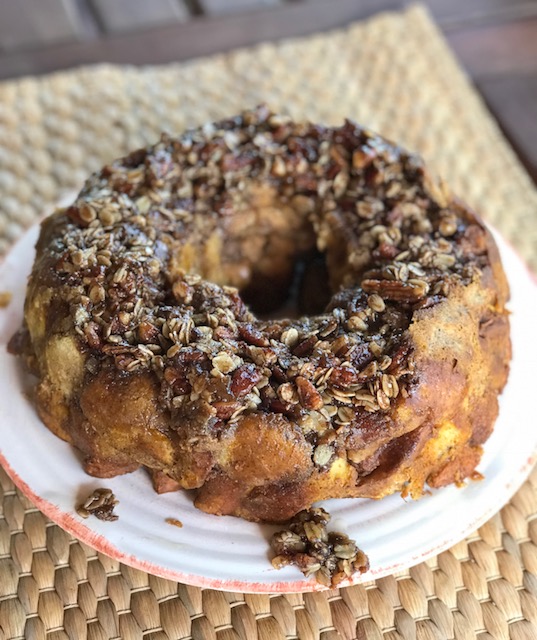 Pumpkin French Toast Casserole
1 loaf, 20 oz of bread.  We like Saralee Artisan Golden Wheat Bread
6 eggs
2 cups milk
1 cup Pumpkin Puree
2 tsp Pumpkin Spice
1/2 cup brown sugar
Topping
1/2 cup Brown Sugar
1/2 cup Rolled Oats
1/2 cup Chopped Pecans
6 Tbs
Butter, softened
2 tsp Pumpkin Spice
Preheat your oven to 350 degrees and grease a 9×13 pan. Cut the bread into 1 inch cubes and place in the prepared pan.  Beat eggs with milk, pumpkin puree, brown sugar and spice. Pour over the bread in the pan.
In a smal bowl, melt butter.  Then stir in spice and brown sugar until smooth.  Add rolled oats and pecans until crumbs form.  Sprinkle over the top.
Bake for 45 minutes or until liquid is set.  Serve with maple syrup or whipped cream.
Dairy free:  Replace Milk with Almond Milk and Butter with Coconut Oil
Gluten free: Use your favorite gluten free bread
Fit Mama: Replace the Brown Sugar with Erythritol.  Use 1 pkg Saralee 100% Whole Wheat Delightful Hot Dog Buns for the bread.  And Use Unsweetened Vanilla Almond Milk for the milk. Skip the crumb topping and sprinkle the top with 2 Tbs of Erythritol mixed with 1/2 tsp pumpkin spice and 1/2 cup Pecans.
Muffin Tins: Divid the Bread among greased muffin tins, then top with pumpkin mixture and topping.  Bake at 350 degrees for 25-30 minutes or until set.
Bundt Pan:  Start by placing the toping in the bottom of the greased bundt pan.  Place bread in a large bowl and pour the  pumpkin mixture over the top.  Stir very gently to coat. Let soak for 5 minutes until the bread absorbs most of the the liquid, then spoon over the top of the pecan mixture in your bundt pan.  Bake for 1 hour or until set.  Let cool fully before turning out onto a cake plate.
Slow Cooker: Assemble Casserole into the slow cooker just as you would in the 9×13 pan.  Cook on high for 1 1/2 -2 hours or on low for 3-4 hours.
Overnight: Prepare casserole in your dish as instructed but wait to preheat the oven until the morning.  Cover tightly and chill overnight.  Remove casserole from the fridge while you are preheating the oven.  Add 10 minutes to your bake time to adjust for the colder starting temperature.
Freezer: This is best frozen cooked.  You can pop it out of your dish and seal in serving size freezer bags for up to 3 moths.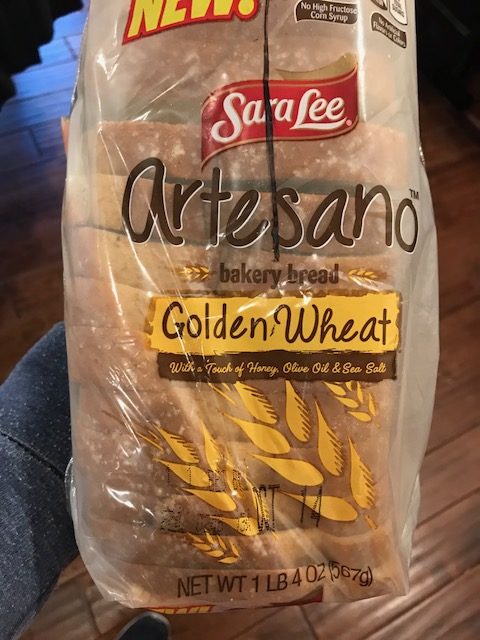 This is my favorite bread for this dish.  It's thick cut and firm textured.  The black slash on the wrapper means I got this at the bread outlet from the $1 rack :). This is the perfect use for day old bread.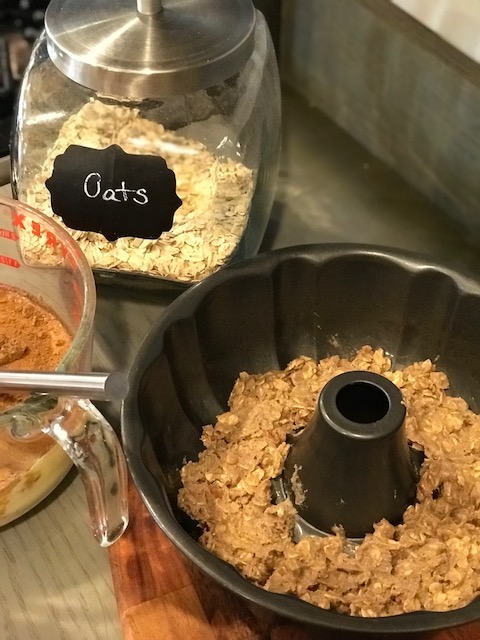 This is the perfect amount of topping for a 9×13 pan.  It's a little much for the bundt pan….but it sure is tasty.
By mixing your bread and pumpkin in a separate bowl, you keep your topping undisturbed. If you want to skip the extra bowl, you can mix it right in a 9×13 and add the topping last.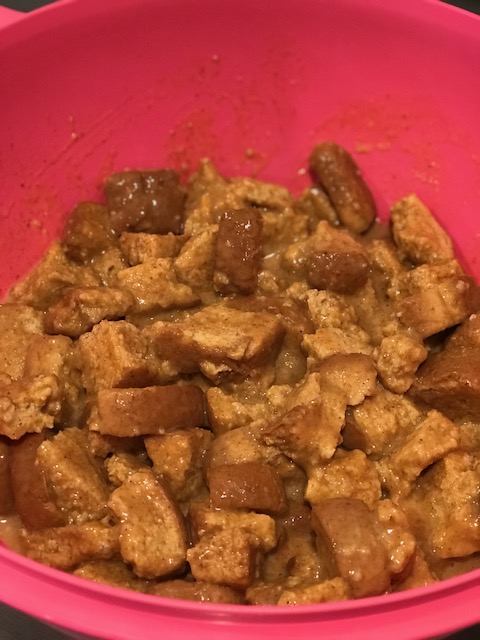 It will look like this when most of the liquid is absorbed.  It's not going to all absorb, but it will bake up nicely.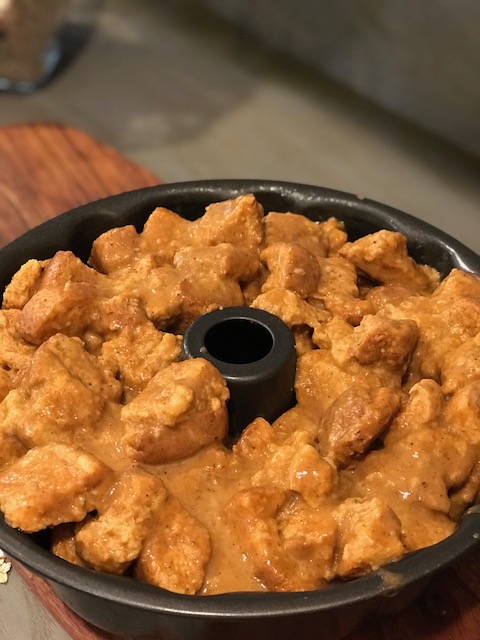 The 20 ounce loaf fills the pan to the top.  Don't smash the bread around too much or it will just be a textureless mushy mess.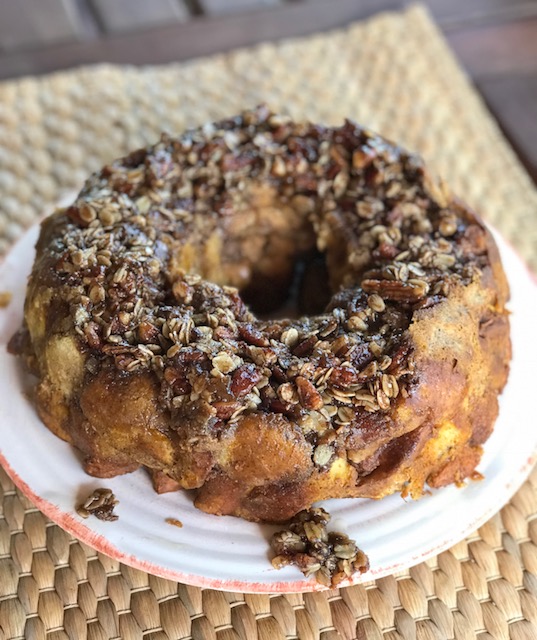 It's plenty sweet as is so our favorite topping is whipped cream.
This is day 14 of 31 Days of Pumpkin Recipes
8 Healthy Pumpkin Pecan Scones
14 Pumpkin French Toast Casserole
15 Easy Pumpkin Cake
16 Pumpkin Dump Cake
17 Baked Pumpkin Oatmeal
18 Pumpkin Mousse
19 Pumpkin Cheesecake
20 Pumpkin Latte
21 Pumpkin Pie Smoothie
22 Pumpkin Breakfast Cookies
23 Pumpkin Biscuits
24 Maple Pumpkin Butter
25 Stuffed Sugar Baby Pumpkins
26 Pumpkin Pancakes
27 Pumpkin English Muffins
28 Roasted Pumpkin Seeds
29 Pumpkin Biscotti
30 Pumpkin Caramel Monkey Bread
31 Impossible Pumpkin Pie