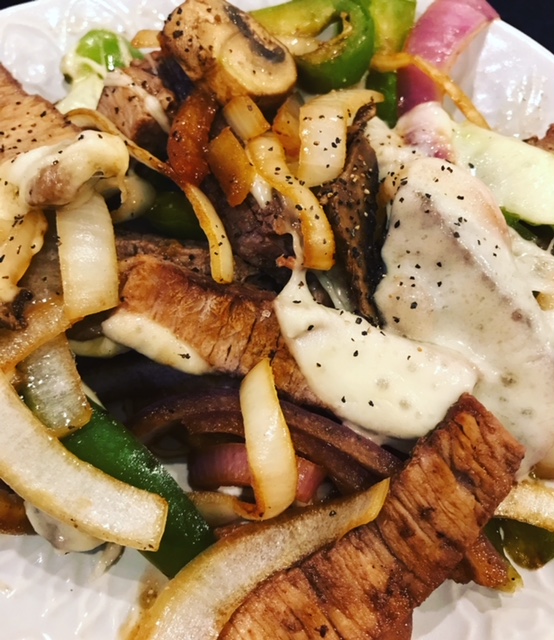 This delicious meal is fast to put together and cooks with hands off time.  Letting you pop it in the oven in the evening and unwind from the day's tasks while it cooks.
You'll use two 1 gallon freezer bags for the assembly.  The meat will marinate in the freezer, then cook up tender and flavorful.  It's easier to slice cooked meat than raw meat, so I prefer to slice it after cooking.  If you know you'll be too stressed to slice it at the time of cooking, slice it now, then reduce the cooking time in step 1 to 12 minutes.
If your family is on a regular diet, grab some sandwich rolls to make these into sandwiches. If you are gluten free you can serve it over brown rice, or low carb eaters can dish theirs over spaghetti squash or cauliflower rice.
This recipe is for 4 people, adjust as needed for your family:
Bag #1:
1 lb Flank Steak, or any boneless lean roast 3/4 inch thick.
2 Tbs cup Apple Cider Vinegar
1 Tbs Worcestershire Sauce
1 tsp Onion powder
1 tsp Garlic powder
1/2 tsp Salt
1/4 tsp Pepper
1/4 tsp cloves
Bag #2
2 Green Bell Peppers,Sliced
1 Onion (red or yellow), Sliced
8 oz Sliced Mushrooms
1/2 tsp Salt
1/4 tsp Pepper
Seal both bags, pressing out all the air first. Then label with the recipe name, today's date, and the bag #.  Freeze.
Additional Ingredients: Provolone Cheese Slices and Sandwich Buns or Rice.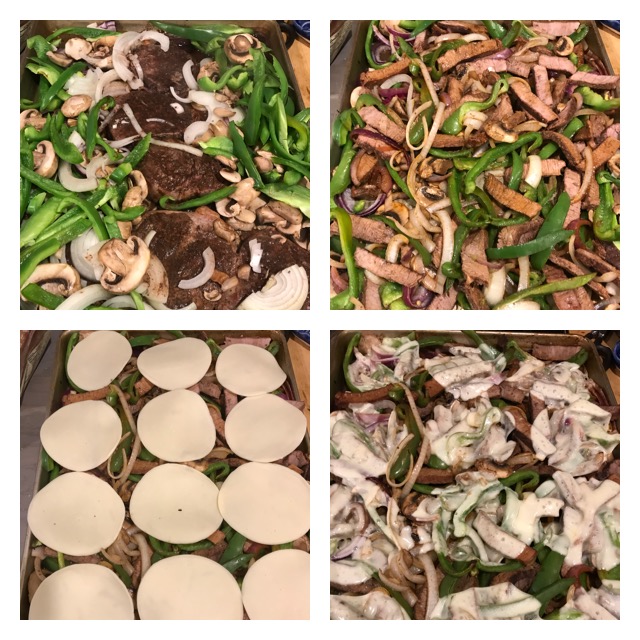 Cooking Instructions:
Preheat oven to 400 degrees.  Line a rimmed sheet pan with parchment paper for easy clean up.  Place the steak in the middle and bake for 20 minutes (30 if it is still frozen.)
2. Spread the contents of bag #2 evenly around the outside of the steak. I doubled my recipe so I had to put veggies on top of the steak too.  Bake 15-20 minutes longer or until veggies reach desired tenderness.  Remove steak to a cutting board and cut into slices.  Return to the baking sheet and use tongs to stir it into the veggie mixture.
3. Top all with Cheese slices and bake for another 10 minutes or until cheese is gooey.  Serve on buns or over rice.
Picky Eater Ideas: Not everyone is a fan of peppers, onions and mushrooms.  You can substitute any vegetable for them including broccoli florets, zucchini strips, or Long green beans.
Do you have tips for helping kids eat their veggies?