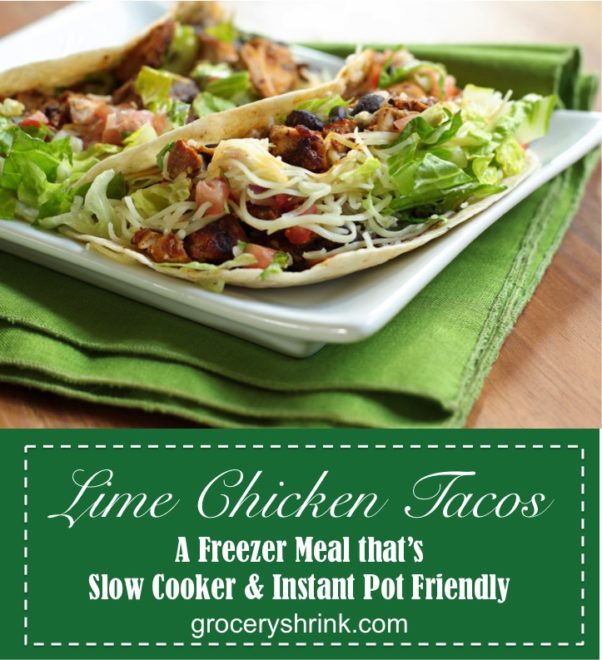 Any meat that has to marinade makes a great freezer meal. Just don't thaw it and refreeze it.  If your meat is already frozen, you can pour the marinade on it and put it back in the freezer.
Therea re two ways to make this into a freezer meal: 1. You can cook the meat through and then freeze it shredded and ready to serve, which saves time at the dinner time.  2. Or freezing it uncooked and in the marinade makes the freezer day prep super fast and easy. If you remember to pop it in the slow cooker or have an instant pot for faster cooking, this is a great option.
You'll need 1 gallon freezer bag for this dish and then just your favorite taco toppings at time of serving.
I love how this dish is easily adaptable for all allergy and fitness needs.  For example, gluten free friends can use corn shells, or make a taco salad over corn chips. Keto friends can skip the honey and the shells or chips and make a big taco salad with full fat sour cream and cheese.  Dairy free friends can use avocado instead of dairy toppings.
Lime Chicken Tacos
Serves 4
1.5 lbs chicken breasts (These can be the ugly ones that are too thick or mis-shaped to grill)
1 Lime, zested and juiced
1 Tbs Olive Oil
2 Tbs Apple Cider Vinegar
1 tsp Honey
1 can, 4 oz, Green Chilies (If doubling the recipe, no need to double the chilies.  It saves money to use just 1 can while still giving great flavor.)
2 tsp Ground Cumin
2 tsp Chili Powder
1 tsp Minced garlic
A few dashes of cayenne if you like it hot
Combine everything in a Gallon size Freezer Baggie, press out the air.  Seal, Label and freeze.
To slow cook, place contents of the bag in a slow cooker and cook on high for 3 hours or on low for 6 hours. Shred with two forks and stir to coat in sauce.  Serve with a slotted spoon or tongs with your favorite taco toppings.
To Pressure cook, place contents of the bag in a pressure cooker. Add 1/4 c of water and cook at high pressure for 10 minutes.  Wait until pressure is reduced, or use quick release to bring down the pressure and remove the lid safely.  Shred chicken and stir into sauce. Serve with a slotted spoon or tongs with your favorite taco toppings.
Suggested Condiments: Tortillas 6″ or Tortilla chips, Shredded Lettuce, Diced Tomatoes, Diced Red Onion, Shredded Cheese, Sour Cream, Salsa, Guacamole
This is recipe #2 in our series, Fill your Freezer in 7 Days. Find more here.