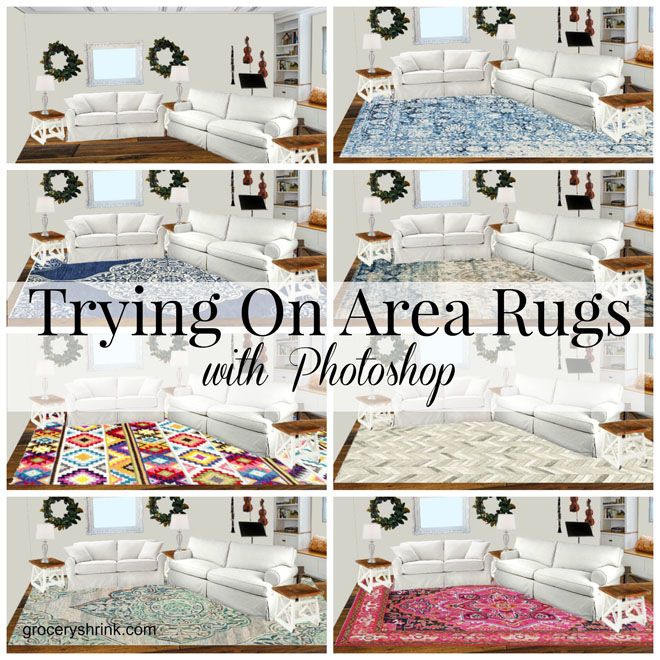 The electrician will be here in just a few hours.  While we wait, my living room is in the virtual fitting room of internet rugs. For the before picture, I used a wide angle lens clipped onto my iphone to try to capture more of the space.  It worked, but the lines are off, curved and wonky, giving the room a lopsided, tipsy appearance.
The room is 20 feet long AFTER the built ins are in place so there will be more enpty space to the left than the pictures show (I blame the angle of the sofa.) I'm not aiming for perfection though, just a hint of reality so I can choose a rug with confidence.  It reminds me a bit of trying on clothes when I didn't take time to put on my makeup, fix my hair, or wear enough spanx.  It takes more imgaination :).
The room doesn't have proper pillows or art and feels rather stark.  I mounted some of our instruments on the wall to fill in blank space.  I think we would play more often if they were easy to just pick up and play, and amazon offers wall mounts for almost any type of musician. While I wait inspiration to strike on the cozy details, I'm going to ignore the mess and see if a rug strikes my fancy.  First no rug.  This view works best with my budget, ha ha.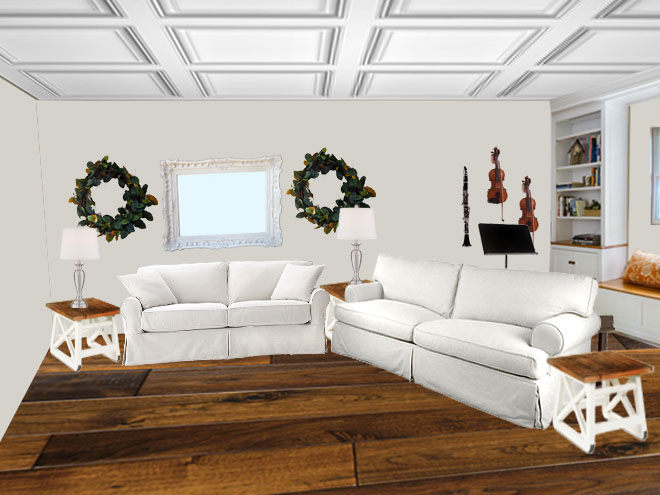 Then the blue rug that was overwhelmingly the favorite in the last poll.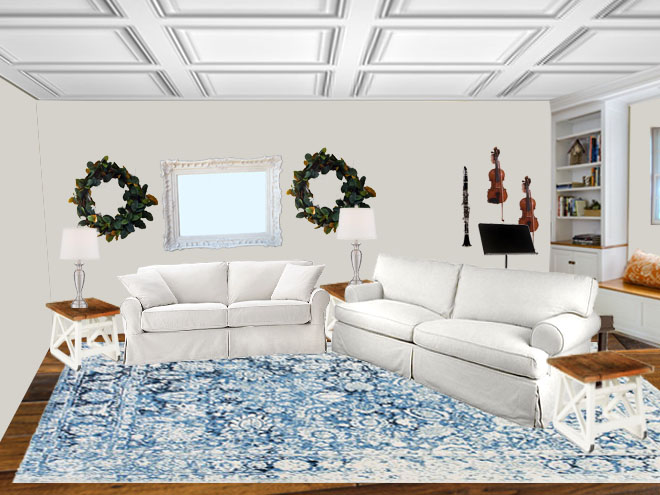 And the colorful one that I find so energizing: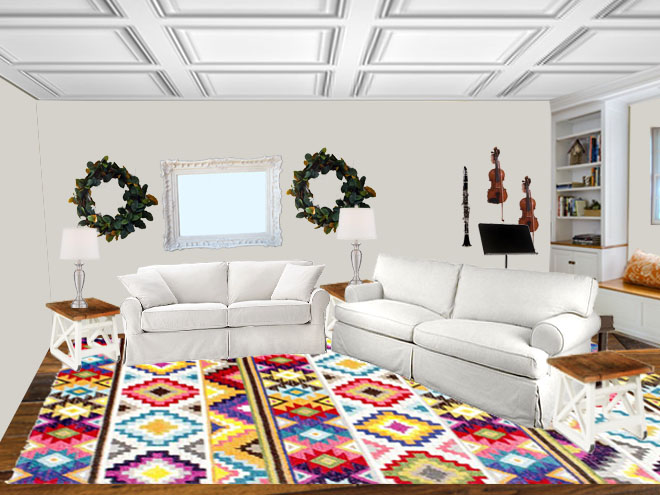 Here's a new one that missed my search before because it's WOOL.  It's loops instead of tufts which sheds a little less, but still stains with food coloring.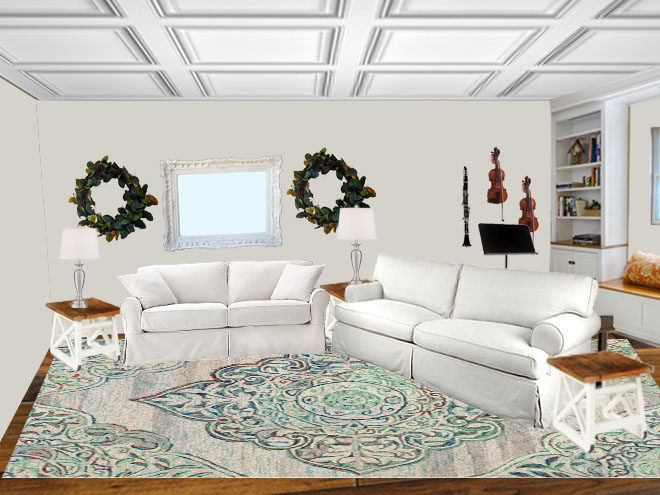 Or a similar medalion print in deep rich blue.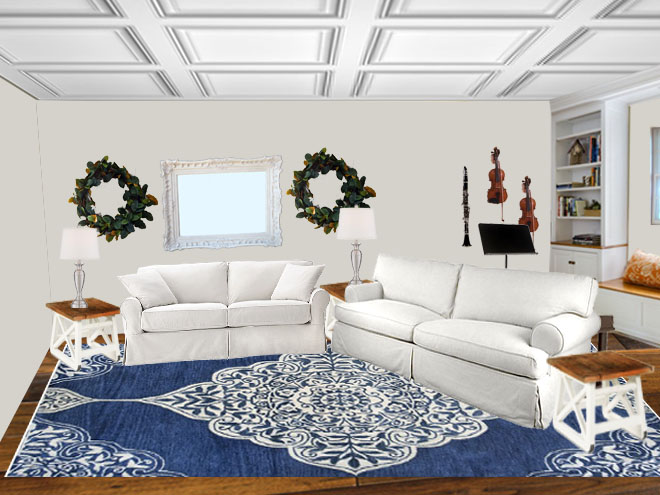 Here's a different blue rug that I like better, but it's not on sale and REALLY pricey ($1649)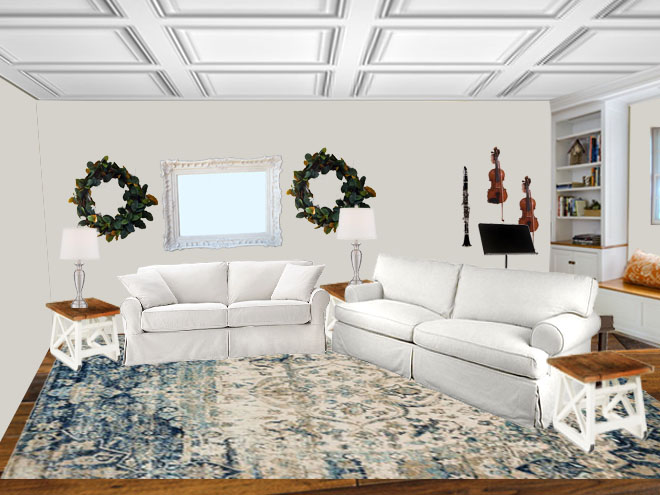 Just for fun another pricey one ($800) in a herringbone greige.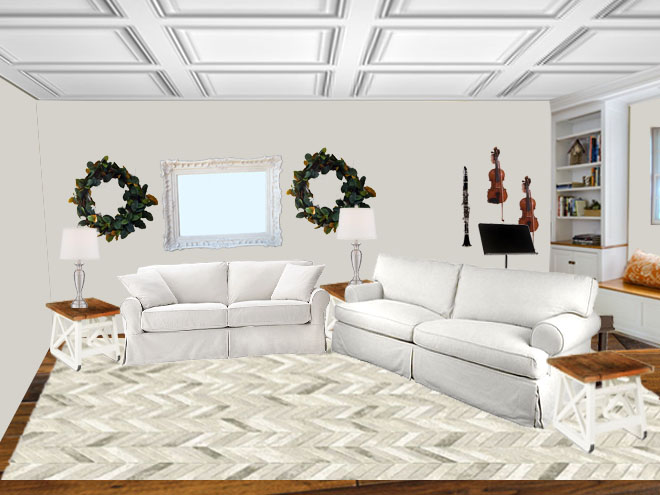 And while I'm pulling crazy dresses off the rack, that I would never buy, but secretly wish I would…. HOT PINK 😉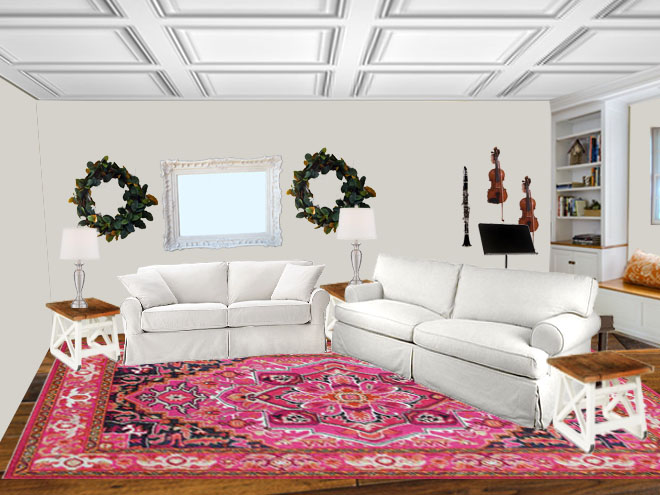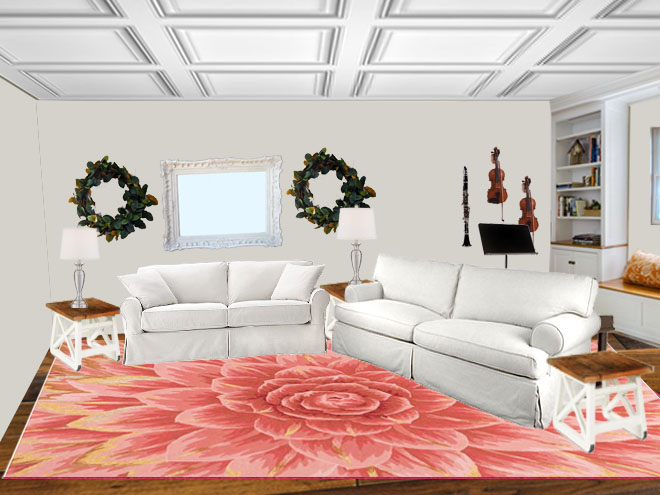 When I see the right area rug, it grabs me and I know.  Sometimes it's the 10th time I look at it, and sometimes it happens AFTER I've seen all the other options to be sure.  While the expense of an area rug isn't a trifle to us, I know if I make a big mistake, I can sell it on Craigslist, or trade it with a rug ina different room.  I'm still waiting for that feeling to come. The Memorial Day sale is a really good one, but there will be a good one on the 4th of July too.  I don't mind waiting if that means I'll make a better choice.
I made a little video for you, showing all the rugs in succession.  Sometimes looking it at it like that makes it easier for me to choose!