Oh Friend, I've struggled a bit in writing to you.  I've been wanting to find something that truly benefits you instead of just sharing what's on my heart, and every post I've started this week has put me to sleep.   So back to my heart it is.
Remember 18 months ago, when I shared some inspiration photos about our basement here and here?  Well, I finally starting tearing the walls down to start the process.  Specifically this one beside the stairs that will become the kitchen area: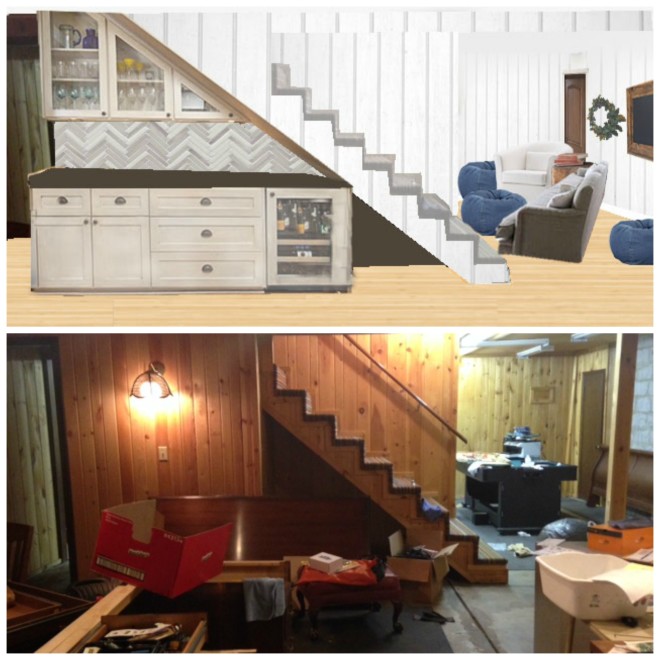 I was proud of myself for disconnecting the light and switches :).  Next I need to learn how to shut off the water and pull the sink out.  In the new plan I'd like to block off that door on the left and put a full size refrigerator there.  Right now the fridge is in the garage, but it will be much more convenient here and give us more space to work in the garage.  We're not really moving forward with this project, but some of the demo was necessary to be able to access plumbing and electrical for our master bedroom project.  And Darren said I could move forward with any of our projects as long as whatever I did was free.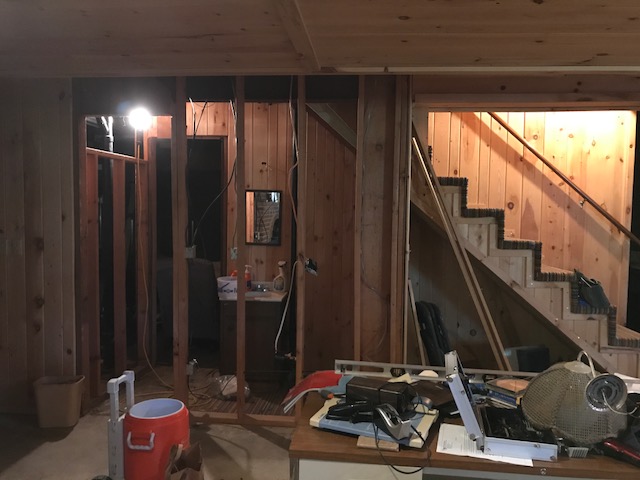 I had such a productive labor day weekend, but part of me is a little sad.  You see, the flooring I picked out for this space was almost $1 off per square foot the the holiday sale.  It's the first time in 18 months that I've seen it go on sale, and I didn't buy it.  I felt a bit of anguish at the time but it was minor compared to the disappointment I feel today now that the sale is over.  When the waves of disappointment come, I tell myself all the good reasons why we didn't buy the floor.
 We need to make sure we have enough money to finish our bedroom project.
We weren't positive that rigid flooring is the best option for the basement.  I've heard it's awesome for smoothing out imperfections, but others have said the imperfections might weaken the floor and cause cracking and flexible is the better choice.
We aren't ready to install the flooring yet and at the rate we're going it could be a year or more longer.  That means we'd have to find a place to store the flooring and hope it didn't get damaged before we could use it.
Since we need to wait to install the floor, we might find another good deal or an even better fit for our area, OR my taste my change completely and I'll choose something else.
I'm feeling a little better now that I wrote that all down.  There were definitely more reasons to not buy the floor.  The only reason to buy the floor was saving $1,000 with the sale, but there's nothing that says we won't find another sale when we're more ready.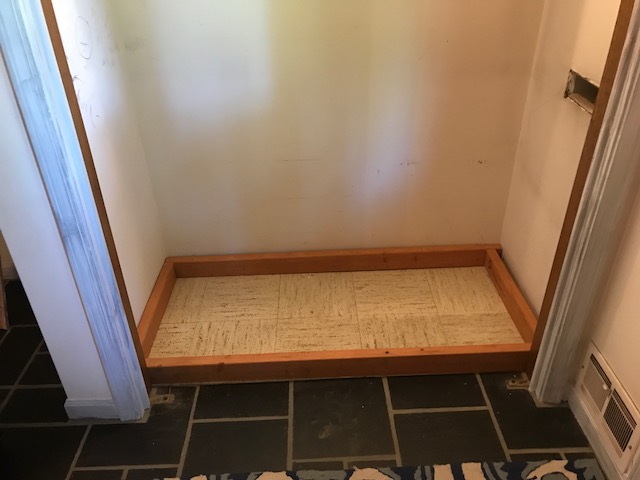 In the meantime, I'm taking the studs and pine board paneling that is too short to use in the reconstruction phase and using it to turn this front closet into a bench with drawers.  Like this one from the House of Smiths.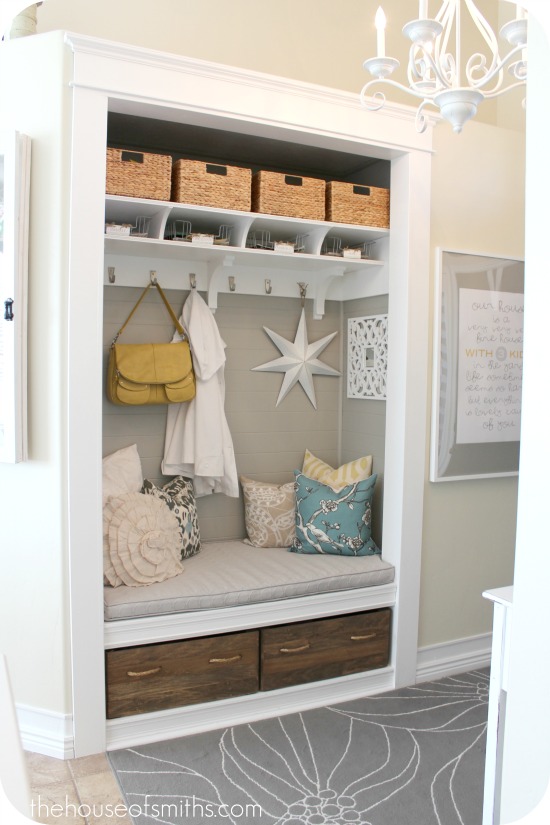 To finish it all out, I'll only need to buy a few trim boards and a piece of foam for the bench cushion.
How about you, have you ever bought something because it was a great sale and then regretted it?  Or didn't buy something even though it was a great sale and wondered what might have been?  I'd love to hear about it.