Peggy has a nice open floor plan with a kitchen, hearth room, and dining room all connected.  It has beautiful built ins and lots of windows, but it still felt dark to her.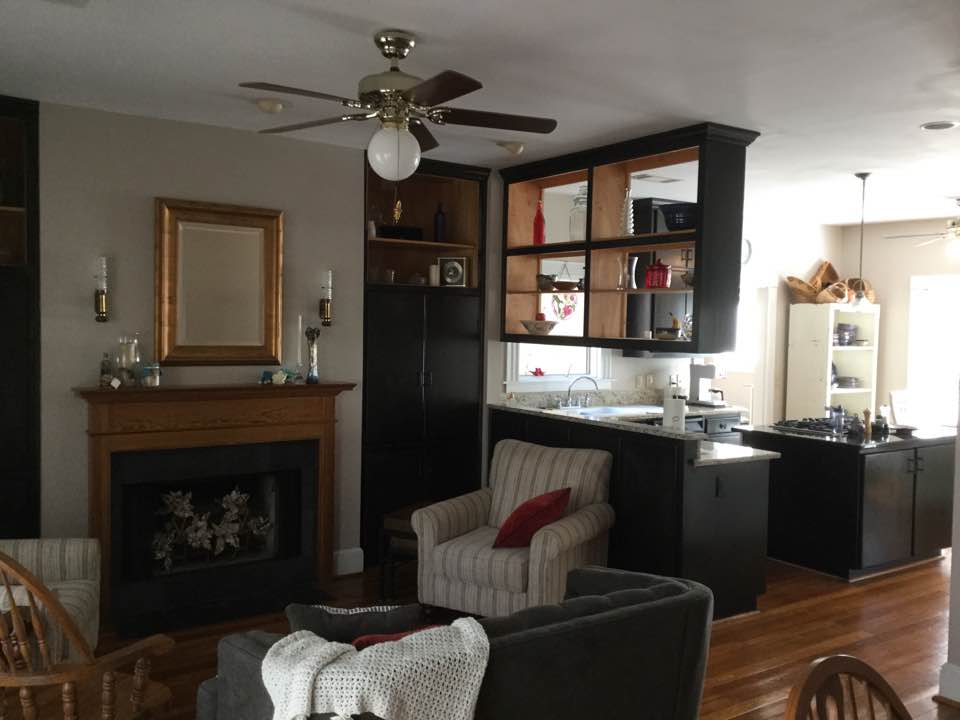 She asked for advice in the Cozy Minimalist community for the hearth room only, wishing she could paint the built in cabinets and fireplace white, but afraid it wouldn't look right with the black cabinets.
We were all distracted by her upper kitchen cabinet blocking the line of sight.  She had made it a lot better by removing both sides of the doors to allow some light through. She stores bowls in it that she uses frequently and was not excited to give up the storage.  I made a little photo for her so she could envision what it might look like all opened up with the white she was craving.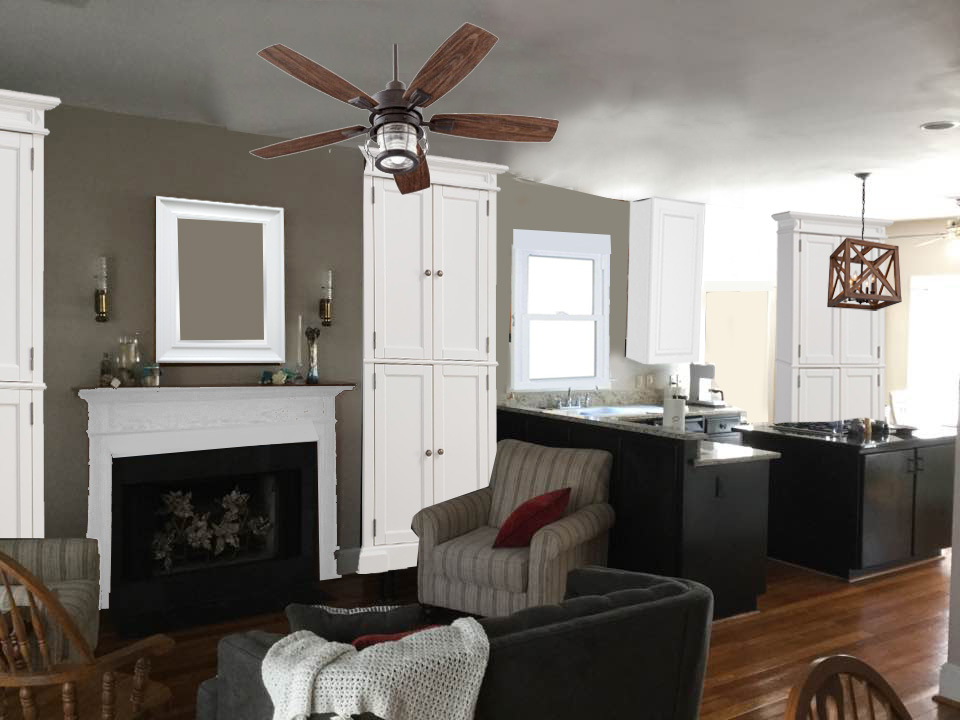 I removed the hanging cabinet and painted her remaining upper cabinet white. Matching crown molding around it would tie it all together even better.  Then added a floor to ceiling built in cabinet, a simple box made from plywood with doors and crown moulding, where her shorter bookcase was before.  Build it with free plans here. This would give her back the storage she lost without taking up any more space.  Just for giggles I added matching doors on her existing bookcases with the white mantle and mirror.  I also switched out her light fixtures for a modern farmhouse look.   I used her existing mirror over the fireplace, but I think a big round mirror would look even better.   Here's the before and after side by side.

Peggy was concerned about the expense of refinishing the ceiling under the cabinet, but her ceilings are perfectly smooth.  In this situation, the ceiling is usually finished underneath and all she would need to do is fill in the screw holes with some quick dry spackle and touch up the paint.  I didn't change her paint color in the new picture, but all the white accents make it look darker than when it was by the black.
Would you like your room photoshopped and featured on Makeover Monday?  Send a few photos from your space to angela@groceryshrink.com and tell me your hopes and dreams for the room.  
Get a full service virtual makeover complete with 3D room layout plan, 2 photoshop views, step by step work list, and within your budget source list. Find out more.

Learn how to use Photoshop for your own designs with the Room Makeover class.