This recipe has changed my week.  It's one of the rare "health" foods that my kids are crazy about. I tested it for next week's FitMama meal plan and thought I had double what I needed.  But my oldest daughter is singing a solo at district contest for the first time today and Monday she walked in the door a complete emotional wreck.  When I handed her a little chocolate pot, words were no longer necessary.  I loved knowing it was a tiny bowl of superfood to nourish her adrenals and her brain.  It wasn't a false stab at comfort food that would fill her body with garbage and drag her down further.
The tiny little bowls were from Big Lots.  At $2 each they were an affordable splurge.  I love the texture in the stoneware on the outside and the crackle glaze inside.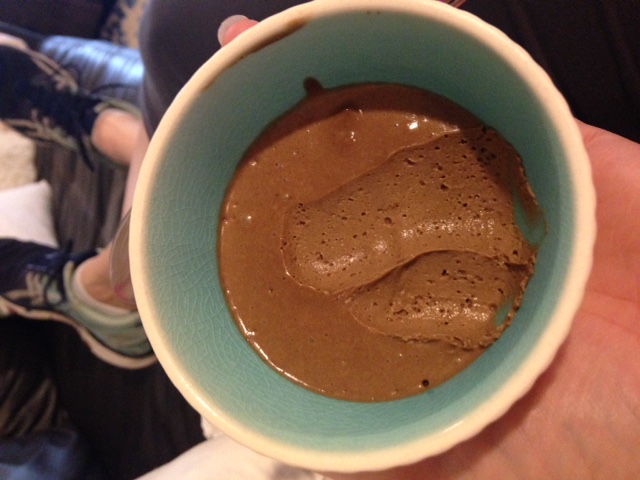 The only unusual ingredient in this recipe is Xylosweet.
It's a sugar free sweetener derived from probiotics+corn that I feel ok about using.  It tastes like sugar without messing with your blood sugar. You can use any sweetener you prefer or have on hand.  Another good choice is Monk Fruit In The Raw.  You can also use Truvia, but if you find it bitter, pick one of the other two.
Superfoods:
Coconut Oil: thermogenic to boost metabolism; nourishes the brain and helps memory; reduces inflammation and boosts the immune system; nourishes skin, teeth and hair; anti-fungal and anti-microbial
Unsweetened Cocoa Powder:  Rich in fiber, protein, and anti-oxidants; boosts metabolism
Collagen:  Builds strong hair, skin, and nails; soothes the lining of the intestines and helps with digestions
Eggs:  Full of protein, vitamin A, Vitamin B and zinc.  Good for your eyes, brain and heart and reduce the risk of metabolic syndrome.
Cinnamon: Boost metabolism, helps regulate blood sugar, good for the heart and aids in circulation
Little Chocolate Pots
½ cup refined coconut oil, melted*
¼ cup ground xylitol**
Pinch salt
¼ cup unsweetened cocoa powder
¼ cup collagen
2 large eggs, room temperature***
½ cup hot water with ¼ tsp cinnamon****
1.Add all but the eggs and hot coffee to a blender and blend well.
2.Add eggs and blend well, one at a time. (If your eggs are too cold, the coconut oil will solidify too soon.)
3.Slowly drizzle in hot coffee while blending. Blend well. The hot coffee will "cook" the eggs.
4.Pour into 6 small ramekins. Cover with plastic wrap and chill at least 2 hours or until firm.
6 servings: 242 calories; 21g fat; 9 net carbs ; 7g protein
*Refined coconut oil does not have coconut flavor. If you LOVE the taste of coconut, you can use unrefined pressed coconut oil. MCT oil won't work, because you need it to harden when cooled.
**You can use any no calorie sweetener you prefer. I grind my xylitol in a little coffee grinder. It helps it dissolve better. If you are subbing all the sweeteners with honey, this is not the meal plan for you. The fat burning process with these specific ingredients rely on no sugars
***The temp of the eggs is super important here. I didn't remember to take mine out ahead of time, so I ran some really hot water in a mug for each egg and dropped them in. They stayed in there for 3-5 minutes and were warm enough for this recipe.
****You can change the flavor by subbing hot coffee or mint tea
If you are looking for a weight loss plan that works with your busy schedule.  Check out FitMama. The food is prepped ahead so it's ready to heat up and eat whenever you need it.  Healthy food could soon be as easy for you as grabbing a bag of chips.
Here's the meals for the first day for the March 12th Fit Mama Plan.  We have a private facebook group too, so if you need help with ingredient substitutes for preferences we're on it :).
Breakfast: Guacamole Eggs
Snack: Little Chocolate Pots
Lunch: Salmon Chef's Salad
Snack:  Giant Frozen Eggnog
Dinner: Grilled Steak with Asparagus and Whipped Cauliflower
Snack: Hot Creamy Peppermint Sipper
This post contains affiliate links.  Thanks for supporting us :).