It's recipe 3 for our fill your freezer in 7 days challenge.  I hope beyond just giving you a few recipes, that I spark your imagination about how to adapt some of your favorite recipes for the freezer or even create some new flavors.
If you pre-dice your chicken, or used browned ground meat instead, this dish can be made in a skillet in just 20 minutes.  I love how in the slow cooker, it's hands off until the end.  It's truly a fix it and forget it situation.
This recipe is both fitness and family friendly.  To add calories and filling power, my growing kids serve theirs over a plate of tortilla chips, then top with sour cream and extra cheese.  I skip that part, then we all top it with shredded lettuce and chopped fresh tomatoes and salsa.
Be sure to rinse your quinoa before throwing it into your mix.  It removes the saponins that can taste bitter.  Since the grains are so small, I line my colander with a tea towel.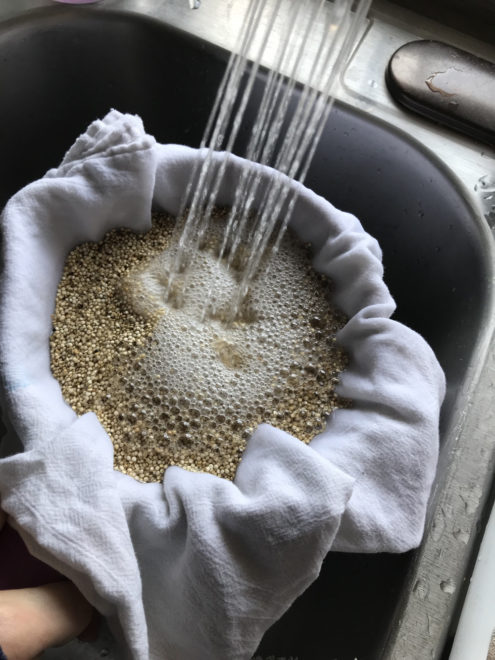 Dump and Go Quinoa Enchilada Casserole
1 lb boneless Chicken Breasts (If you bought it frozen, keep it frozen.  Thawing and refreezing raw meats changes the texture in an unappetizing way.)
1 Tbs taco seasoning mix
2 cans black beans, 15 oz each, drained and rinsed
1 chopped onion
1 cup dry quinoa, rinsed
1 can red enchilada sauce, 20 oz
1/2 cup water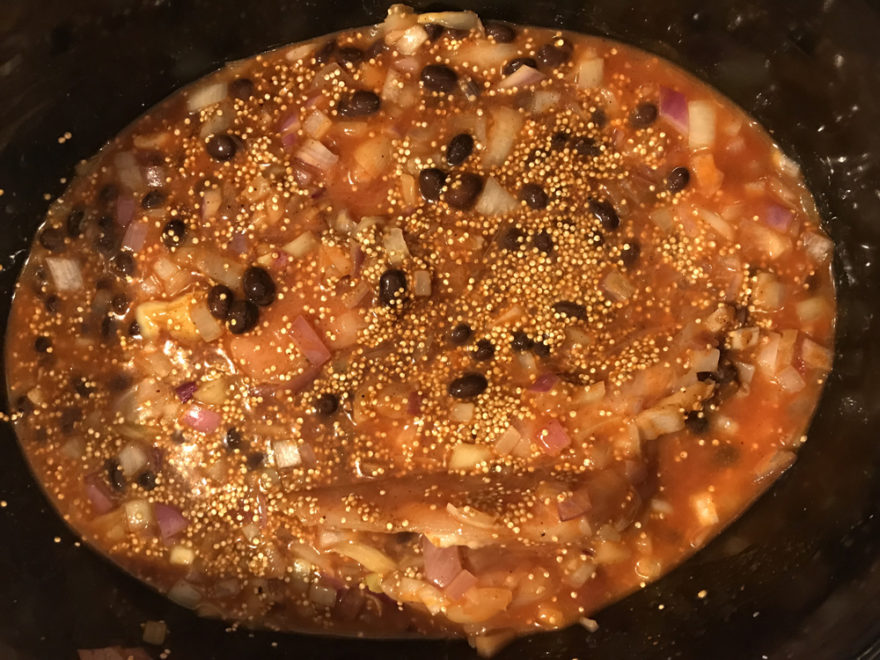 Place all ingredients in a gallon baggie and freeze.  To cook, thaw just enough to be able to get everything out of the bag.  Pour into a slow cooker and cook on high for 3-4 hours, or on low for 6 hours. Shred the chicken with two forks and stir into the dish.  Top with shredded cheese, then replace the lid for a few minutes to allow it to melt.   Serve with a toppings bar.
To make in the pressure cooker, follow the directions above, except cook at high pressure for 10 minutes, following the manufacturers directions for pressure release before opening the lid.
Toppings suggestion:  Tortilla chips, shredded lettuce, fresh diced tomatoes, green onion, cilantro, sour cream, cheese, salsa, diced olives.
The leftovers reheat pack well in a thermos for hot lunch on the go.
Nutrition facts:  1/6 of the recipe without cheese or toppings yields: 381 Calories; 7g fat; 37g net carbs; 30g protein