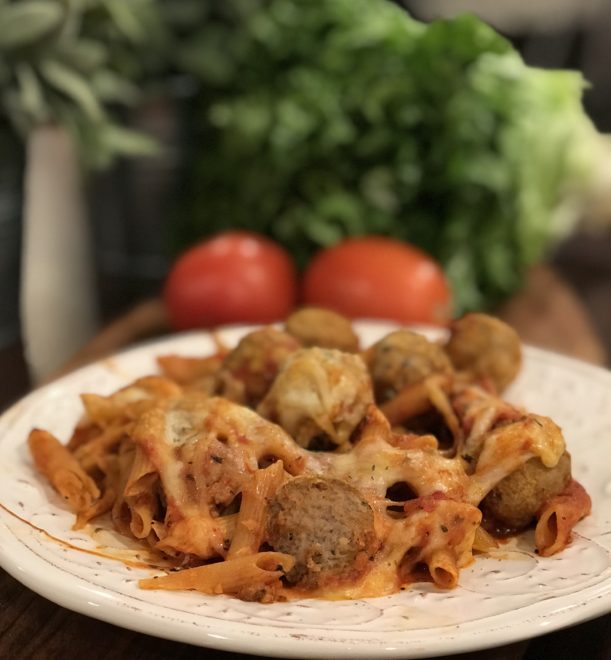 It's time for meal #4 for our Fill your Freezer in 7 days blog series!
This comforting recipe can become fitness friendly with the use of Barilla Protein Plus Pasta.  It's made with lentils, chick-peas, flax and other protein rich legumes.  Our local Wal-mart and Target both carry it and occasionally Target has coupons plus sales for great stock up prices.  If your local store doesn't have it, Prime Pantry carries it for about the same price.
Any pasta will work in this dish, even gluten free pasta, so pick what works best for your needs.
Starting with frozen meatballs makes this super fast to throw together, but I'll include a recipe for homemade meatballs at the end, just in case you prefer to do it yourself.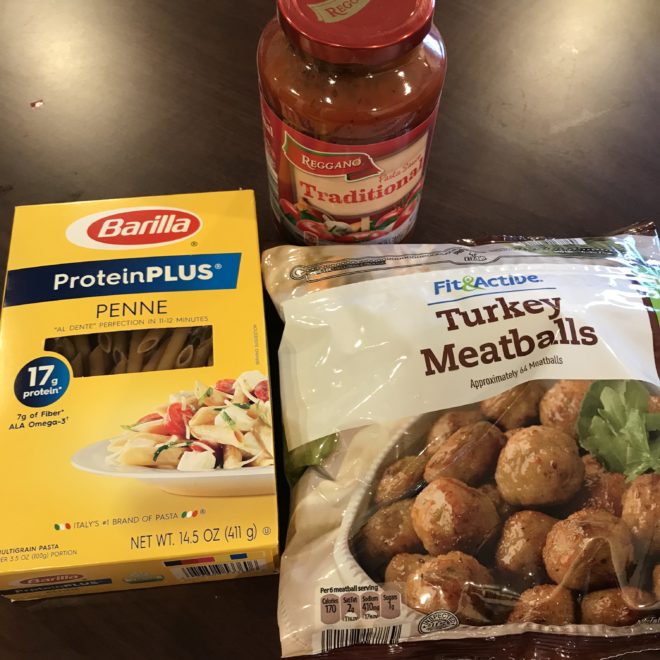 Meatball Casserole
Serves 8
1 jar, 24 oz, marinara sauce
3 cups water (just fill the empty sauce jar up and shake it up)
32 oz Turkey meatballs
14 oz bow tie or penne pasta
2 cups Mozzarella Cheese
For freezer cooking, pour the marinara, water and meatballs into a gallon baggie.  Press out air and seal.  Freeze.
For Oven Baking:  Thaw bag, pour into a baking dish with dry pasta and stir to combine.  Cover and bake at 350 degrees for 30 minutes. Top with cheese and bake uncovered for 15 minutes longer.
For Slow Cooker: Thaw bag and pour into a 4-5 quart slow cooker. Top with cheese and cook on low for 3 hours.
For Pressure Cooker: Thaw bag and pour into your instant pot.  Cook at high pressure for 5 minutes. Use quick release on the pressure.  Top with cheese and let stand a few minutes until it melts.
For Skillet: Thaw bag, Pour into a skillet.  Bring to a simmer, then cover with a lid and cook for 15 minutes.  Top with cheese and stick under the broiler until golden brown.
Homemade Meatballs
2 lbs Ground Turkey (or Beef, chicken, pork, venison, etc.)
2 eggs
1 cup Milk (Use Unsweetened Almond Milk of Dairy Free)
1 cup Italian style Bread Crumbs (Gluten Free: use Almond Meal or Gluten Free bread crumbs plus 1 tsp Italian Seasoning.)
1/4 cup parmesan cheese (Skip if Dairy Free)
2 Tbs Dried onion flakes
1 tsp salt
1/2 tsp pepper
Use a mixer to combine everything together.  Roll into 1 inch balls and place on a baking sheet with a rim.  Bake at 400 degrees for 15 minutes.