I wrote this post 3 years ago, and as I re-read it over the weekend, everything was still true. The busy season of parenting can last a long time–eek! It's a little easier now having a teenage driver (who paid cash for her own car,) plus more kids old enough to help with food prep, but I still rely on all of these tips to keep affordable food on our table.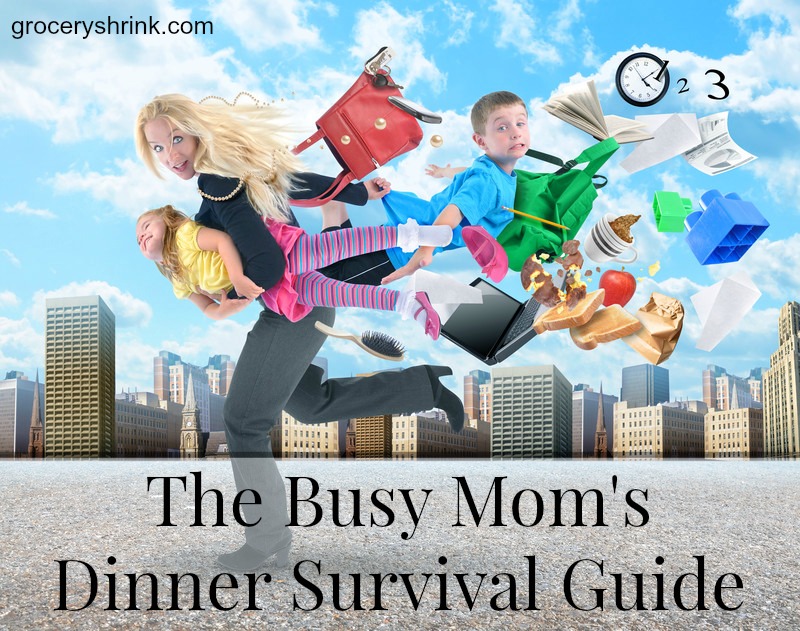 Today we have basketball practice for 2 teams, 2 ballet classes, Boy Scouts, Handmaidens, Lamplighters, and Trailblazers, plus practice time for 2 violin and 4 piano students.  Those are just our after school activities.  We've talked about limiting kid activities more, but when it's time to choose the thing to drop, we freeze up.  Each child only plays one sport at a time and the club activities are part of our church—it's just when you multiply it times 6, it gets a little nutty.
I was fixing a quick supper tonight in between my taxi duties and thought how my meal standards were lower on nights like these. It's not that what I was fixing wasn't healthy, it was just simpler–not as many dishes.  I threw some turkey burgers on the indoor grill and serve them with Whole Wheat bagel thins and a condiment bar.  Done.
When I grew up, my mom had an elaborate meal almost every night with at least 3 veggie side dishes and often fresh baked muffins too.  We sat down together and had an electronic free dinner in the dining room with good conversation.  It was awesome! On our quieter nights, I try to make meals like my mom did, but today I'm giving myself grace for the busy.
When we order at a fast food restaurant, we never order drinks and rarely order fries.  It's more affordable that way, and realistically there are enough calories in the sandwich without the extras.  So I decided that less side dishes at home was ok too–only better.  It costs less and has whole food ingredients.  win-win!
Here are the ways I survive on busy nights:
1.  Crock Pot it–When I remember, I put something in the crock the night before (then chill in the fridge to start in the morning) or in the morning.  Especially a dump and go soup like this one or this.
2.  Breakfast for dinner–pancakes, French toast, or bacon and eggs are fast to make and everyone likes them around here.
3. One pot it–Making an all in one meal in the skillet (like Skillet Lasagna, or Stir-Fry) is not only fast, but makes clean-up easier too. Just searching "one pot" on Pinterest brings up a whole bunch of yummy ideas.
4.  Cold Cuts–If I can't do anything else, I can throw out a sandwich bar.
5.  Baked Potato Bar–Potatoes cook really well in the slow cooker.  You don't even need foil.  Just scrub them and toss them in.  And if you forget, 8 minutes in the microwave will save dinner. Perfect toppings:  armed up chili (out of a can or leftovers); steamed broccoli cuts; cheese, bacon bits, green onion, sour cream, ranch dressing. Baked sweet potatoes work great too.
6.  Taco Bar–I put 2 lbs of ground meat (beef or turkey) in the slow cooker (still frozen!) and 4 tablespoons of taco seasoning.   Then cook on high for 3-4 hours or on low all day.  When it's dinner time I just break up the meat with a potato masher and set out the condiments for taco night.
7.  Rotisserie Chicken:  Costco sells these for $5 each.  They say they are all 3 lbs, but that's just the minimum weight.  I look around for the biggest ones and have scored a 4 pounder before. The price is the same.  We eat these with warmed up canned or frozen veggies and a tossed salad from the fridge.  I throw the leftovers in the fridge to boil up for soup on a calmer day.
8.  Get a child to cook.  I'm blessed to have older kids (Aged 14, 12, 11, 9, 7, and 3.)  Tuesday is kid's cook night.  I just print off the Tuesday dinner recipe from the GSP menu plans and hand it to the kids.  Then I work nearby in case they have questions.
9.  Have a FULL pantry.  Cooking on the fly only works if you have plenty of ingredients on hand.  If you've been stocking your pantry with the Grocery Shrink method, you'll be good to go.
How do YOU manage dinner when life gets a little too busy? I'd love to hear your tips.