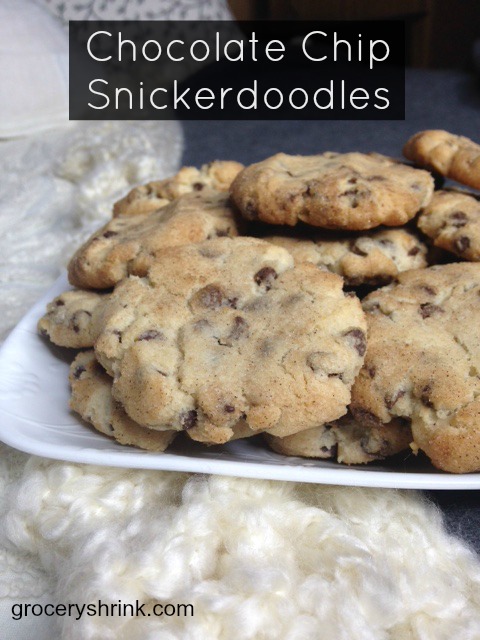 This is the kind of cookie that kids grab by the handfuls after youth group, and insist everyone in their family try.  It's the kind of cookie that gets teenagers out of their bedrooms and into the kitchen for some meaningful conversation.  It's the kind of cookie that garners requests like, "When are you making these again?  Will they be done by the time I get home from school?"
It's not low carb, low fat, or low anything.  It's not high fiber, or highly nutritious.  Just delicious.  If you are on a weight loss plan, proceed with caution.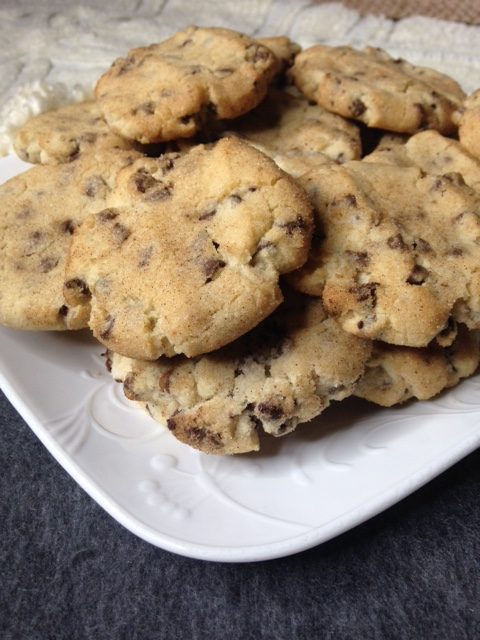 Chocolate Chip Snickerdoodles
1 cup butter, softened
1 3/4 cups sugar
2 large eggs
2 tsp vanilla extract
1 tsp salt
1 tsp baking soda
1 tsp cream of tartar
3 cups all purpose flour
12 oz mini chocolate chips
1/4 cup sugar
2 tsp cinnamon
Preheat oven to 350 degrees.
Cream butter and sugars until light and fluffy.  Beat in eggs, one at a time, beating well after each addition.  Beat in vanilla extract.
Beat in salt, baking soda and cream of tartar.  Scrape the bowl, then add flour 1/2 cup at a time and beat in well without over mixing.  Scraping the bowl from time to time.
Fold in chocolate chips.
In a small bowl, combine remaining sugar and cinnamon
Roll dough into walnut sized balls and roll in cinnamon sugar mixture. Place 1 inch apart on greased baking sheets.
Bake for 10 (soft) – 12 (crisp) minutes or until golden brown. Cool on the baking sheet for 5 minutes before transferring to a wire rack to finish cooling.