Melinda didn't like her sunroom.  She removed all the excess stuff she could and it was better, but still didn't feel right.  I looked at her photo and saw her gorgeous floors and charming arched doorway.  She also has a lot of handmade SOLID wood furniture that she doesn't want to paint.  The pieces were made by her father who passed away and they are real treasures.  She has a nice neutral wall color that looks fresh and bright.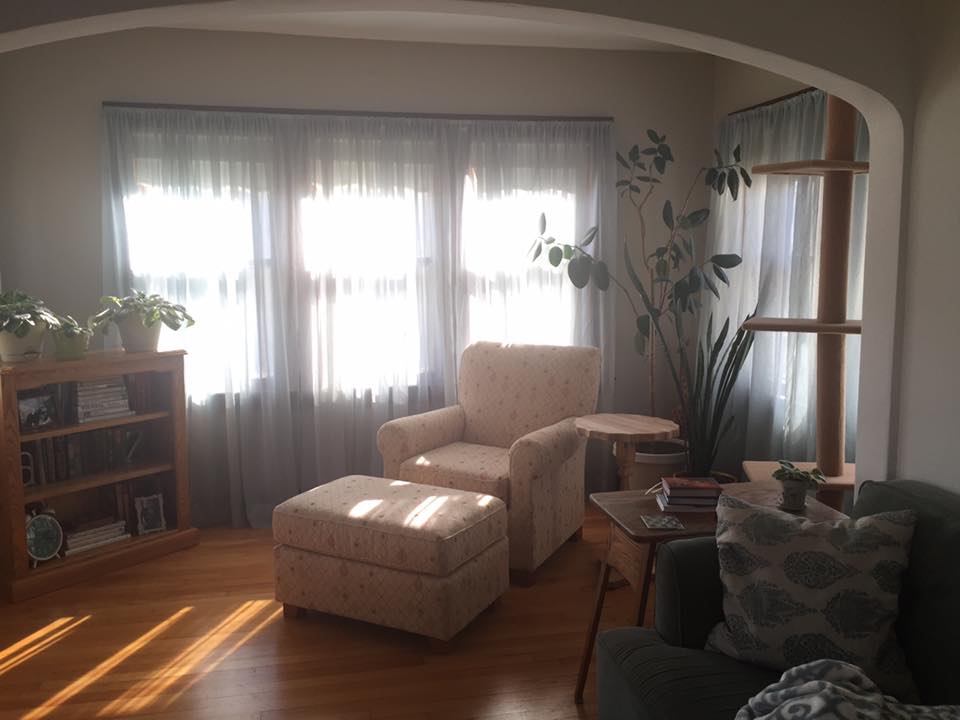 I noticed her pillow on the sofa in the adjoining room.  It reminded me of these drapes from Target, so I popped them in.  The important step is hanging the drapes at the ceiling instead of just above the window and wide enough that they don't actually block the glass. There should be enough fabric on the sides that it could actually cover the window even though you probably never will.  If the fabric is too narrow, it won't look right.  Hanging drapes this way  makes everything feel taller and grander. Because the angle of the room wasn't easy, I only did the curtains on the front window.  Can you imagine them continued onto the side?   I added woven bamboo shades to bring the warmth of her floor and furniture up.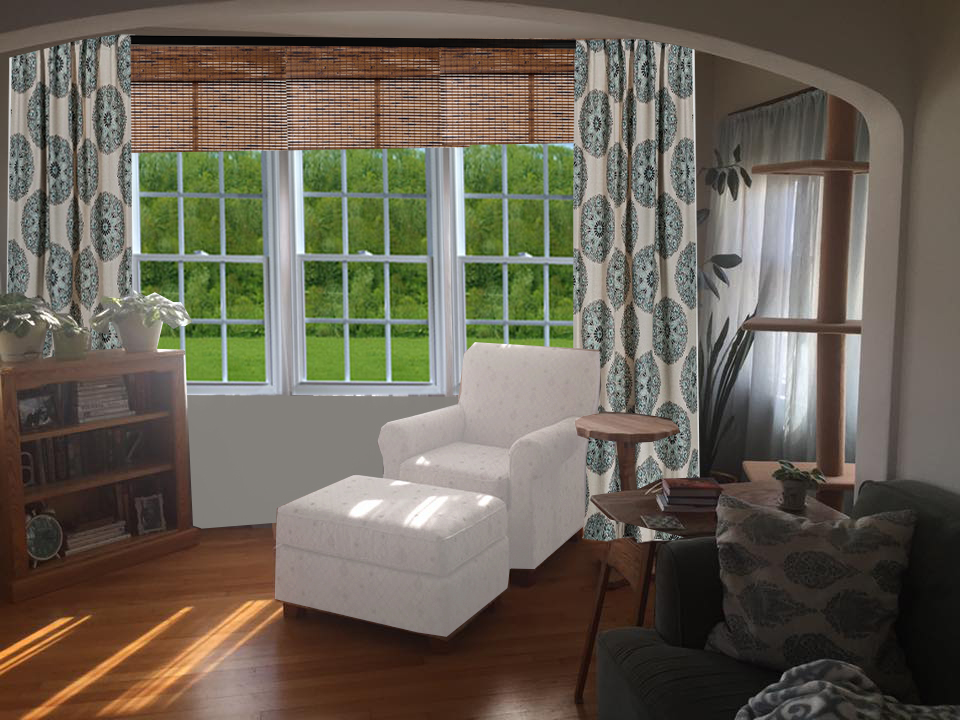 Also, I popped a slipcover onto her chair, just to update it and neutralize it.  If you can sew along a line, you can make a slip cover.  Here's my favorite video to show how.  If you can't sew along a line but want to learn, take all the thread out of the machine and practice along the lines of notebook paper.  It won't damage your machine to sew on paper, but you'll want to use an old needle and then change to a fresh needle before sewing on fabric.   Melinda has a big heart and a lot of pets, so slip covers are ideal for her.  She should make 2, so she can wash one and use one and always have one at the ready.
To hang curtains at the ceiling, you need at least 95″ panels.  My favorite sources for 95+ panels are Target.com (not available in store); Homegoods; and Ikea.  BUT you don't have to limit your selection to items labeled curtains.  Twin flat sheets are the perfect length and come in a huge variety of colors.  Walmart carries a basic flat sheet for just $4.97.  Also, tablecloths!  I wanted to get black buffalo check curtains for my dining room for the winter, but couldn't find anything affordable.  Then my friend told me about these tablecloths.  All I have to do is sew a rod pocket across the top.   If you don't sew, ring clips or fusible hem tape work just as well.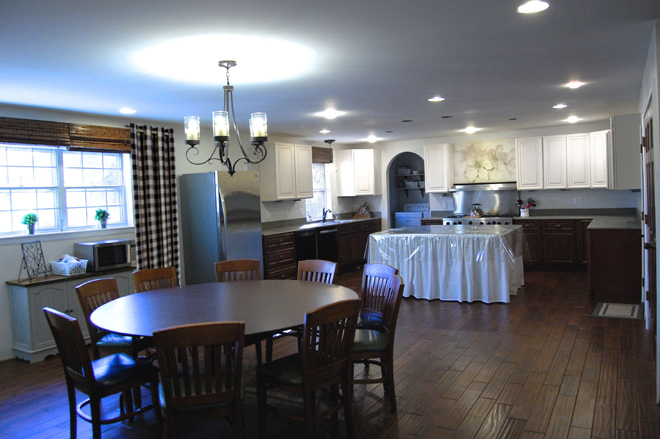 Here's a photoshop idea.  I'm headed to Ikea today to get the brackets to hang them :).
You don't have to spend a fortune on hanging hardware.  My favorite curtain rods are electrical conduit pipe from the hardware store.  They come in 5 ft or 10 ft lengths and in different thicknesses.  I can buy a 3/4″ 10 foot pipe for around $3, then spray paint it black.  They are easy to cut to length with a hacksaw, or to use threaded connectors to make a longer rod. I hang mine with these $1.49 brackets from Ikea. Since this is a really wide area, I'm going to use 3 for a center support.
Would you like your room photoshopped and featured on Makeover Monday?  Send a few photos from your space to angela@groceryshrink.com and tell me your hopes and dreams for the room.
Get a full service virtual makeover complete with 3D room layout plan, 2 photoshop views, step by step work list, and within your budget source list. Find out more.

Learn how to use Photoshop for your own designs with the Room Makeover class