Families with a lot of kids don't necessarily earn any more money than their small family neighbors. And yet, bigger cars require more gas per mile.  More showers and more laundry, means more water and electricity use.  An $8 ticket to the zoo isn't a big deal if you're only buying 4, but buying 8 is another story.   When it's time to buy shoes, it's tough to buy 6 pairs instead of 2.   Hotel fire codes require large families to get at least two rooms. Then there's the grocery budget.  What's a big family to do?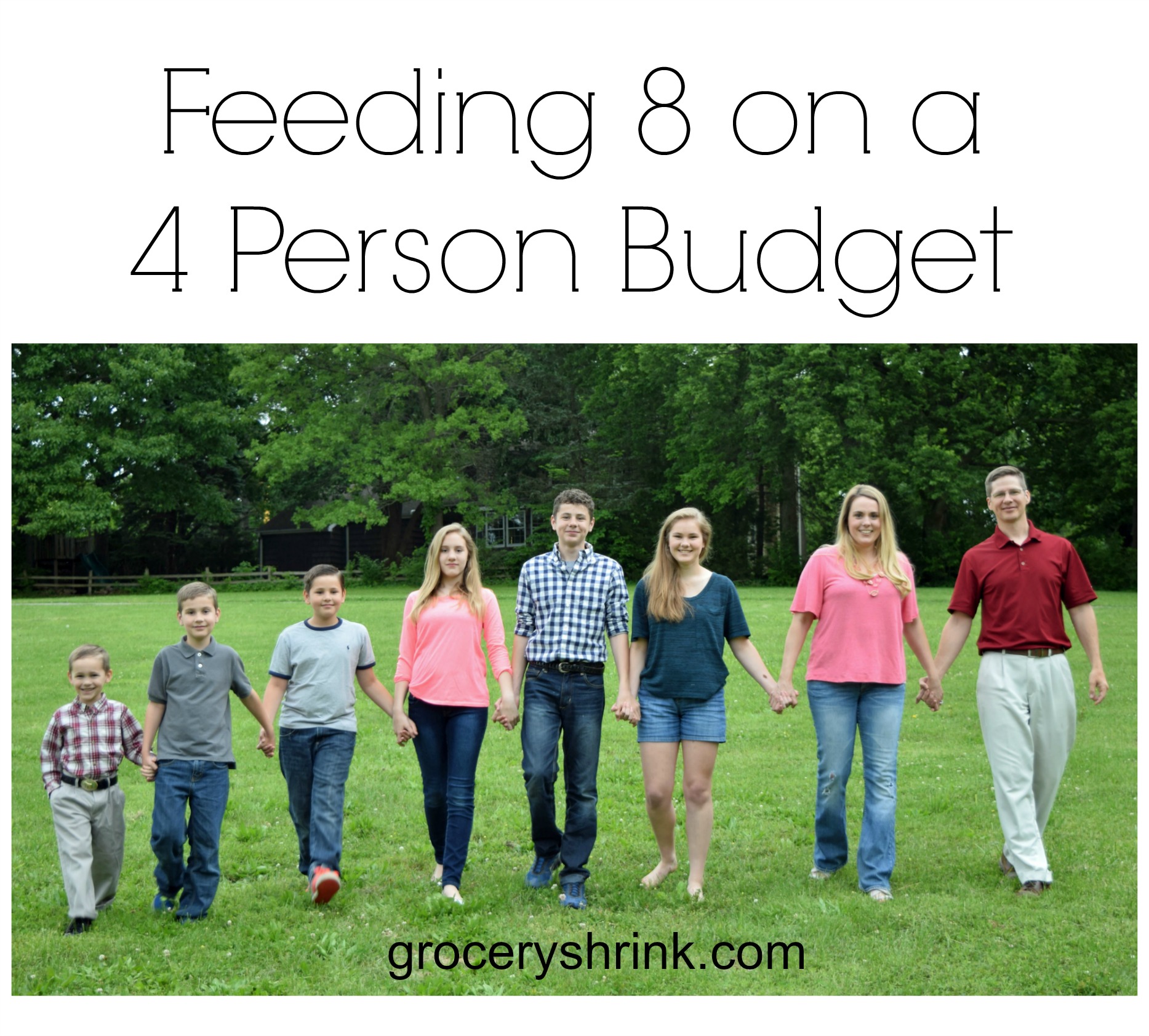 We are steadily working on getting our income up, but while we do that, we do fewer spendy things.  When kids aren't used to a lavish lifestyle, they appreciate the little things a lot more.
We almost always eat at home, so when we go to McDonald's it's a big TREAT.  Since it's rare, we don't have to let them order whatever they want off the menu to give them that feeling of excitement.  Everyone gets a $1 burger, ice water, and fries to share.  When we get home, if a kid is still hungry he makes a snack.
We always drink water.
2. Fast food is a treat not the time to stuff ourselves.
When we go to a park or festival with food vendors, we pack a cooler from home.  Some parks won't let you bring it inside the fence, so we plan to leave and have a picnic back at the car for lunch, then return to the park for the rest of our day.  Sometimes there's a food there that we can't get anywhere else.  Then we might buy some and cut it up so everyone gets a taste.  If you see the 8 of us gathered around a single funnel cake happily sharing bites.  Don't feel sorry for us. The kids are thrilled.  Just getting to taste it was a big deal.
We went to the zoo to see cool animals, not to eat over-priced ice cream.  Replace the red words with whatever fits your situation. It helps to keep it in perspective.
3. Pack food when you can.
4. Share special treats.
The most expensive items on my grocery budget are meat and cheese.  We've found it's possible to halve (or at least reduce) the amounts of meat and cheeses in most recipes and still meet everyone's protein requirements.  This works great for casseroles, soups and stews.  I replace the bulk with another ingredient like beans, brown rice, quinoa or vegetables.
5.  When doubling recipes to feed your family, don't double expensive ingredients like meat or cheese.  Replace the volume with low cost, high nutrition foods that are compatible with your recipe.
Growing kids are always hungry.  I have 3 teenagers, but the 12 year old is hungrier than all 3 teens combined.  I don't ration food at our house.  There's always something they are allowed to grab: apples, carrots, peanut butter and jelly, homemade bread or muffins, bananas, eggs, and milk.  If it's not on the unwritten, "help yourself" list, they know they have to ask.  They are not allowed to eat all the leftover roast beef that I was saving for stew the next night, or snack on pepperoni or lunch meat.  They can't eat all the granola bars in the lunch packing baskets.
6. Have a list of low cost, nutritious foods that your kids can have any time (except 30 minutes before dinner is served, lol.) Train them to ask for permission for other things.
7. Bake easy whole grain items like muffins, that are easy to grab and eat on the run or for after school snacks.
Breakfast should be the easiest low cost meal of the day, but food manufacturers have figured out how to make their money anyway.  A serving of Bran Flakes cereal is 10 cents.  Oatmeal is 7 cents.  A cup of milk is 18 cents. Eggs and a slice of bread are 5 cents each.  Half an orange is 15 cents….you get the idea.  While a grab and go cereal bar is $1.  Frozen waffles the same. Name brand fancy cereal is 5x's the cost of plain.  What we've found is if the food is simple, homemade, and nutritious, our kid's happily eat what they need.  But if it is pre-packaged to look fun or full of sugar, they gorge themselves.
8.  Teach the kids to be satisfied with simple, basic foods.
Big family or small, what are some ways you do fun things, feed nutritious foods and still keep the costs down?