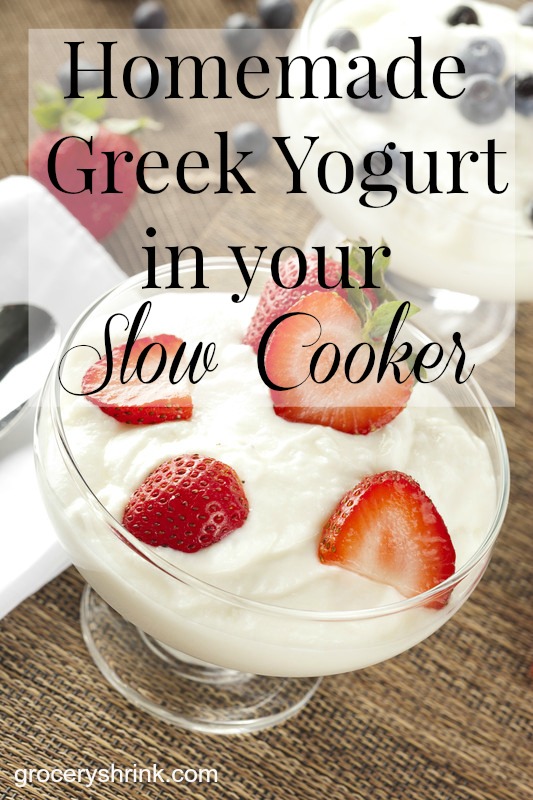 Greek yogurt is a great source of protein and probiotics.  It's thick and creamy even when made with skim milk.  The only problem is it can get expensive! A 48 ounce container from Costco is around $6, but I can make 64 ounces at home for the price of a gallon of milk.  This week Aldi has milk on sale for $1.65 a gallon!  It's yogurt making time :).
I like to do a whole gallon at once, because I use yogurt for a lot of things–eating with fruit, pancake topping, sour cream substitute, to make dip and salad dressing, as a base for cream sauces etc.  It's a fabulous high protein snack for everyone in the family. If you use less, you can cut everything in half and do just a half gallon if you use less yogurt. So here's how I make it: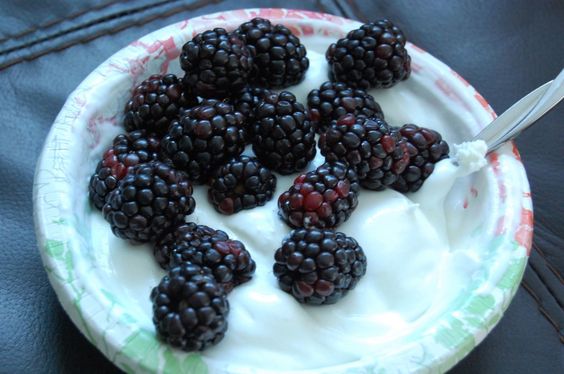 Pour 1 gallon of milk in a 5 quart slow cooker.  Place on low for 2-3 hours or until it is 180 degrees. Do not let the milk boil! If you have a digital thermometer with an alarm, you can walk away and forget about it. You can use any kind of milk–skim to whole.  I prefer skim for the lower calories and we are used to it.  Whole milk yogurt is delightfully creamy  though.
Turn off the slow cooker and let the milk sit until it has cooled to 110-120 degrees. (2-3 hours)  I know heating the milk feels like an extra step if you are just going to cool it down, but it's necessary to unravel the proteins and allows the yogurt to thicken.  I've made raw milk yogurt before and it doesn't get as thick.
Take 1/2 cup of plain yogurt (reserved from your last batch or purchased) and mix it with 1 cup of the warm milk from your slow cooker.  Then stir this mixture into the rest of the warm milk.  It would seem like adding more yogurt starter would just make yogurt faster and thicker–but it doesn't work that way.  More is not better. 1/2 cup per gallon is perfection.
Cover with the lid and wrap the whole thing in bath towels to insulate.  Keep the slow cooker turned off and allow it to sit overnight.  In the morning it will look like this: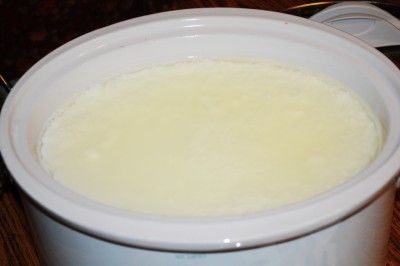 You can see the whey separated and floating on the top with the yogurt solids underneath.  If you stir all this together, you will have regular plain yogurt.
To make Greek Yogurt:  Layer a large bowl with a large colander and line with 3 layers of cheese cloth.  Pour your yogurt  into this and allow to drain without stirring until half of the volume is reduced.  Save the nutritous clear whey for baking and use it like buttermilk in pancakes, biscuits, bread etc.
Take the strained yogurt and put it in your electric mixture with the wisk attachment and whip.  If it's too dry add a little fresh milk (or cream) until it has the moistness and consistency you like.
It should be very thick and creamy when you are done.  This recipe yields 1 gallon of plain yogurt or 1/2 gallon of Greek Yogurt for around $3.  This is roughly 1/4 the cost of buying the same amounts at Costco and requires very little hands on time.
If your yogurt doesn't set up, you can leave it another day.  I've forgotten about it before and left it for 24 hours.  The yogurt was perfect and the cultures kept the milk from spoiling.  If it doesn't work at all, it is possible the yogurt cultures weren't alive.  This happens if the milk is too hot when they are added (high heat will kill them.)  Or if the starter was too old.  It works best if you can make yogurt once a week or every other week and use 1/2 cup from the previous batch to keep the cultures alive and happy.