We hired help to hang the bead-board in my office last week. In preparation, I looked at several rooms on Pinterest which motivated me to turn the paneling the opposite direction it was hung before. If you'd like to see my pinboard for this room find it here.
Those inspiration pins also encouraged me to make the wood we need to use to hide the seams wider and thicker so it would look like structural beams. We had originally planned to make it all white and subdued, but the photos with contrasting wood beams really caught my eye.  To make sure that was what I wanted, I drew an inspiration photo in photoshop first, and tested out some lighting options too.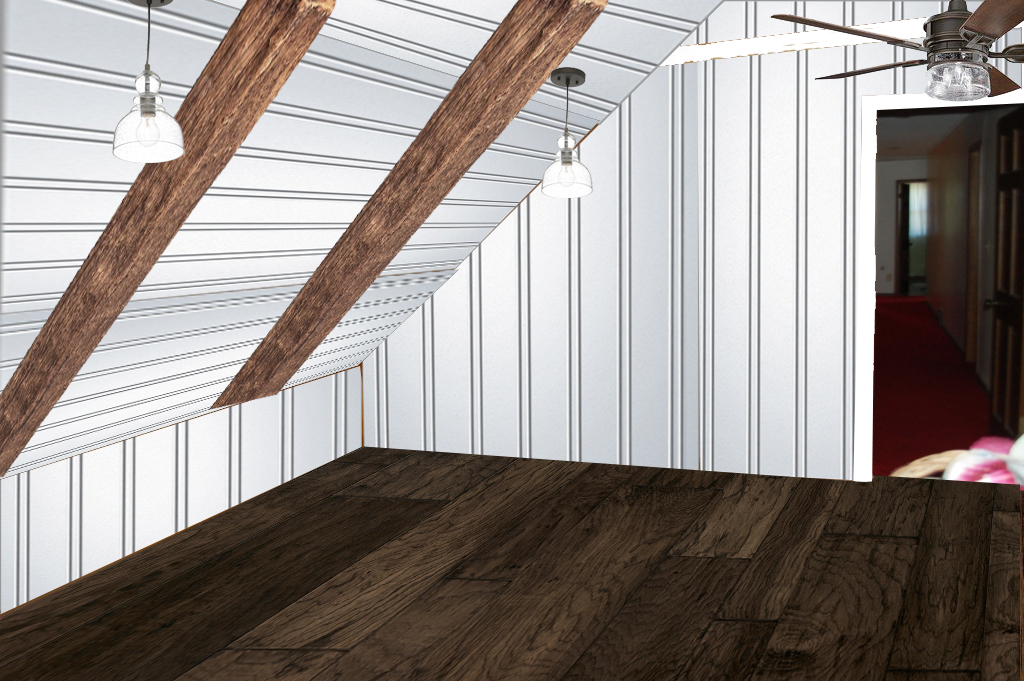 Here's what it looked like before: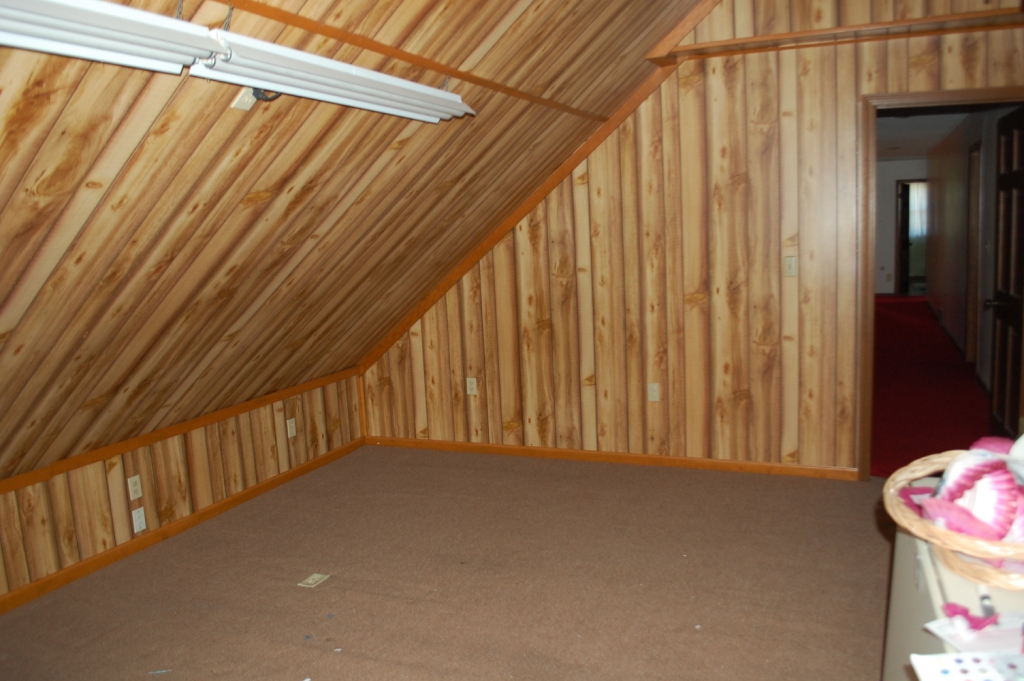 While I loved the seeded glass pendants and they were a great value, we decided they were a head knocking risk and we went with low profile lights instead.  They look like recessed lights, but don't extend into the wall cavity at all.  Since this is right against the roof line, having nothing to interfere with the insulation was a big selling point.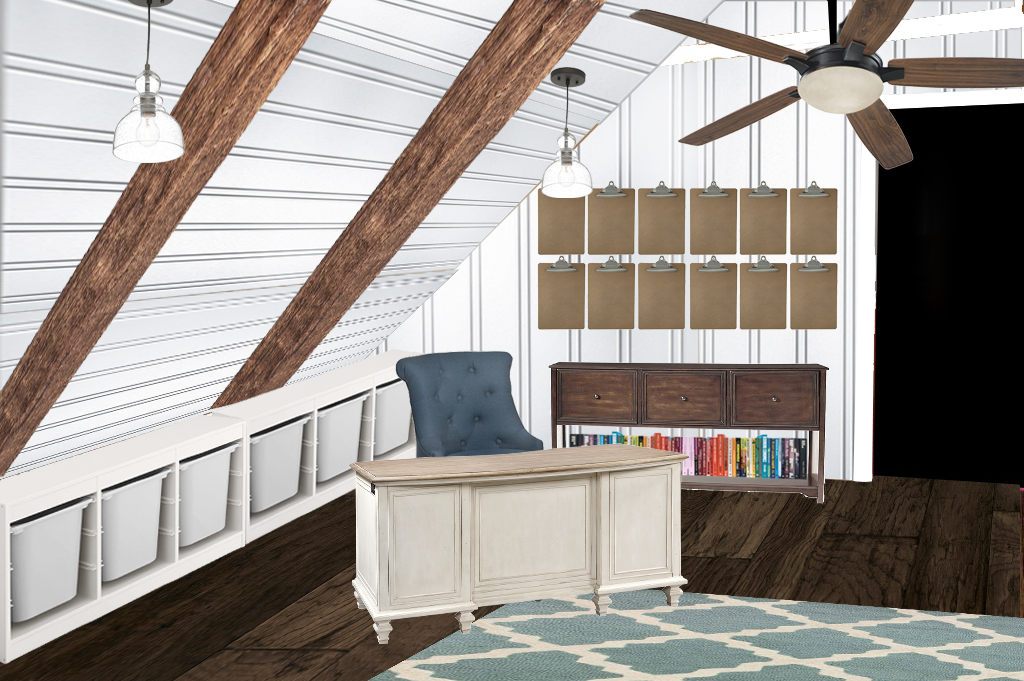 The height of the knee wall is just right for Ikea trofast organizers.  I tried it out in white with all large bins, and brought up my music file cabinet and dollar tree clipboards to organize inspiration for blog posts and projects.  This photo also shows the ceiling fan I ended up buying.  It's huge and has the same frosted glass as the low profile lights.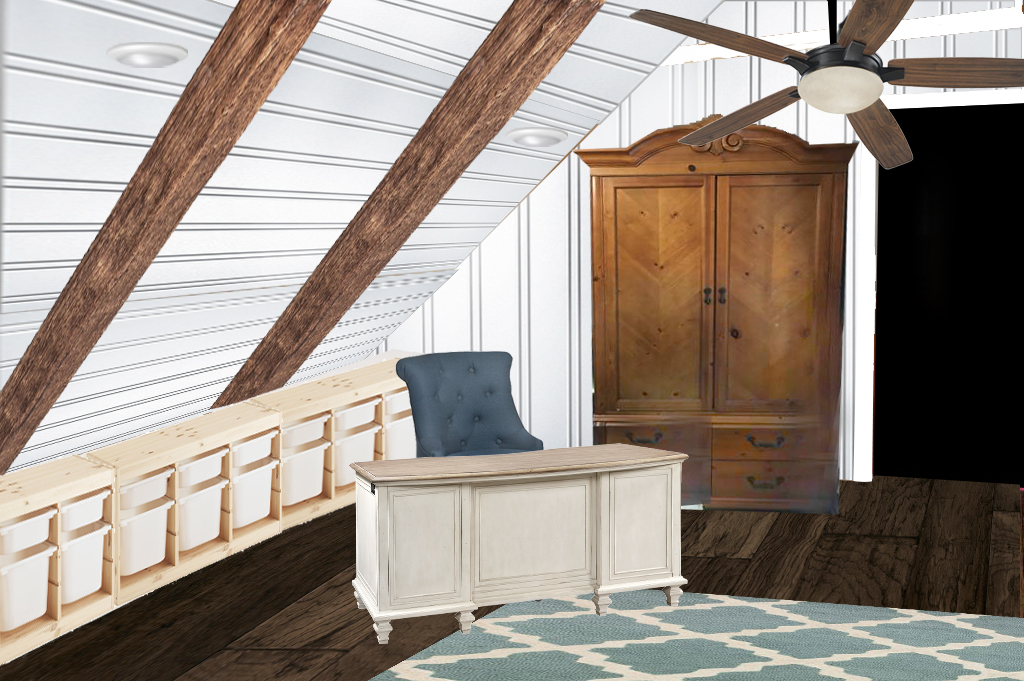 Then I thought I'd prefer some storage for my tripods and camera equipment. If I split the trofast bins into big and small, I'd have room for the items in the file cabinet and still store all my sewing supplies. Plus, I could fit in a huge armoire with chevron inlaid doors that I found on Craigslist for $40. It holds all my photography equipment with room to spare.  I'm hoping to build a divider and hide the printer in there too.  (While this is our temporary master bedroom, the armoire will live in the kitchen and this corner will be our closet.)
The photoshop renditions came in really handy when showing our contractor what we were thinking.  I've been away at Bloggy Con. in Sandusky, Ohio while they were working, but my husband texted me some in progress photos.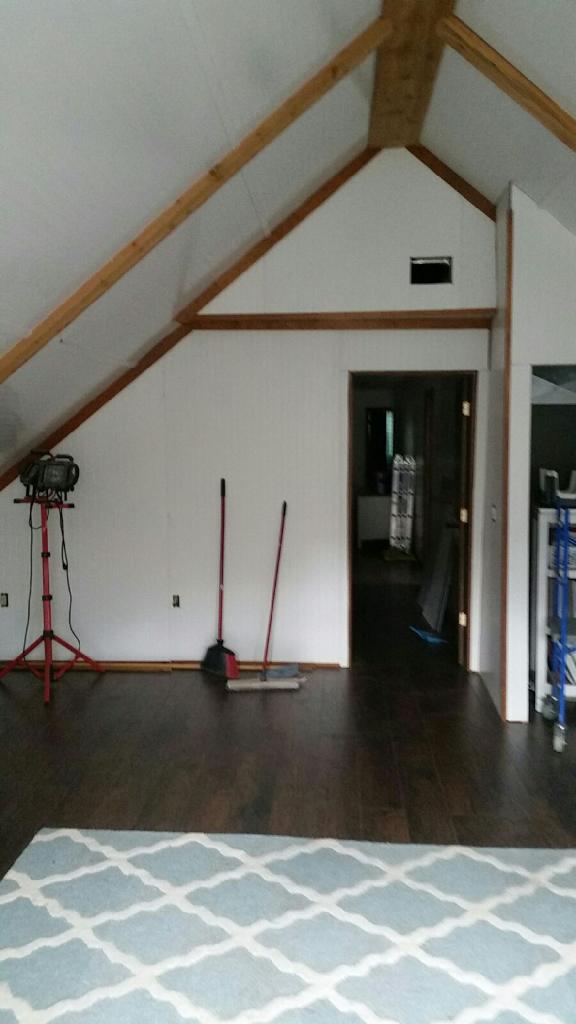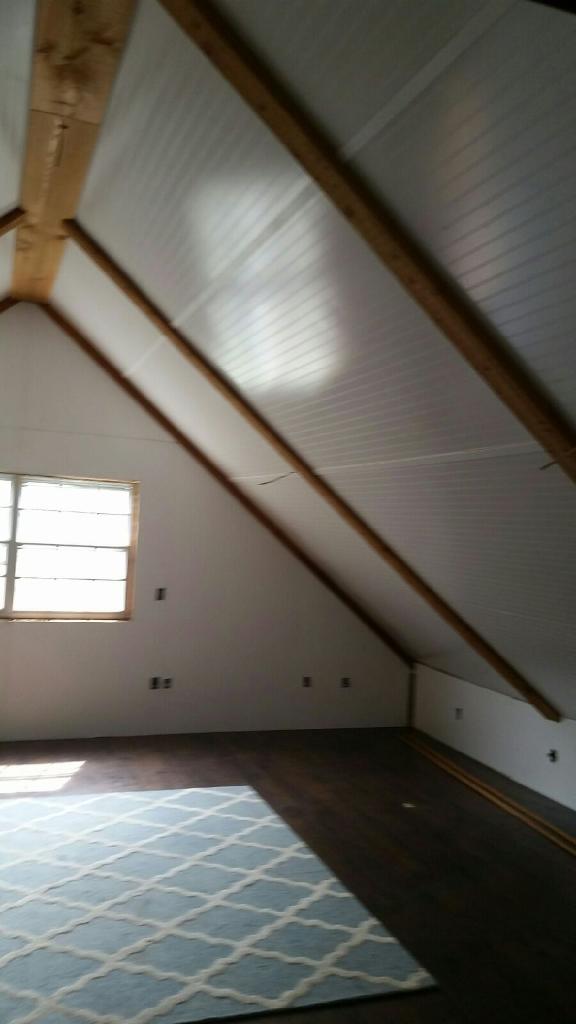 It looks a little rougher in person than it does in photos.  We ran out of paneling halfway through and ran back to the store to get more.  The next batch was made by a different company and had different sized lines, grooves, sheen and color.  I didn't even notice and the contractor put it up mixing types of boards right next to each other.  Once it was glued, nailed and dried we looked at it and said, "Wait a minute! Argh!"
We are hoping that painting everything the same sheen will help, but sigh…I bought pre-painted boards hoping to avoid that chore.  Once it's painted I will use arrows with my decor to draw attention away from the imperfections and try very hard not to think about how much money I spent to do the room wrong. I also need to rewire the outlets and switches and add covers. Thanks to youtube, this is something I can do myself in an afternoon.
After that, we'll be able to move our bedroom up here and start on the BIG project of the master suite. If you'd like to see my pinterest board for the master bathroom, you can find it here.  I'm having even more trouble figuring out what I want the sleeping area to look like, but I gathered some spaces I love here.
What do you think?  Do you have a project going on this week?