I bought something in November that has changed my life.  It sounds dramatic, but I mean it.  I no longer have anxiety about printing things…in full color…as much as I want. Printable art for my walls?  Yes please!  Full color planners?  Yay!  Color meal plans and crochet patterns?  Yes and yes.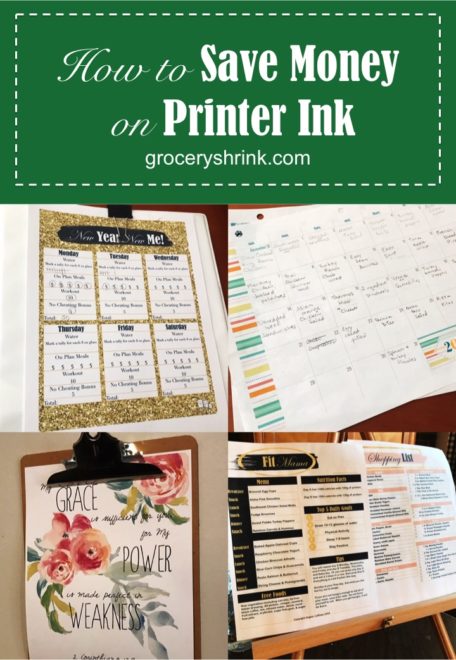 I used to hold myself back and if I had to print, I'd do 4 pages in one so that the print was so tiny I could barely read it.  And of course it was grayscale, draft quality.  We had previously purchased a printer from Costco, and made sure that it used the Costco refillable ink cartridges to try to save on printing costs.  Even then, with my crazy miserly printing habits, we were spending about $30 a month on ink.

Then in November, I bought a new printer.  My old one was working just fine. In fact, I sold it yesterday, from a Facebook Marketplace ad, to a grateful woman who had just bought a new pack of ink and opened it before her printer quit.  It was a win-win.
My new printer qualifies for instant ink. For $10 a month, I can print up to 300 FULL COLOR or black and white pages.  The printer is connected to wifi and tells HP when I'm running low on ink and they just send me a new cartridge at no additional charge.   I'm saving $20 a month, plus I never have to go on an emergency ink run and pay full price because the refill place can't get it done in time.
If I go over my 300 pages (which I did last month) They will give me another 25 pages for just $1. Any unused pages will roll-over to the next month, so there's no worry of waste.  They also send an envelope to mail back the used cartridges for recycling.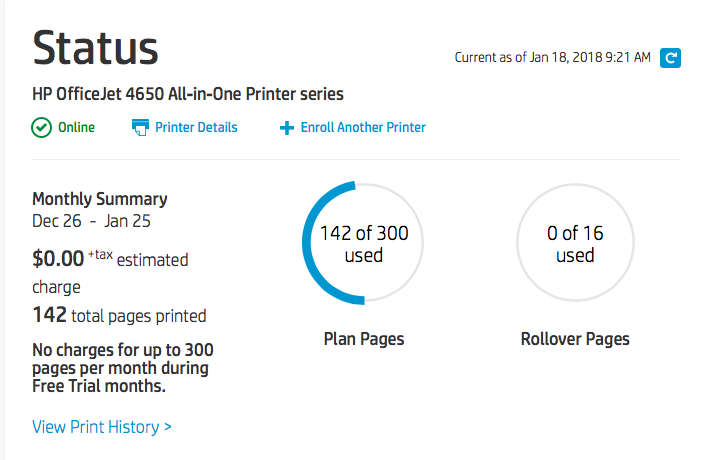 I can log in any time I'm curious about how many pages I've used, and check it out.  I haven't even gotten to the best part yet.  If you use my link, you can try it for free!  PLUS if you buy a new printer that comes with a free trial of the instant ink, the offer is stackable with my free month link for you.  I started in November and won't pay for ink until MAY!
You might already have a printer that qualifies, look for it here.  If not, these two printers are my favorites:
This one is an all in one printer with fax, scan, copy, and a top load document feeder.  It's the one I bought and it makes very good quality prints.
This one is a little less expensive, without the automatic top feed option.
I hope this serves you!  I'm off to go print my planner pages and fit mama meal plans for next week (in full color!)
Disclaimer: This post contains amazon affiliate links.  If you choose to purchase anything through one of those links, I will earn a small commission.
I also have an affiliate with instant ink, so if you sign up for a free month with my link, I get a free month too.  As an instant ink customer, you will get an affiliate link to share with your friends as well.