We hosted Thanksgiving this year, for our first time ever.  I roasted a 26 lb turkey, which didn't go well the last couple of times I tried it.  It made me nervous, but it came out beautifully.  I'll share my super easy recipe at the end.
We had 19 guests, but thought planned for 22. I set up two 6 foot round folding tables and pushed 2 rectangular folding tables together in the middle for a circle, square, circle configuration.  My goal was to feel like we were all sitting at 1 table, but be able to still walk around the room as needed.  It worked!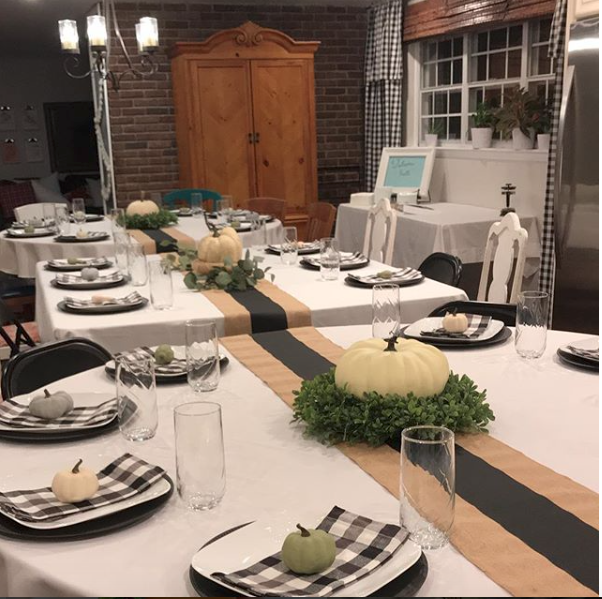 We've still never gotten a real table for this room. I keep thinking I'm going to build one and have several pinned in my "wood" pinterest board.  Other things take priority, so it will probably be a few years before I actually build something.  With a table cloth, we mostly forget our every day table is a portable fold up tables.   I used 2 of these and 2 of these tablecloths for this setting and love that they come in a ton of color options for a great price.  I also grabbed 3 of these runners to dress it up.  I had planned to write scriptures down the middle layer with chalk, but in the end, we liked the simple cleanliness of it all.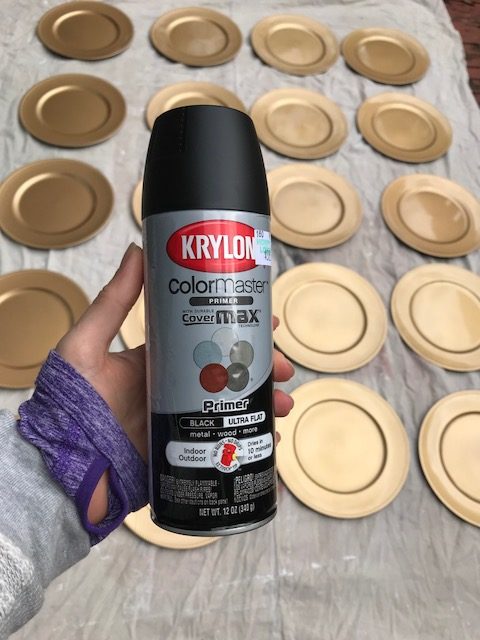 The black chargers are Dollar Tree gold chargers that I spray painted with chalk paint.  One can of paint and one can of primer did all 22 chargers.  I topped the chargers with my every day white Corelle plates.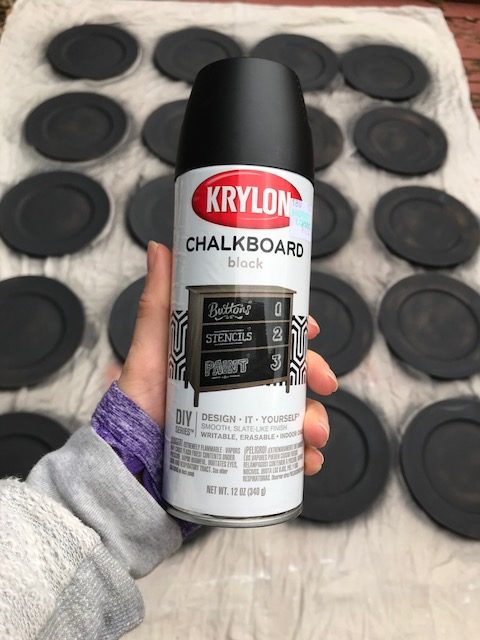 I grabbed buffalo check napkins which match my curtains (ahem tablecloths with a rod pocket sewed in the top.)  I saved the napkins to use the first time for the Thanksgiving table, but they will be our new everyday napkins since the old ones are worn thin.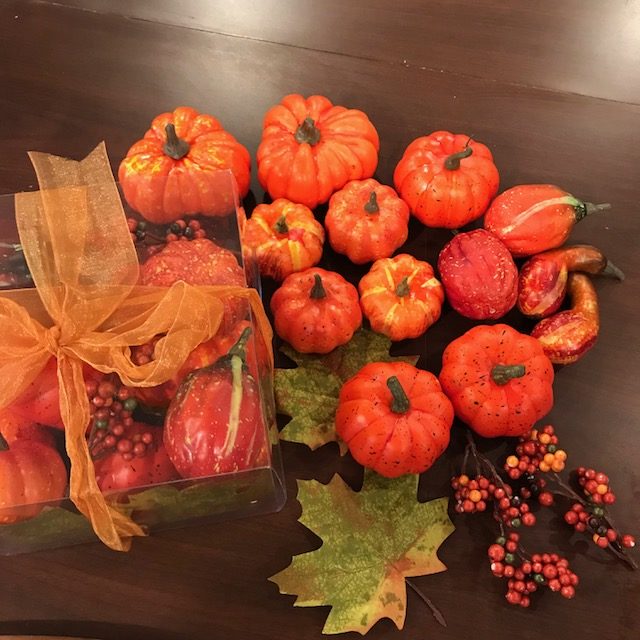 The day after Halloween I bought a couple of boxes of foam craft pumpkins on clearance at Hobby Lobby.  They were glow in the dark orange, so the kids and I painted them to look like heirloom pumpkins.  Walmart is the best price for craft paint even with sales and coupons if you ever wondered.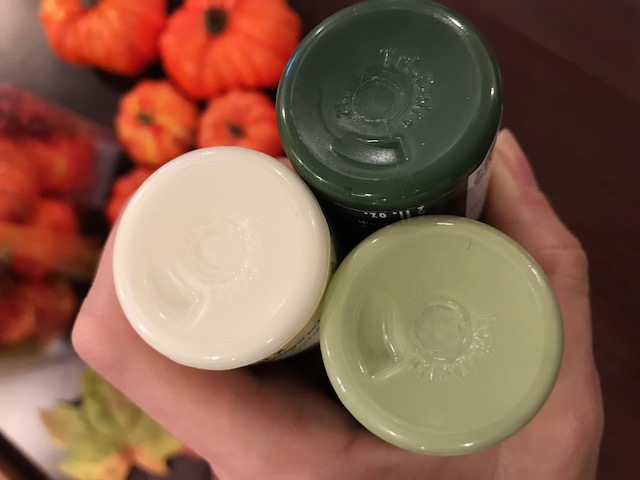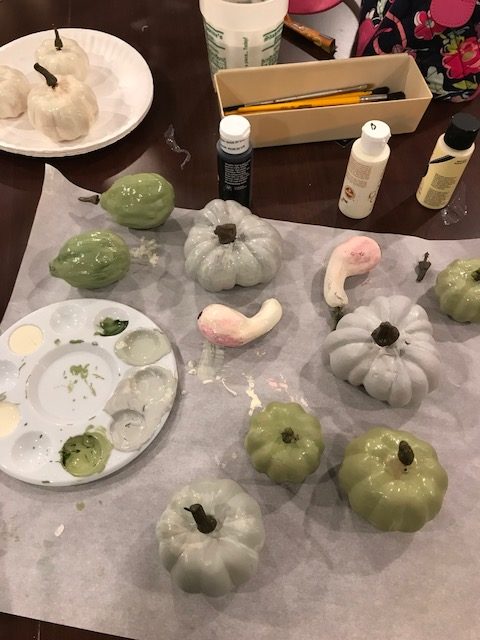 Then we printed up some name tags and tied them to the stems with jute twine from the Misc. drawer.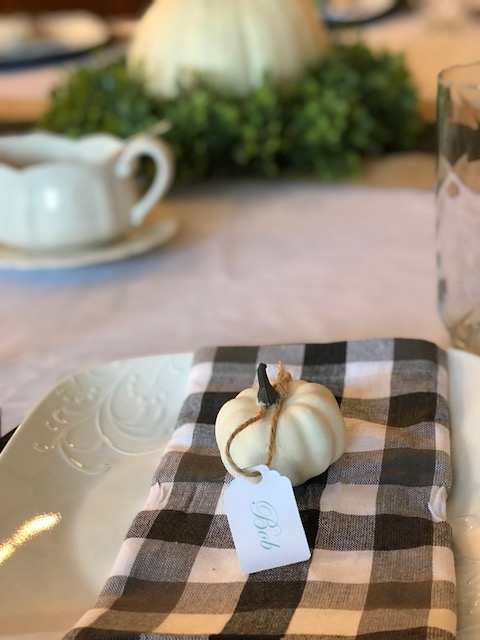 While the clearance sale was on, I also grabbed 2 large heirloom pumpkins.  They cost about the same as buying real pumpkins, but won't rot and I can use them year after year.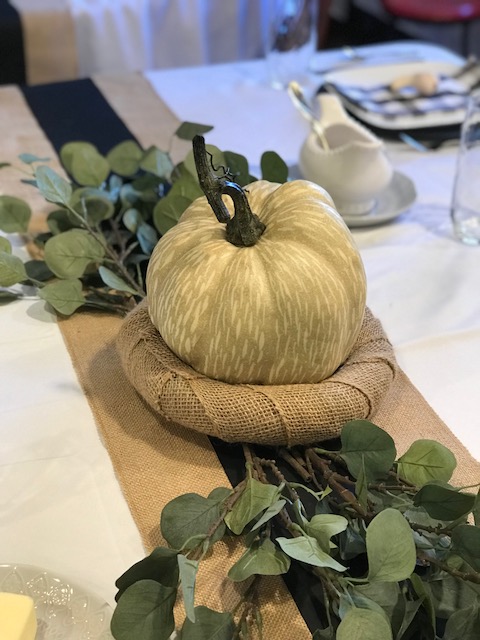 This is a fake one on a burlap wrapped Dollar Tree Foam Wreath and Ikea Eucalyptus branches.  I had the branches on hand and just pulled them out of the arrangement they were in to try to beef up the table.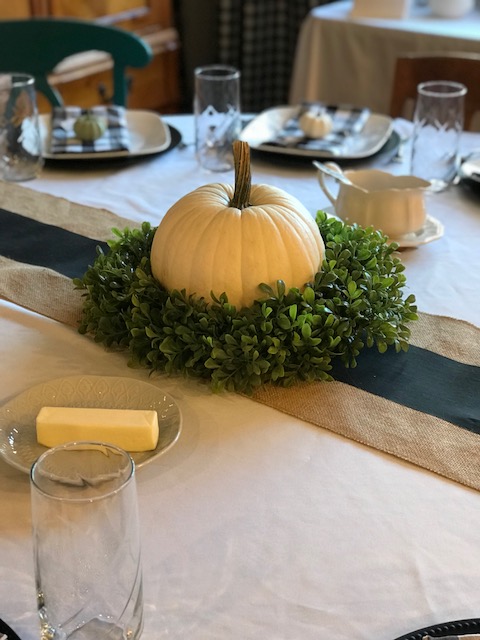 This pumpkin is real.  My guests thought they were all real until they touched them.  The faux boxwood wreaths are from Ikea and were on my front doors just the day before I set the table.  It was all clever and fun until a spider walked out from the wreath and ran across the table during dinner.  EEEEK!
We placed a butter dish, salt and pepper shaker, roll basket, and gravy boat on every table.  (I asked some of the guests to bring theirs so we'd have enough without buying extra things.) All the other food was served buffet style.
My oldest daughter helped me arrange the table settings and place cards the morning of Thanksgiving, and I watched her running around in a frenzy, shooing the younger children out of the room because they weren't doing things perfectly and being completely frazzled.  In that moment I saw a perfect reflection of myself during her younger years.  I felt convicted and grateful simultaneously.  Sorry that she was only living what she had seen, and glad that she was still in my home and mine to teach.  So I apologized to her for her crazy holiday mother from her childhood, and we had a talk about the value of little hands and how their imperfections make life that much more sweet.
Two things made our holiday especially less stressful.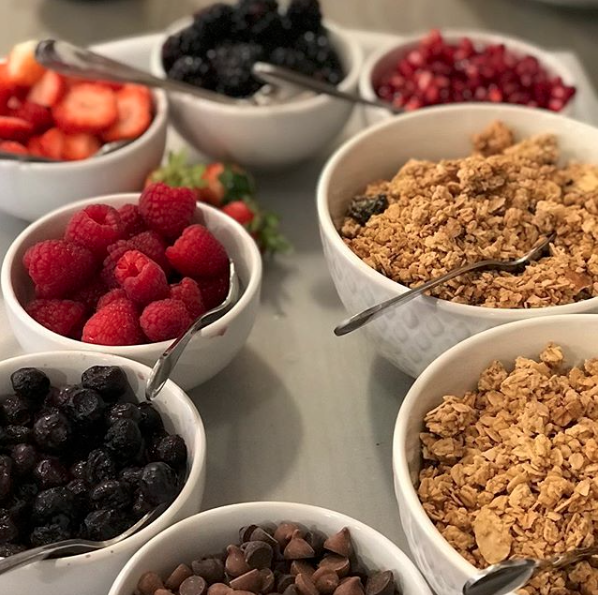 A.  I set out a yogurt buffet for breakfast, so I didn't have to cook and they could come in and grab something when they were ready.  I even let them eat at the coffee tables since the kitchen tables were already set for lunch.  Everything was from Aldi and I was so excited that they offered fresh raspberries and blackberries for $1 a clamshell the day before
B.  I roasted the turkey the day before and carved it up into 9×13 pans.  Then I poured the broth back over the meat to keep it moist.  Then Thanksgiving morning, I reheated the meat in the broth.  After we transferred the meat to a serving platter, I could still make gravy out of the broth.   So here's my super easy Turkey Roasting Instructions:
Super Easy Turkey Roasting Instructions:
 Thaw the bird in the refrigerator ahead of time. Here's a handy chart.
Preheat the oven to 400 degrees.
Don't wash it, but do pull out the neck and the bag of giblets.  (Or leave it in, it really doesn't matter.)
Place a wire rack in a large, deep roasting pan.  Place the turkey breast side DOWN on the pan and rub it all over with melted coconut oil (about 2 Tbs) and sprinkle with salt.
Roast at 400 for 1 hour (this seals in the juices), then without opening the door turn the temperature down to 350.  Cook for 1 hour longer.
After the bird has been in the oven for 2 hours.  Take it out and flip it over so it's breast side up. Rub it all over with coconut oil (2 more Tbs) and salt again.  Then stick the probe of an oven proof digital thermometer with alarm in the thickest part of the thigh.  (The thigh is right inside the leg.) Put it back in the oven and shut the door with the alarm part of the thermometer outside the oven.  You'll close the door on the cord.
Then leave it be until the alarm goes off.  If you want an estimate for how much time you'll need, here's a handy chart.
When the alarm goes off, set the turkey and pan out of the oven and let it rest for 1 hour.  This allows the juices to reabsorb into the meat, but if you carve it right away it will all run out and be dry.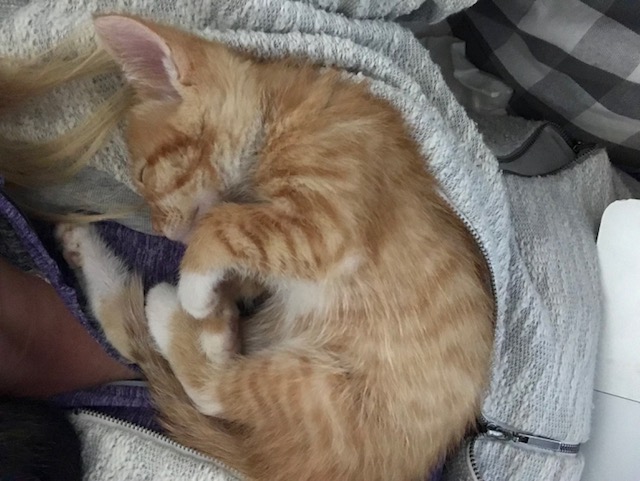 We still haven't put up any Christmas decorations, because we have 6 of these until next Wednesday.  It's worth the wait.
How was your Thanksgiving?  Is your Christmas tree up?