At 3 pm everyone at my house gets the munchies.  I've taught my kids to be self-reliant when it comes to food.  It's a habit of years of dealing with chronic illness. Now that I'm doing a bit better, I want to take back some of the kitchen control.  I like my kids learning to cook and make do, but I'm not loving the mess they leave behind.  It's going to take some steady supervision to change the bad "clean up after yourself" habits I've allowed.  In the meantime, I'm being proactive by preparing after school snacks.  Rename these "muffins" and you can serve them for breakfast too :).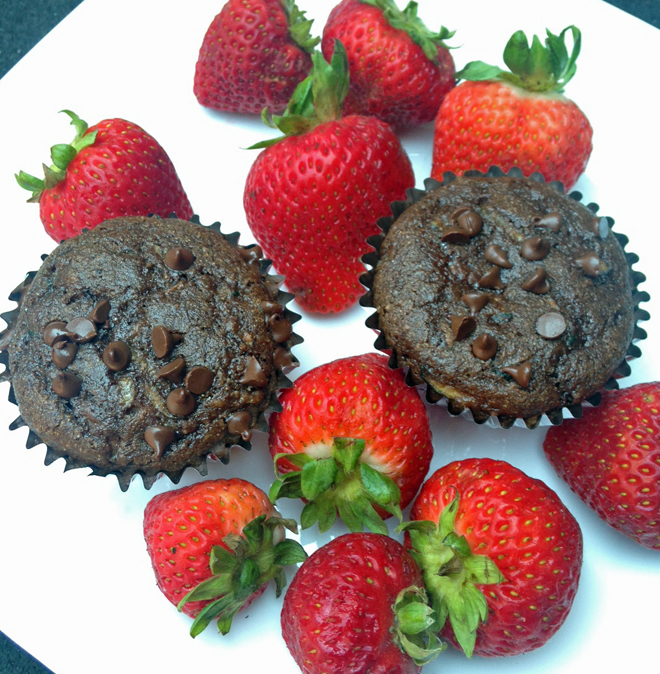 Zucchini Chocolate Cupcakes are loaded with veggies, fiber and protein.  You can choose how you want to sweeten them.  I used a mixture of xylitol and sucanant.  To get the right texture, you should include real sugar for at least 1/3 of the sweetener.
You can also be creative with the flour you use.  I used fresh ground whole wheat flour, unbleached flour or a gluten free flour blend (if it has xanthan gum in it) will also work.  If you are using an alternate flour option, add it gradually and stop when the consistency is cake batter right.   Some flours (like coconut flour) absorb a ton more water than wheat flour and you will need quite a bit less.
Zucchini Chocolate Cupcakes
1 1/2 cups Nonfat Plain Greek Yogurt
1 3/4 cup sugar
2 eggs
1 Tbs vanilla extract
2 cups shredded zucchini
1 1/2 tsp baking soda
1/2 tsp cinnamon
1/2 tsp cloves
1/4 cup cocoa powder
2 1/2 cups flour
1/4 cup mini chocolate chips
Preheat oven to 350 degrees
In a stand mixer, beat Greek yogurt with sugar, eggs and vanilla.  Stir in Zucchini.
Add baking soda, cinnamon, cloves, cocoa powder, stirring well after each addition.
Add flour 1/2 cup at a time, stirring just until incorporated. Do not add chocolate chips at this time.
Fill greased or lined muffin cups 2/3 full.  (I like to use an ice cream scoop to measure it.)
Sprinkle the top of each cupcake with 1/2 tsp of mini chocolate chips.
Bake for 28 minutes or until a toothpick inserted in the middle comes out clean.
Cool on a wire rack for 5 minutes before removing cupcakes to finish cooling.