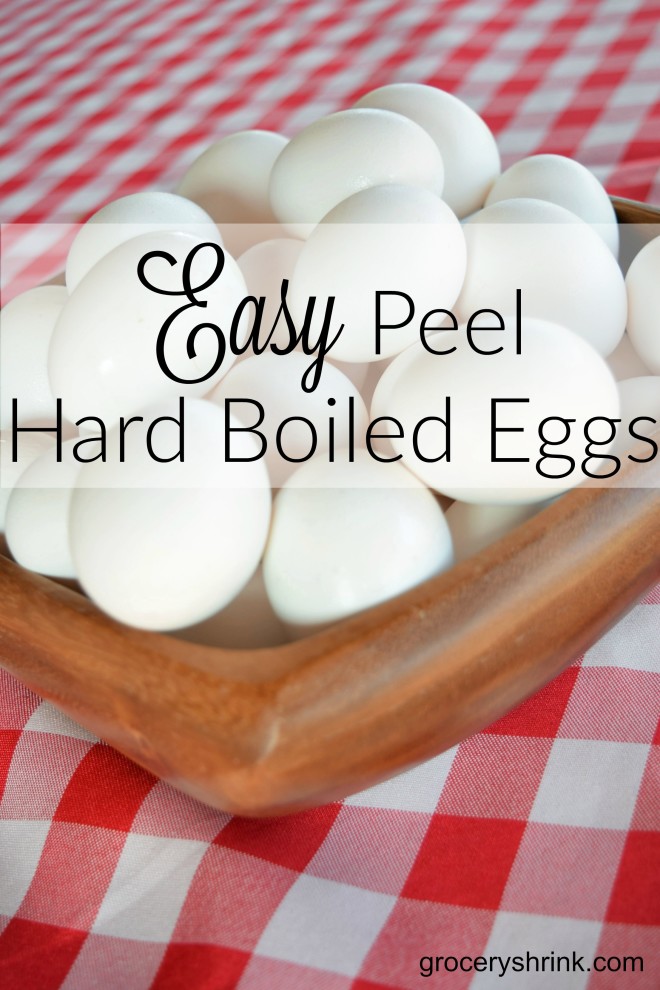 Meat and Cheese are the two most expensive categories in my grocery budget. I keep costs down by choosing less expensive proteins a few times a week like eggs.   While I'm not a fan of vegan protein alternatives like tofu and TVP,  I do enjoy fresh or dry roasted edamame.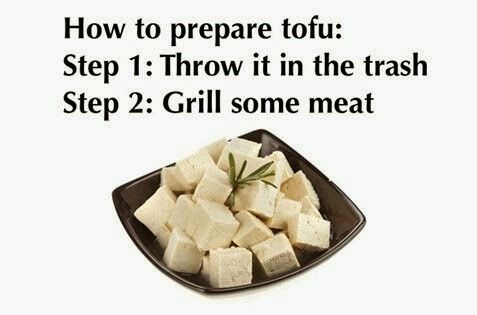 If someone in my home developed food allergies to all dairy and eggs I'd consider tofutti. Until then…. nope.
Eggs, on the other hand, are little compact nuggets of serious nutrition.  2 large eggs have 140 calories, 12g of protein, and everything necessary to grow a chick = lots of nutrients.   Plus at $1.50 a dozen, a serving of 2 eggs is only $.25.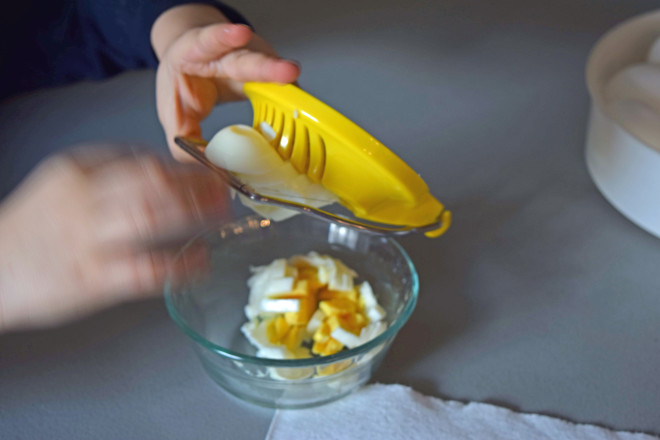 We like to have hard boiled eggs on hand for snacking.  They are also great chopped on top of a chef's salad, in egg salad, potato salad, tuna salad, creamed eggs over biscuits, deviled (stuffed) eggs….you get the idea.
Boiled eggs are easy to cook, but may not be so easy to peel.  When eggs are freshly laid, they are slightly acidic which makes the shell stick tightly to the albumin in the egg white and impossible to peel cleanly. The hen covers her eggs with a protective coating as they are laid which keeps this acidic level intact and the egg fresh outside the fridge for 10 days.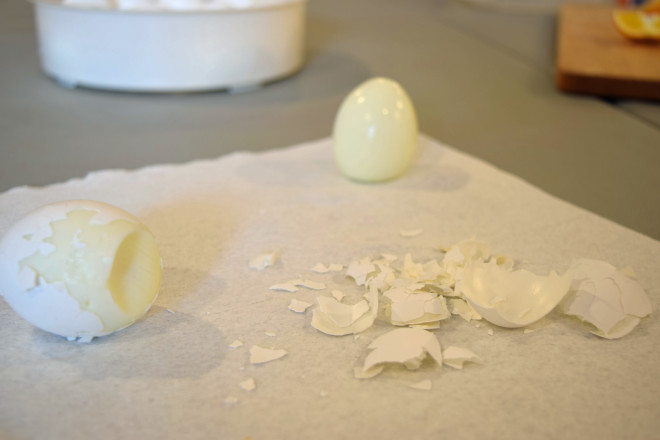 Commercial eggs have the protective coating washed off.  This allows the natural CO2 trapped in the egg to dissipate through the porous shell reducing the acidity and the stickiness of the shell.  Commercial eggs will ripen in the refrigerator to be easy to peel in about 10 days. By the time they reach our homes commercial eggs are typically perfectly ripe.
If you have your own hens, you'll need to wash the eggs you hope to boil with warm water and a soft cloth before storing in the fridge.  Label them so you'll be able to tell the date they will be ready to boil and peel (10 days ripened.)  Oiling the eggs for storage will make it impossible for them to ripen to easy peel stage.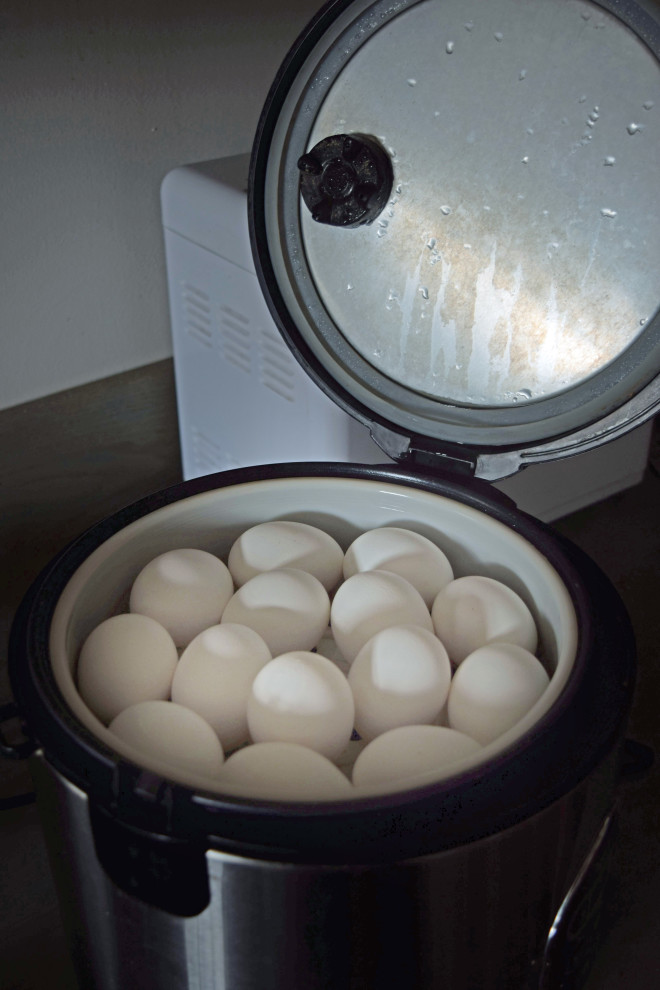 We enjoy steaming our eggs instead of boiling them in water.  They don't crack since they aren't in the rocking boiling water to knock them around.  We think they are easier to peel than boiled eggs and don't have the grayish green line separating the yolk from the white, unless we forget about them and over do it.
I use our combo steamer/slow cooker/rice cooker to do it, because it automatically starts timing when the water comes to a boil and sets of an alarm when they are done.  I simply fill the bottom with 2 inches of water, fill the top basket with eggs, set it to steam for 15 minutes and go to something productive.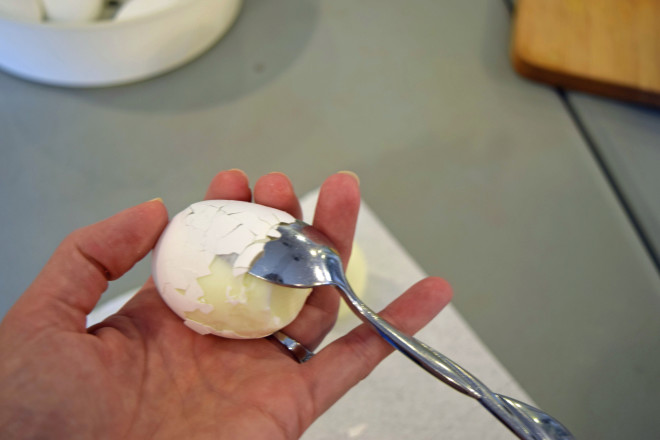 When the alarm sounds , I use oven mitts to lift out the steamer basket and plunge it into a sink of cold water to stop the cooking process.  When they are cool enough to handle, I tap and roll the eggs on a paper towel (or cloth towel) to break up the shell, then slip a spoon between the shell and the egg.  The spoon curves with the egg keeping it protected and the peel slips off pretty quickly this way. If the spoon doesn't slide well, I oil the tip with a touch of olive oil.
How about you, does peeling eggs frustrate you? Do you have a family tradition for making eggs easy to peel?