When you need an easy dinner idea, a packable lunch, or a substantial snack, I've got your back.  Here's what I love about these little cuties:  everything is hidden inside.  Onions…check.  Spinach…check. My kids didn't even notice.  Just bit right down and gobbled them up.   Sometimes you have to be stealthy with the veggies.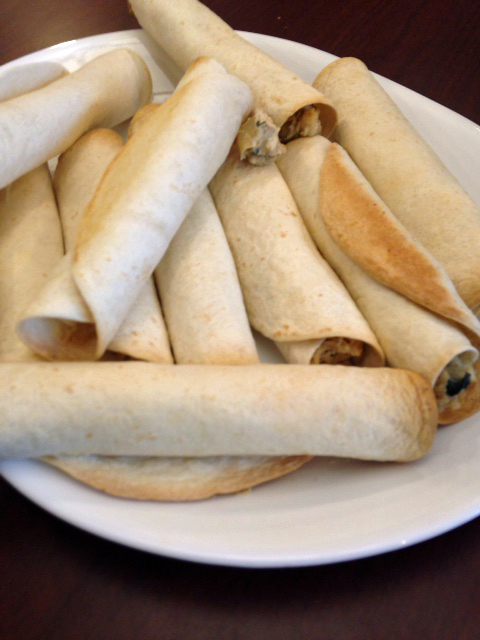 Baked Creamy Spinach Chicken Flautas
1 chopped onion
1 tsp minced garlic (or garlic powder)
2 cups fresh, chopped spinach
1 can, 4 oz green chilies
1 tsp ground cumin
2 cups cooked shredded chicken*
1 brick, 8 oz neufchâtel cheese
20-6 inch tortillas (I used flour, but corn works if you want to call them taquitos)
Preheat oven to 400 degrees.
In a large skillet saute onion and garlic until very soft.  Stir in spinach and cook until wilted. Add green chilies, cumin, and chicken.  Heat through.
Push everything in the skillet to the outsides, making a whole in the center.  Put the neufchâtel cheese right there and stir it around until it softens and melts into a creamy liquidy pool. Then stir it into the chicken mixture.
Place 2 Tbs of the mixture onto the edge of a tortilla and roll up tightly.  Place seam side down on a baking sheet.
Bake for 15 minutes or until golden brown and crisp.
Serve with dipping sauces like: salsa, ranch dressing, sour cream, or guacamole.  For dinner add side dishes of tossed salad and cut fruit.